Support Network
At Stonehill, we offer many opportunities for our students to reflect, learn and lead in ways that are authentic to who you are and what you value. We do this through a sweeping network of mentoring and resources tailored to maximize each student's academic, professional, personal and spiritual development.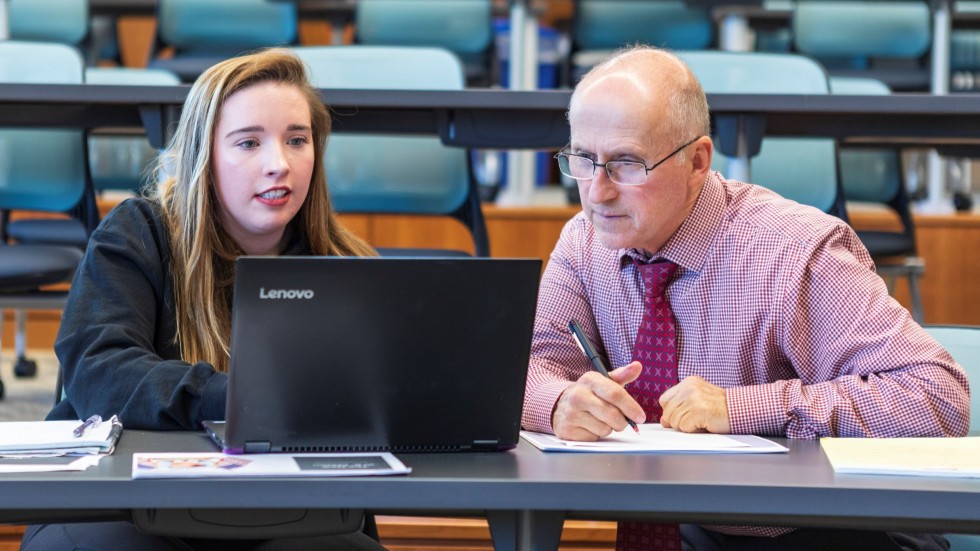 First-Year Experience
First-Year Experience is a series of classes that guides students as they transition from high school to college. It gives them a better understanding of their role in the educational experience offered by Stonehill and an opportunity to connect with other first-year students.
Student Advising & Support
Stonehill's student advising services span all four years and are built on the belief that people who love what they do find success.
In an atmosphere of personal support and encouragement, Stonehill students have limitless opportunities to explore their passions and to build strong practical skills. Our faculty members, academic advisors and campus mentors help students navigate a variety of disciplines to design a plan that is the right fit for their life goals.
Postgraduate planning begins on day one – from completing the Strong Interest Inventory as a first-year student to implementing a career search or applying to graduate schools during the fourth year. Using a holistic approach to education, we provide foundational tools that help students achieve the goals they have set for themselves.
Academic Advising
Every first-year student is assigned a faculty advisor by Academic Advising, but academic advising at Stonehill extends into many other on-campus resources. Academic advisors are encouraged to develop ongoing relationships with students that go well beyond course selection to encompass short and long-term goal-setting and planning.
Pre-Professional Advising
Pre-Professional Advising programs provide recommendations for meeting undergraduate requirements, suggestions for advancement to graduate study, and other guidance for students who intend to pursue a career in a specific field. Stonehill offers pre-professional advising programs in a number of disciplines, including:
At Stonehill, we offer a curriculum that provides a firm foundation for students intending to apply to professional school, and we have an immensely talented faculty who are truly dedicated to helping students achieve their goals. A student's success ultimately comes down to his or her commitment, perseverance, drive and academic ability.
A Pre-Law Advising program at Stonehill College is for students interested in pre-law and is coordinated by the Pre-Law Advisor, Professor Robert R. Rodgers. There is no required academic program for pre-law students.
Students interested in attending law school can meet with student pre-law advisors during their first two years to discuss their curricular choices and preparing for the law school admissions process.
Third- and fourth-year students can enroll in the Martin Institute's LSAT review course and work directly with the pre-law advisor on law school admissions. Seniors are expected to enroll in the Pre-law Advising seminar which meets in the fall semester.
Contact Info
Pre-Law Advisor
Robert R. Rodgers
OFFICE: Martin 220
PHONE: 508-565-1173
EMAIL: rrodgers@stonehill.edu
DEPARTMENT: Political Science & International Studies
Health & Wellness
College is a new and exciting experience, and we're here to help you grow and mature into a well-rounded individual. During your time at Stonehill, you will have challenges and successes, and both will make you a stronger person. We support you by making a wide variety of counseling, health and wellness programs available right here on campus.
Starting college and/or moving away from home can push you out of your comfort zone and get you off your routine. You may be living in a new environment, and that can throw off some of the healthy habits you've developed over time. We believe in promoting a healthy lifestyle and want you to become familiar with making transitions – life is full of them. Take advantage of the many wellness resources on campus to keep you on track.
Sample Resources Include:
Alcohol Awareness
Conflict Resolution
Diet & Nutrition
Fitness & Exercise
Meditation
Money Management
Navigation Center for Student Success
Success in college depends on finding and engaging with the mentors and opportunities that best serve your goals. Whether choosing a major, exploring internships and career options or getting assistance with classes, the Navigation Center helps guide you on your individual path towards success at Stonehill, and beyond.
Counseling Services
College is a time of personal, interpersonal, academic, spiritual and vocational development. Growth and success in these areas can at times present challenges.
Counseling Services is available to provide confidential, short-term personal counseling around a variety of topics. Students often pursue counseling during their time at Stonehill for support in areas such as adjustment, time management, grief and loss, decision-making, anxiety, depression, and interpersonal relationships.
Our goal is to assist students in developing the coping strategies and support options necessary for navigating challenges in maintaining well-being while progressing through their college career.
Additional Resources
The Office of Academic Achievement is responsible for the coordination and delivery of all academic resources to Stonehill students to ensure their academic success across the continuum of ability and achievement.
Accessibility Services celebrates access, equity, and inclusion—elements of a strong liberal arts education that are embraced by Stonehill College. Appreciating that disability is integral to the diversity of our campus, we partner with students, faculty, and staff to create a community that welcomes and encourages the full participation of people with disabilities in all aspects of campus life.
The Career Development counselors provide individualized career advising, skills assessment and development resources along with an extensive network of internship and career connections.
The Office of Intercultural Affairs helps to lead Stonehill College in creating both a diverse and inclusive community. We believe in the inherent dignity of each person and seek to affirm, honor and embrace the differences that shape a more robust living and learning community.
The Office of International Programs (OIP) connects students with study abroad, internship, research, and service learning programs all over the world. These high impact experiential learning experiences facilitate intercultural dialogue and expand international awareness, challenging students to take authorship of their personal and intellectual growth within a global context.