Clubs & Organizations
If you're looking for a new way to explore your passions, the student clubs on campus are the best place to start. Whether you're interested in painting or politics, singing or social activism, you can be sure there will be plenty of opportunities to get involved.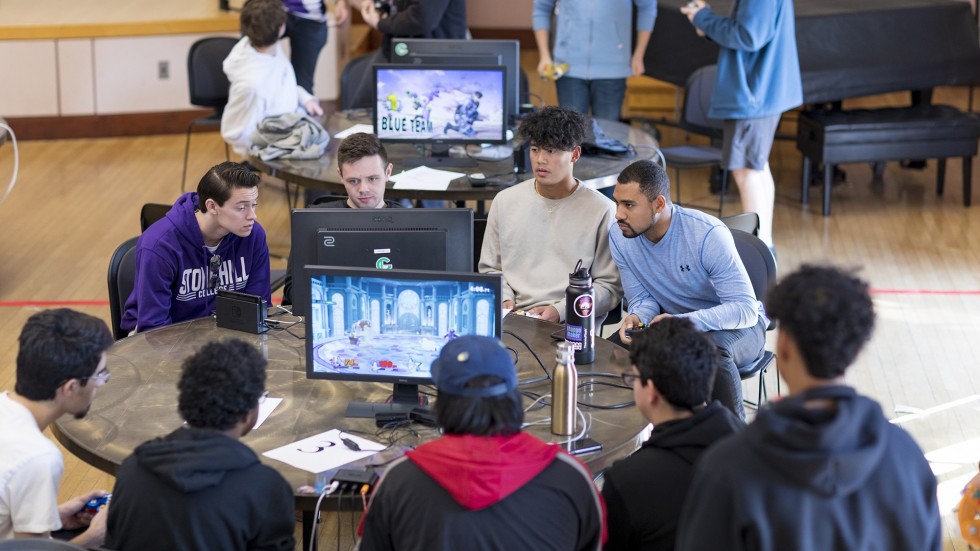 Learn More About Our Clubs & Organizations
Accounting Association
The Accounting Association is open to students of all majors and class years. Members are exposed to representatives from graduate schools, accounting firms, CPA prep courses and other networking opportunities. The club holds meetings and on-campus events throughout the academic year.  
Contact: Justin Weitbrecht, jweitbrecht@students.stonehill.edu
Association for Computing Machinery
ACM is a worldwide organization focused on Computer Science education. The Stonehill chapter meets regularly to work together on coding projects and listen to guest speakers.  
Contact: Wyatt Dominguez, wdominguez@students.stonehill.edu
Education Society
Education Society supports students interested in working in the field of education. Numerous events throughout the semester allow students to gain insight into the various aspects that the field of education has to offer.  
Contact: Kelly Trayers, ktrayers@students.stonehill.edu
Engineering Society
The Engineering Society encompasses mostly majors in physics, math, computer science and engineering. We host activities such as egg drops, coding a raspberry pi, spaghetti bridges and looking through the telescope at the observatory. We also work with 3rd graders that code Lego EV3 robots!  
Contact: Amir Kazemi, akazemi@students.stonehill.edu
English Society
A gathering place for all bookworms, we welcome literature lovers both belonging to and beyond Stonehill's English Department. We plan activities for our meetings, occasional parties and the odd outing to celebrate those things that we share: the characters we love, the plots that stick with us and the stories that tie us all together. Stop by to say hello and feel free to stay awhile!  
Contact: Molly Scanlan, mscanlan@students.stonehill.edu
Financial Management Association
The Financial Management Association (FMA) is a supplementary financial education outlet that provides the opportunity to hear from real practitioners across the financial fields as well as provide networking opportunities for our members.  
Contact: James McGuire, jmcguire1@students.stonehill.edu
History Society
History Society is for everyone who either majors/ minors in history, or for people who just enjoy history as a hobby. We bring in speakers to talk about careers in history, or how history has equipped them with important life skills. Another large part of the club is playing jeopardy with history-themed categories.  
Contact: Victoria Burch, vburch@students.stonehill.edu
Marketing Management Association
The Marketing Management Association connects students with Stonehill alumni in the workforce. We host monthly events that focus on guest speakers, learning about internship opportunities or a potential career, and taking a look at life after Stonehill. We highly encourage all majors, especially business majors, to join and take advantage of this amazing networking opportunity. 
Contact: Jackie Marconi, jfalvey1@students.stonehill.edu
Neuroscience Society
The Stonehill Neuroscience Society strives to educate the community about the brain and nervous systems, as well as promotes professional development, networking and academic studies in neuroscience. We also select a charity organization and fundraise the advancement in the study of neuroscience, support drug discovery and treatment of neurological disorders.  
Contact: Jess Medieros, jmedeiros1@students.stonehill.edu
Psychology Society
Psychology Society welcomes psychology majors and anyone interested in the topic. Our events help students learn more about psychology as a career option, courses provided at Stonehill, graduate programs, and research and internship opportunities. We also hold and participate in events that promote mental health awareness.  
Contact: Lilah Meehan, lmeehan1@students.stonehill.edu
Speech-Language Pathology Club
The SLP Club discusses the classes for the minor along with the internships that are provided with local private practices and schools. Additionally, we discuss the process of attending and applying to graduate school and life once you receive your certification.  
Contact: Meredith Adams, madams3@students.stonehill.edu
Active Minds
Active Minds promotes mental health awareness within the Stonehill community and beyond. We come together to speak out against the stigma and discrimination that surrounds mental illness. Active Minds provides a safe space to discuss mental health and resources for those struggling.
Contact: Maeve Rondeau, mrondeau@students.stonehill.edu
Afro-Caribbean Club
The Afro-Caribbean Club strives to educate Stonehill about the different identities within the African diaspora. While celebrating Afro-Caribbean beliefs and ancestry, we empower members to develop a deeper understanding of cultures, share their traditions, and celebrate African heritage through discussions, trips and events.
Contact: Evaudie Paul, epaul@students.stonehill.edu
Art Club
Also known as "Craft Club," we make some of the many Pinterest crafts that we have always wanted to attempt to create (e.g., canvas paintings, succulent decorating, crayon melting, coasters, fleece tie blankets)! All supplies are provided and the crafts we make are great dorm decorations or even gifts.
Contact: Erin Mason, emason@students.stonehill.edu
Ben's Bells
The mission of Ben's Bells is to teach individuals and communities about the positive impacts of intentional kindness and to inspire people to practice kindness as a way of life.
Contact: Sydney DeJoie, sdejoie@students.stonehill.edu
Black Student Union
The Black Student Union fosters growth and unity among it's students by elevating and promoting African (PAN) cultural pride, history and development within our Stonehill community. Through enriching educational events, mentorship, activism, and pivotal cultural luncheons and dinners, the BSU promotes Black Art, culture, unity and pride. Our Black Student Union embraces and welcomes all students regardless of race, gender, sexuality or ethnicity in celebrating our campus' diversity.
Contact: Gayle Regis, gregis@students.stonehill.edu
Colleges Against Cancer
Working towards raising awareness about cancer, our most popular events include traveling to Hope Lodge to cook dinner for cancer patients and making holiday cards for Boston Children's Hospital.
Contact: Jessica Williams, jwilliams5@studnets.stonehill.edu
Creative Writing Club
Creative Writing Club is open to students with or without creative writing experience. Meeting weekly, students can choose to share their work, and other students provide compliments and constructive criticism on the work!
Contact: Matthew Murray, mmurray11@students.stonehill.edu
disABILITY Enlightenment Project (DEP)
DEP discusses current topics about disabilities occurring in the world and ways Stonehill can be a more inclusive environment. We also hold different dialogues about different intellectual and developmental disabilities.
Contact: Caitlin Yannizzi, cyannizzi@students.stonehill.edu
Financial Wellness Club
Contact: Allison Cannon, acannon@students.stonehill.edu
Gaming Club
This recreational club hosts small events featuring various video and tabletop games each weekend. These can be both competitive and casual events intended to build a strong sense of community.
Contact: Tristan Dunn, tdunn@students.stonehill.edu
Love Blooms
Contact: Karen Demarest, kdemarest@students.stonehill.edu
Love Your Melon
"Love Your Melon is an apparel brand dedicated to giving a hat to every child battling cancer and supporting the fight against pediatric cancer". On campus we are dedicated to raising awareness through different events, whether that be tabling in the Commons or social media challenges.
Contact: Janelle Poitras, jpoitras@students.stonehill.edu
MATU (Mundos Apartes Tierras Unidas)
Matu (Mundos Apartes Tierras Unidas) is an all inclusive Latinx club that educates students on the diversity and customs within Latinx culture by holding club meetings, events and joining Latinx conferences.
Contact: Jasmine Santos, jsantos3@students.stonehill.edu
Make-A-Wish Club
Tens of thousands of volunteers, donors and supporters advance the Make-A-Wish® vision to grant the wish of every child diagnosed with a critical illness. In the United States and its territories, on average, a wish is granted every 34 minutes. We believe a wish experience can be a game-changer.
Contact: Janelle Poitras, jpoitras@students.stonehill.edu
Students for Environmental Action (SEA)
SEA is concerned with all things sustainable and ecologically friendly. We meet once a week and try to host one event each month to increase education on campus. We welcome anyone to stop by our meetings and there is more information is on our Facebook page!
Contact: Elizabeth Cronin, ecronin@students.stonehill.edu
Spanish Club
We meet weekly as well as have events such as movie nights, try different Spanish recipes, and converse in Spanish with our members. We discuss different topics including music, pop culture and more! Learners of all levels are welcome and encouraged to join. Bienvenidos!
Contact: Carolyn Hayes, chayes2@students.stonehill.edu
Students to End Alzheimer's Disease
We focus on volunteerism, awareness and outreach, and research and education centered around Alzheimer's disease within the Stonehill community as well as the Easton/Brockton area. We strive to help those affected by Alzheimer's disease as well as advocating for improvements and change to Alzheimer's-related healthcare policies.
Contact: Emily O'Malley, eomalley1@students.stonehill.edu
Women's Health & Empowerment NOW (WHEN)
WHEN is an inclusive dialogue group focusing on issues pertaining to women. Meeting every Tuesday night, we discuss topics centering around women's health and empowerment. Past discussion topics have included underrepresentation of women in politics, the gender pay gap in women's sports, and the stigma surrounding menstruation.
Contact: Alexandra Froment, afroment@students.stonehill.edu
Class Committees
Elected each year by members of their class, Class Committees are designed to serve the needs of each specific class as well as acting as a sounding board for class-specific issues through SGA.
Class of 2022: Contact Angela Fisher (afisher@students.stonehill.edu)
Class of 2021: Contact Joseph O'Malley (jomalley2@students.stonehill.edu)
Class of 2020: Contact Gerard McCarthy (gmmarthy@students.stonehill.edu)
Class of 2019: Contact Rebecca Merkel (rmerkel@students.stonehill.edu)
Programming Committee
Programming Committee is the area of SGA charged with bringing events and programs to campus throughout the year. 
Programming Committee has several sub-committees, each with their own focus:
Concert/Coffeehouse Committee
Diversity Committee
Movie/Comedy Committee
Programming Committee
Spirit Committee
Special Events Committee
Trip Committee
ACRES
Stonehill's yearbook committee.  
Contact: Rachel Riani, jpoitras@students.stonehill.edu
The Cairn
The Cairn is Stonehill College's student-run literary and art journal. Look for our printed publications each spring semester!  
Contact: Cassandra Peterson, cpeterson2@students.stonehill.edu
The Summit
Stonehill's student newspaper. 
Contact: Max Peebles, mpeebles@students.stonehill.edu
WSHL 91.3
As Stonehill's on-campus radio station, we broadcast to the surrounding local communities and can be streamed online. You can have your own radio program to play music, talk about sports, and everything else in-between. If you've ever had any interest in the world of radio, join the WSHL family and find out how much fun being a DJ can be.  
Contact: Kyle Novakoski, knovakoski@students.stonehill.edu
Dance Club
One of the largest clubs on campus and open to everyone, the Stonehill Dance Club gives members classes once a week consisting of hip-hop, lyrical, jazz, ballet, pointe, tap and modern. No experience is necessary. We also hold two major performances a year. We want to promote the art of dance, as well as to provide our members with a variety of dance styles in a fun and inclusive environment.   
Contact: Laura Coppinger, lcoppinger@students.stonehill.edu
Girls from the Hill (GFTH)
Girls From The Hill (GFTH) is Stonehill's only all-female a cappella group, founded in 2000 by Abbey Pannozzo '04 and Nicola Parry '04. Directed and organized entirely by students, GFTH carries on its legacy through admirable peer leadership and performance.   
Contact: Wendy Lucas, wlucas@students.stonehill.edu
Irish Dance Troupe
Composed of dancers of all organizations and levels, the Stonehill Irish Dance Troupe performs on and off campus, competes in intercollegiate Irish dance competitions, and practices and choreographs pieces together. Those who still compete individually practice and train together for feisanna, and all of the experienced dancers come together to help teach those new to Irish dance basic steps and technique.  
Contact: Caroline McAuliffe, cmcauliffe@students.stonehill.edu
Stonehill Musical Theatre Club (SMTC)
The Stonehill Musical Theatre Club (SMTC) is a student-run organization that welcomes students who are interested in acting, singing, dancing and even set crew. SMTC puts on a musical every school year and performs at other events on campus such as Relay for Life.  
Contact: Megan Bonney, mbonney@students.stonehill.edu
Surround Sound
The first and only co-ed a cappella group at Stonehill tackling all kinds of artists and genres, from The Chainsmokers to Broadway Musicals. We promise to give you an earful of melodious harmony as well as entertain you with our wonderful senses of humor and stunning charm.  
Contact: Hailey O'Connell, hoconnell@students.stonehill.edu
American Institute of Graphic Arts (AIGA)
AIGA is a nationwide organization that allows students to attend programs and conferences to better their understanding of design. The program offers many opportunities to acquire new knowledge about the latest advances in the design community, especially through meetings and presentations. Stonehill College is a part of the AIGA Boston Chapter.  
Contact: Kelsey Clark, smacfarlane@students.stonehill.edu
Healthcare Society
Contact: Elizabeth Sweeney, slatour@students.stonehill.edu
College Democrats
College Democrats' main goal is encouraging civic participation and activism for local and national interests. We seek to connect students with opportunities within the Democratic Party, from canvassing for local candidates to discussing and addressing major policy issues. Although we operate from the perspective of the Democratic Party, we welcome students of all political persuasions for thoughtful dialogue.
Contact: Leo Field, lfield@students.stonehill.edu
College Republicans
Contact: Andrew Tammaro,  atammaro@students.stonehill.edu
Club Sports
Cheerleading Team, Golf Team, Lacrosse Team (men's), Rugby team (Men's & Women's), Ultimate Disc (Men's & Women's), Volleyball team (co-ed)  
Contact: Maureen Purcell, mpurcell@stonehill.edu
Riding Club
The Riding club is an opportunity for Stonehill students to be able to ride horses in a noncompetitive atmosphere. It is open to all levels of experience, and none is needed.  
Contact: Emily Gibeault, kkornachuk@students.stonehill.edu
Taekwondo Club
Taekwondo Club teaches students practical self-defense techniques with taekwondo skills. All students are welcome, and no experience is needed.
Contact: Nicole Teaney, nteaney@students.stonehill.edu
Catholic Daughters of America
The Good News Club
Knights of Columbus 
Habitat for Humanity  
Contact: Emma Gargano, egargano@students.stonehill.edu
Into The Streets
Contact us with any questions.
Roche Dining Commons – 103
The Office of Student Engagement provides opportunities that will empower students to create a fun and positive campus community. The office enjoys a strong working and advising relationship with the Student Government Association, class committees and many of the student clubs and organizations.