Clubs & Organizations
If you're looking for a new way to explore your passions, the student clubs on campus are the best place to start. Whether you're interested in painting or politics, singing or social activism, you can be sure there will be plenty of opportunities to get involved.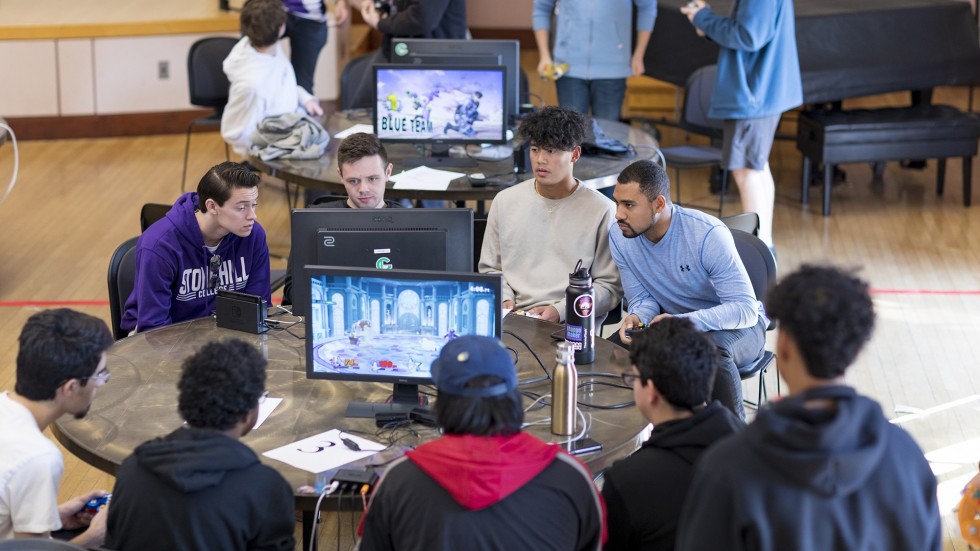 Learn More About Our Clubs & Organizations
Accounting Association
The Accounting Association is open to students of all majors and class years. Members are exposed to representatives from graduate schools, accounting firms, CPA prep courses and others networking opportunities. The club holds meetings and on-campus events throughout the academic year.
Biochemistry & Chemistry Club
The biochemistry club is part of the student chapter for the American Chemical Society. the club is open to all who have a passion for science and aims to provide resources for future research, and internship opportunities. Not only do we focus on helping the future careers of the students, but also provide fun experiments and volunteer opportunities to take a mental break from all the college classes. Join us for some science fun!
Criminology Club
The mission of Stonehill Criminology Club is to educate students on the complexities of the United States Criminal Justice System through club meetings and events that may include guest speakers and networking opportunities. As a student-led organization, the Criminology Club aims to raise awareness regarding social injustices in our courts, corrections, and policing systems; as well as aid students in the discovery of potential career paths and opportunities once they leave Stonehill. Associate Professor of Criminology Danielle Carkin Lacorazza serves as this club's faculty advisor. 
Education Society
Education Society supports students interested in working in the field of education. Numerous events throughout the semester allow students to gain insight into the various aspects that the field of education has to offer.  
English Society
A gathering place for all bookworms, we welcome literature lovers both belonging to and beyond Stonehill's English Department. We plan activities for our meetings, occasional parties and the odd outing to celebrate those things that we share: the characters we love, the plots that stick with us and the stories that tie us all together. Stop by to say hello and feel free to stay awhile!  
Financial Management Association 
The Stonehill FMA gives students the opportunity to enhance their academic experience and gain a better understanding of the finance industry and its professional possibilities. Open to students of all majors and class years, our FMA chapter offers professional seminars, weekly meetings, an active stock market simulation challenge, visits to local companies as well as opportunities to network with numerous guest speakers throughout the academic year.
Marketing Management Association
The Marketing Management Association connects students with Stonehill alumni in the workforce. We host monthly events that focus on guest speakers, learning about internship opportunities or a potential career, and taking a look at life after Stonehill. We highly encourage all majors, especially business majors, to join and take advantage of this amazing networking opportunity.
Mock Trial
Mock Trial is a competitive team activity where we simulate a real, lower- court trial. In the beginning of the school year, we receive a case packet with information about either a civil or criminal case and we use the year to prepare for invitationals, regionals, and nationals -- the big one!
Each team member will be assigned a role for either side of the trial, whether it's a witness, attorney, investigator, detective, etc. No matter what role you are, you will be able to sharpen your speech, acting, and critical thinking skills.
Neuroscience Society
The Stonehill Neuroscience Society strives to educate the community about the brain and nervous systems, as well as promotes professional development, networking and academic studies in neuroscience. We also select a charity organization and fundraise the advancement in the study of neuroscience, support drug discovery and treatment of neurological disorders.  
Pre-Health Society
We aim to provide students with knowledge and resources pertaining to the healthcare field. Members are able to participate in guest speaker events, team bonding activities, volunteer experiences, professional development, and more. Anyone who is interested in pre-health is welcome to our meetings and events!
Psychology Society
Psychology Society welcomes psychology majors and anyone interested in the topic. Our events help students learn more about psychology as a career option, courses provided at Stonehill, graduate programs, and research and internship opportunities. We also hold and participate in events that promote mental health awareness.  
Speech-Language Pathology Club
The SLP Club discusses the classes for the minor along with the internships that are provided with local private practices and schools. Additionally, we discuss the process of attending and applying to graduate school and life once you receive your certification.  
Stonehill Biological Society
Biosociety is a club for those who are interesting in biology and supports students interested in future study/work in the field. Students from any background, class year, and interest are welcome to come meet like-minded individuals and learn about the wonders of biology.
Women in Business
Women in Business is an all women's club devoted to women that want to connect and network with successful women in the workforce while learning more about how to succeed in business as a women!
Women in Finance
Women in Finance is a club dedicated to increasing female involvement and interest in both studying finance in undergrad and pursuing a career in finance. Together, we aim to prepare students for a career in finance by providing its member with networking events, site visits, workshops to work on resumes and career development, and informational meetings about topics in the finance industry. As a club, we hope to develop a community of women who support each other professionally, educationally, and socially.
Women in STEM
Women in STEM aims to provide support and new opportunities to its members. We not only want to encourage more women to join STEM majors, but to support those currently in them through a sense of community and creating connections between each other and guest speakers. De-stress events and discussion-based meetings will serve as a way to relax, and continue to be successful in your major.
ACRES Yearbook Club 
ACRES Yearbook Club is a club for all students. This club allows each individual to show off their special skills and learn more about Stonehill. It is also a great way to meet new students and faculty while also celebrating the graduating class. 
Art Club
Also known as "Craft Club," we make some of the many Pinterest crafts that we have always wanted to attempt to create (e.g., canvas paintings, succulent decorating, crayon melting, coasters, fleece tie blankets)! All supplies are provided and the crafts we make are great dorm decorations or even gifts.  
Creative Writing Club
Creative Writing Club is open to students with or without creative writing experience. Meeting weekly, students can choose to share their work, and other students provide compliments and constructive criticism on the work!  
Fashion Club
Our mission is to create a platform where students can express their enthusiasm for fashion and showcase individual styles. Through a shared interest in fashion, we aim to become a place of creativity, freedom for self-expression, and inclusivity.
Gaming Club
The Stonehill Gaming Club hosts weekly casual and competitive events featuring various video and tabletop games intended to build a strong sense of community of people across all identities and interests. 
Mundos Apartes Tierras Unidades  (MATU)
M.A.T.U (Mundos Apartes, Tierras Unidas) is the Latinx club on our campus. We strive to provide a community for Latinx students on campus, as well as educating and sharing our culture with all students. Some of our events are the annual Latinx Festival, game nights, and a family dinner event. 
Pan-Asian Alliance
Pan-Asian Alliance (PAA) is the Asian affinity club on campus. Our goal is to educate and inspire our members about the different countries of Asia, by hosting dynamic and interactive meetings and events. We work closely with the Office of Intercultural Affairs to promote diversity on campus, and make sure that we remain a safe space for everyone to come and enjoy our programs.
Pinky Swear PACK Program
The Pinky Swear Pack is a group of college ambassadors who raise awareness and support children suffering from pediatric cancer. The group embraces the goals of the Pinky Swear Organization by participating in activities with pediatric cancer patients, hosting fundraisers, completing hands-on activities to support the children, and working with other schools to expand awareness of the cause
PRIDE
PRIDE's purpose is to create a welcoming and inclusive campus environment for everyone regardless of sexual orientation and/or gender identity. PRIDE meets biweekly and we welcome anyone to stop by!
Stonehill March For Our Lives
A chapter of the national organization which was created to in support of legislation and action to prevent gun violence in the United States. We advocate for local changes and education both on campus and in our own communities. We are open to everyone and encourage all to come to a meeting!
Students for Environmental Action (SEA)
SEA is concerned with all things sustainable and ecologically friendly. We meet once a week and try to host one event each month to increase education on campus. We welcome anyone to stop by our meetings and there is more information is on our Facebook page!  
Students Outreach for Refugees, Asylees, & Immigrants (SORAI)
Our goal is to act as a sanctuary space for all immigrants, refugees, and asylees in the Stonehill Community and neighboring areas. We seek to educate ourselves and others on campus about the immigration and refugee system, about current events, and how we can take what we have learned to collectively works towards fixing a broken system.
Student Government Association
The Stonehill College Student Government Association serves as the voice for undergraduate students. SGA takes an active and integral role in promoting Diversity & Inclusion initiatives, campus-wide programming, legislation, and overall student engagement within the Stonehill community. We strive to embody the College's values of "educating the whole person, so that each Stonehill graduate thinks, acts, and leads with courage to create a more just and compassionate world." Below is information on the Class Presidents and Programming Committee
Class Committees
Elected each year by members of their class, Class Committees are designed to serve the needs of each specific class as well as acting as a sounding board for class-specific issues through SGA. The following serve as their respective classes' Presidents. 
Programming Committee
Programming Committee is the area of SGA charged with bringing events and programs to campus throughout the year. 
Programming Committee has several sub-committees, each with their own focus:
Concert/Coffeehouse Committee
Diversity Committee
Movie/Comedy Committee
Programming Committee
Spirit Committee
Special Events Committee
Trip Committee
Her Campus 
Her Campus is the #1 media site for college women to post original articles about topics such as current events, entertainment, style, beauty, wellness, and careers. We seek to provide women at Stonehill with an opportunity to creatively explore their college experience through writing and digital media while being involved in a community with other students who share a similar interest. Check out our website: hercampus.com/school/stonehil
Sports Broadcasting Club: The Flyover
The Flyover is run by students who want to pursue a future in sports journalism or broadcasting. The Flyover works in collaboration with the athletic department and Skyhawk Vision to provide in-depth coverage on Skyhawk athletics.
The Summit
The Summit is Stonehill's student-run newspaper. Publishing several issues a semester, The Summit tackles both hard stories affecting student life, as well as the lighter side of Stonehill with interesting and though provoking human interest stories.
WSHL 91.3
As Stonehill's on-campus radio station, we broadcast to the surrounding local communities and can be streamed online. You can have your own radio program to play music, talk about sports, and everything else in-between. If you've ever had any interest in the world of radio, join the WSHL family and find out how much fun being a DJ can be.
Dance Club
Dance Club is one of the largest clubs on campus and open to everyone. The club provides members classes once a week consisting of hip-hop, lyrical, jazz, ballet, pointe, tap and modern. No experience is necessary. Also, we hold two major performances a year. We want to promote the art of dance, as well as to provide our members with a variety of dance styles in a fun and inclusive environment.
Girls from the Hill (GFTH)
Girls From The Hill (GFTH) is Stonehill's only all-female a cappella group, founded in 2000 by Abbey Pannozzo '04 and Nicola Parry '04. Directed and organized entirely by students, GFTH carries on its legacy through admirable peer leadership and performance.   
Goose Troupe Improvisational Comedy Club
Students participate in and/or observe a variety of unrehearsed scenes & games and develop valuable acting and public speaking skills that can be used on and off the stage. Culminates in an end of the semester show for the entire campus, typically held in The Hill. 
Stonehill Musical Theatre Club (SMTC)
The Stonehill Musical Theatre Club (SMTC) is a student-run organization that welcomes students who are interested in acting, singing, dancing and even set crew. SMTC puts on a musical every school year and performs at other events on campus such as Relay for Life.  
Surround Sound
The first and only co-ed a cappella group at Stonehill tackling all kinds of artists and genres, from The Chainsmokers to Broadway Musicals. We promise to give you an earful of melodious harmony as well as entertain you with our wonderful senses of humor and stunning charm.  
College Democrats
College Democrats' main goal is encouraging civic participation and activism for local and national interests. We seek to connect students with opportunities within the Democratic Party, from canvassing for local candidates to discussing and addressing major policy issues. Although we operate from the perspective of the Democratic Party, we welcome students of all political persuasions for thoughtful dialogue.
Model United Nations
A student led group that studies and engages with the world in order to improve it and ourselves.
Political Science Club
The Stonehill Political Science Club was created in 2020 as a place to expand students' knowledge of politics while gaining academic and networking experience. The club holds events such as guest speakers for networking and future job and internship opportunities; they have a podcast that discusses current political issues; and an academic journal where members can publish peer-reviewed work. 
AIGA Stonehill (American Institute of Graphic Arts)
AIGA (American Institute of Graphic Arts) Stonehill is a nationwide organization that allows students to attend programs and conferences to better their understanding of design. The program offers many opportunities to acquire new knowledge about the latest advances in the design community, especially through meetings and presentations. AIGA Stonehill is a student group associated with the AIGA Boston Chapter.
Distributed Education Clubs of America (DECA)
A chapter of students looking to network with professionals through a series of events and work to refine their presentation and critical thinking skills for international competition. Students compete at different conferences in a wide array of events centered around marketing, management, entrepreneurship, finance, ethics, and a variety of other subjects. 
Pre-Dental Society
Stonehill Pre-Dental Society is being revamped to serve as a resource for students who are interested in pursuing the field of dentistry. This society will allow for opportunities in peer advising to familiarize students with the application process and the requirements for admissions, healthcare volunteering, shadowing, and networking within the field. Any students of every background are allowed at meetings, even if they are not Pre-Dental!
Pre-Healthcare Society
To foster students' passion for a career in healthcare and provide opportunities to make connections with alumni and other healthcare professionals. By being an member, students will gain leadership, communication, and networking skills that will assist them in the healthcare industry.
Club Sports
The link below will take you to the list of Club Sports recognized by Athletics. SGA works with Athletics to recognize these groups. 
Run for Fun Club
The Run for Fun Club is a non-competitive and fun way for students at Stonehill to pursue running. This club will allow students to feel a sense of community with others who are also passionate about and enjoy running, or who are looking to start running. No experience is necessary to join. We will meet once a week to run. 
25:35 Club
The 25:35 club strives to be the light of the world and salt of the Earth as its members are encouraged to pursue acts of kindness here on campus, and the surrounding community. Our club prides itself on keeping its doors open to all children of Christ who seek to carry out His teachings, including students, faculty, and fellow parishioners of the Holy Cross community.
Habitat for Humanity  
A fully student driven club that works with South Shore Habitat and Collegiate Challenge to build affordable housing for families in need. Working with certified contractors, we learn skills to safely build homes for hard working families. Our club fundraises, volunteers, and aids in giving what Habitat for Humanity calls "the hand-up, not a hand-out".
Relay For Life
A fundraising club here on campus that works to come up with and execute different fundraisers to benefit the American Cancer Society. We also plan the campus' annual 12-hour Relay For Life event that honors the memory of all those who have battled cancer.
The following student organizations been granted provisional or temporary status by the Student Government Association. If the student groups are granted full status by the time their provisional status expires, they will be placed in one of the above categories.
Hope Happens Here
Hope Happens Here was created with the intention to work with student-athletes to help destigmatize mental health issues that are prominent in athletics. Starting in 2015, at Saint Michael's College with SAAC members, Hope Happens Here now has chapters in over 15 colleges. The Hope Happens Here Chapter at Stonehill College began in 2019. Our main objective is to promote awareness through education and "starting the conversation" surrounding mental health and athletes and create positive change on college campuses in order to break the stigma.
Stonehill College Lifting Club
The Stonehill College Lifting Club is a non-competitive weightlifting club that will create an inclusive exercise environment for all undergraduate Stonehill students. Members will encourage each other to achieve their fitness goals while also making new connections and improving themselves physically and mentally.
Stonehill Take Back the Night
We are a club for those who are passionate about combatting sexual violence, creating a supportive campus and show support for sexual violence survivors. Everyone is welcome to join.
Contact us with any questions.
Roche Dining Commons – 103
The Office of Student Engagement provides opportunities that will empower students to create a fun and positive campus community. The office enjoys a strong working and advising relationship with the Student Government Association, class committees and many of the student clubs and organizations.