Clubs & Organizations
If you're looking for a new way to explore your passions, the student clubs on campus are the best place to start. Whether you're interested in painting or politics, singing or social activism, you can be sure there will be plenty of opportunities to get involved.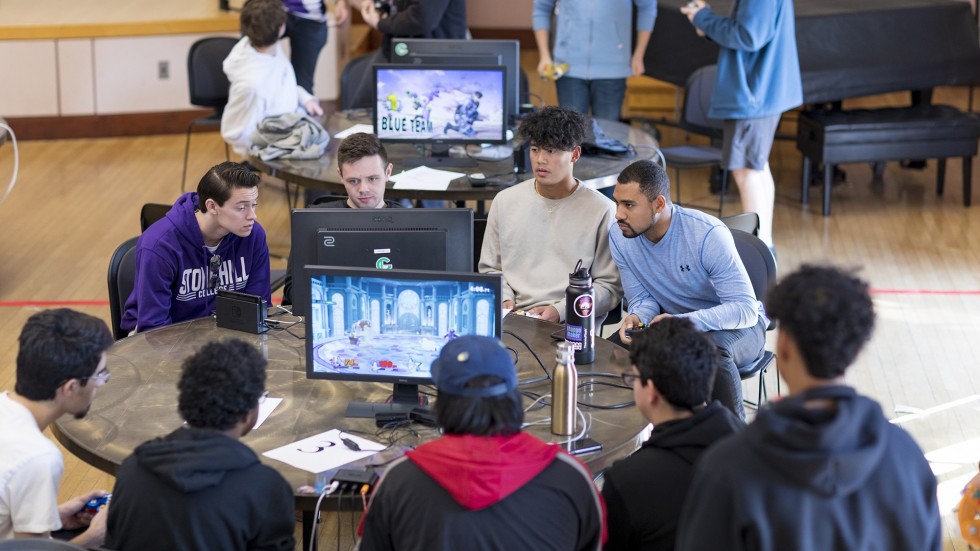 Learn More About Our Clubs & Organizations
Accounting Association
The Accounting Association is open to students of all majors and class years. Members are exposed to representatives from graduate schools, accounting firms, CPA prep courses and others networking opportunities. The club holds meetings and on-campus events throughout the academic year.
Contact: Jacqueline Flynn, jflynn4@students.stonehill.edu
Biochemistry & Chemistry Club
The biochemistry club is part of the student chapter for the American Chemical Society. the club is open to all who have a passion for science and aims to provide resources for future research, and internship opportunities. Not only do we focus on helping the future careers of the students, but also provide fun experiments and volunteer opportunities to take a mental break from all the college classes. Join us for some science fun!
Contact: Ariana Rodrigues, arodrigues2@students.stonehill.edu
Education Society
Education Society supports students interested in working in the field of education. Numerous events throughout the semester allow students to gain insight into the various aspects that the field of education has to offer.  
Contact: Kelly Trayers, ktrayers@students.stonehill.edu
Engineering Society
The Engineering Society encompasses mostly majors in physics, math, computer science and engineering. We host activities such as egg drops, coding a raspberry pi, spaghetti bridges and looking through the telescope at the observatory. We also work with 3rd graders that code Lego EV3 robots!  
Contact: Andrew Fitzgerald, afitzgerald@students.stonehill.edu
English Society
A gathering place for all bookworms, we welcome literature lovers both belonging to and beyond Stonehill's English Department. We plan activities for our meetings, occasional parties and the odd outing to celebrate those things that we share: the characters we love, the plots that stick with us and the stories that tie us all together. Stop by to say hello and feel free to stay awhile!  
Contact: Madison Pimental, mpimental@students.stonehill.edu
History Society
History Society is for everyone who either majors/ minors in history, or for people who just enjoy history as a hobby. We bring in speakers to talk about careers in history, or how history has equipped them with important life skills. Another large part of the club is playing jeopardy with history-themed categories.  
Contact: Victoria Burch, vburch@students.stonehill.edu
Marketing Management Association
The Marketing Management Assocation connects students with Stonehill alumni in the workforce. We host monthly events that focus on guest speakers, learning about internship opportunities or a potential career, and taking a look at life after Stonehill. We highly encourage all majors, especially business majors, to join and take advantage of this amazing networking opportunity.
Contact: John Falvey, jfalvey@students.stonehill.edu
Neuroscience Society
The Stonehill Neuroscience Society strives to educate the community about the brain and nervous systems, as well as promotes professional development, networking and academic studies in neuroscience. We also select a charity organization and fundraise the advancement in the study of neuroscience, support drug discovery and treatment of neurological disorders.  
Contact: Jess Medieros, jmedeiros1@students.stonehill.edu
Pre-Health Society
We aim to provide students with knowledge and resources pertaining to the healthcare field. Members are able to participate in guest speaker events, team bonding activities, volunteer experiences, professional development, and more. Anyone who is interested in pre-health is welcome to our meetings and events!
Contact: Sajeda Ahmad, sahmad@students.stonehill.edu
Psychology Society
Psychology Society welcomes psychology majors and anyone interested in the topic. Our events help students learn more about psychology as a career option, courses provided at Stonehill, graduate programs, and research and internship opportunities. We also hold and participate in events that promote mental health awareness.  
Contact: Lindsey Walsh, lwalsh4@students.stonehill.edu
Speech-Language Pathology Club
The SLP Club discusses the classes for the minor along with the internships that are provided with local private practices and schools. Additionally, we discuss the process of attending and applying to graduate school and life once you receive your certification.  
Contact: Samantha Giurado, sgiurado@students.stonehill.edu & Molly McPherson, mmcpherson@students.stonehill.edu
Women in Finance
Women in Finance is a club dedicated to increasing female involvement and interest in both studying finance in undergrad and pursuing a career in finance. Together, we aim to prepare students for a career in finance by providing its member with networking events, site visits, workshops to work on resumes and career development, and informational meetings about topics in the finance industry. As a club, we hope to develop a community of women who support each other professionally, educationally, and socially.
Contact: Michelle Rodriguez, mrodriguezdes@students.stonehill.edu
Gabriella Chiodo, gchiodo@students.stonehill.edu
Molly Leach, mleach1@students.stonehill.edu
Art Club
Also known as "Craft Club," we make some of the many Pinterest crafts that we have always wanted to attempt to create (e.g., canvas paintings, succulent decorating, crayon melting, coasters, fleece tie blankets)! All supplies are provided and the crafts we make are great dorm decorations or even gifts.  
Contact: Erin Mason, emason@students.stonehill.edu
Black Student Union
The Black Student Union fosters growth and unity among it's students by elevating and promoting African (PAN) cultural pride, history and development within our Stonehill community. Through enriching educational events, mentorship, activism, and pivotal cultural luncheons and dinners, the BSU promotes Black Art, culture, unity and pride. Our Black Student Union embraces and welcomes all students regardless of race, gender, sexuality or ethnicity in celebrating our campus' diversity.
Contact: Alexis Thomas, athomas5@students.stonehill.edu
Colleges Against Cancer
Working towards raising awareness about cancer, our most popular events include traveling to Hope Lodge to cook dinner for cancer patients and making holiday cards for Boston Children's Hospital.  
Contact: Amelia Haddad, ahaddad@students.stonehill.edu
College Diabetes Network Stonehill Chapter
People living with diabetes fight some of the hardest battles, many of which are silent and can be overlooked by others. The College Diabetes Network Stonehill Chapter serves as a supportive and informational group on campus for students living with diabetes allowing them to relate and grow, as well as those who may want to learn more about the disease in general. We hold monthly meetings and look forward to having new members!
Contact: Nicholas Clark, nclark1@students.stonehill.edu
Creative Writing Club
Creative Writing Club is open to students with or without creative writing experience. Meeting weekly, students can choose to share their work, and other students provide compliments and constructive criticism on the work!  
Contact: Matthew Murray, mmurray11@students.stonehill.edu
Fashion Club
Our mission is to create a platform where students can express their enthusiasm for fashion and showcase individual styles. Through a shared interest in fashion, we aim to become a place of creativity, freedom for self-expression, and inclusivity.
Contact: Fiona Lu, ylu@students.stonehill.edu
French & Francophones Cultures Club
Focuses on broadening our knowledge of French culture, currently through watching movies and discussing cultural aspects within them. We meet weekly on zoom, and are open to any members. No French background necessary, but can help with understanding of topics and discussion.
Contact: Samantha Zimmerman, szimmerman@students.stonehill.edu
Gaming Club
This recreational clubs hosts small events featuring various video and tabletop games each weekend. These can be both competitive and casual events intended to build a strong sense of community.
Contact: (Edward) Cameron Wetzel, ewetzel@students.stonehill.edu
MATU (Mundos Apartes Tierras Unidas)
Matu (Mundos Apartes Tierras Unidas) is an all inclusive Latinx club that educates students on the diversity and customs within Latinx culture by holding club meetings, events and joining Latinx conferences.  
Contact: Jasmine Santos, jsantos3@students.stonehill.edu
Make-A-Wish Club
Tens of thousands of volunteers, donors and supporters advance the Make-A-Wish® vision to grant the wish of every child diagnosed with a critical illness. In the United States and its territories, on average, a wish is granted every 34 minutes. We believe a wish experience can be a game-changer.  
Contact: Marissa Siegal, msiegal@students.stonehill.edu
Stonehill Asian American Society
SGA funded club that aims to increase awareness of and celebrate Asian culture at Stonehill. All are welcome to attend our biweekly meetings where we host a wide range of activities, including; celebrating holidays, group discussions, cooking, crafts, or simply getting to know each other. Join us to discover and develop your identity, make connections, meet new friends, or learn how you can support the Asian Pacific Islander Desi American (APIDA) community as an ally. SAAS is a safe and inclusive space for all, and you don't have to be Asian to participate! Follow our Instagram @Stonehill.AAS or emial President Elizabeth for more info!
Contact: Elizabeth Blake, eblake1@students.stonehill.edu
Students for Environmental Action (SEA)
SEA is concerned with all things sustainable and ecologically friendly. We meet once a week and try to host one event each month to increase education on campus. We welcome anyone to stop by our meetings and there is more information is on our Facebook page!  
Contact: Sydney Pezza-Luther, spezzaluther@students.stonehill.edu
Women's Health & Empowerment NOW (WHEN)
WHEN is an inclusive dialogue group focusing on issues pertaining to women. Meeting every Tuesday night, we discuss topics centering around women's health and empowerment. Past discussion topics have included underrepresentation of women in politics, the gender pay gap in women's sports, and the stigma surrounding menstruation.  
Contact: Julia Saitta, jsaitta@students.stonehill.edu
Student Government Association
The Stonehill College Student Government Association serves as the voice for undergraduate students. SGA takes an active and integral role in promoting Diversity & Inclusion initiatives, campus-wide programming, legislation, and overall student engagement within the Stonehill community. We strive to embody the College's values of "educating the whole person, so that each Stonehill graduate thinks, acts, and leads with courage towards the creation of a more just and compassionate world." Below is information on the Class Presidents and Programming Committee
Executive Board
President: Abraham Medeiros '21 
Vice President: Mike Chamberlain '21
Public Relations Chair: Zack Rice '21
Treasurer: Vacant
Programming Chair: Celia Craft '21
Diversity Chair: Sayvion Jones '22
Finance Chair: Carter Pearl '21
Class Committees
Elected each year by members of their class, Class Committees are designed to serve the needs of each specific class as well as acting as a sounding board for class-specific issues through SGA. The following serve as their respective classes' Presidents. 
Class of 2021: Brenan Ferrick, bferrick@students.stonehill.edu
Class of 2022: Kemuel Navarrete, knavarrete@students.stonehill.edu
Class of 2023: Emily Hartford, ehartford1@students.stonehill.edu
Class of 2024: Jessika Crockett-Murphy, jcrockettmurp@students.stonehill.edu
Programming Committee
Programming Committee is the area of SGA charged with bringing events and programs to campus throughout the year. 
Programming Committee has several sub-committees, each with their own focus:
Concert/Coffeehouse Committee
Diversity Committee
Movie/Comedy Committee
Programming Committee
Spirit Committee
Special Events Committee
Trip Committee
Rolling Stonehill
Student led arts and culture magazine. We serve as a platform for any Stonehill student to have an article published and express themselves creatively. Our goal is to entertain and give our campus a voice.
Contact: Kyle Patterson, kpatterson1@students.stonehill.edu
Sports Broadcasting Club: The Flyover
The Flyover is run by students who want to pursue a future in sports journalism or broadcasting. The Flyover works in collaboration with the athletic department and Skyhawk Vision to provide in-depth coverage on Skyhawk athletics.
Contact: Joe Spadorcia, jspadorcia@stonehill.edu
The Summit
The Summit is Stonehill's student-run newspaper. Publishing several issues a semester, The Summit tackles both hard stories affecting student life, as well as the lighter side of Stonehill with interesting and though provoking human interest stories.
Contact: Anastasia Pumphrey, apumphrey@students.stonehill.edu
WSHL 91.3
As Stonehill's on-campus radio station, we broadcast to the surrounding local communities and can be streamed online. You can have your own radio program to play music, talk about sports, and everything else in-between. If you've ever had any interest in the world of radio, join the WSHL family and find out how much fun being a DJ can be.  
Contact: Ellen Jones, ejones5@students.stonehill.edu
Dance Club
One of the largest clubs on campus and open to everyone, the Stonehill Dance Club gives mebers classes once a week consisting of hip-hop, lyrical, jazz, ballet, pointe, tap and modern. No expericne is necessary. We also hold two major performance a year. We want to promote the art of dance, as well as to provide our members with a variety of dance styles in a fun and inclusive environment.
Contact: Lauren Whelton, lwhelton@students.stonehill.edu
Girls from the Hill (GFTH)
Girls From The Hill (GFTH) is Stonehill's only all-female a cappella group, founded in 2000 by Abbey Pannozzo '04 and Nicola Parry '04. Directed and organized entirely by students, GFTH carries on its legacy through admirable peer leadership and performance.   
Contact: Olivia Gionet, ogionet@students.stonehill.edu
Goose Troupe Improvisational Comedy Club
Meets every Wednesday from 8pm-9pm in the Hemingway Theatre. Students participate in and/or observe a variety of unrehearsed scenes & games and develop valuable acting and public speaking skills that can be used on and off the stage. Culminates in an end of the semester show for the entire campus, typically held in The Hill.
Contact: Jessica Nicol, jnicol@students.stonehill.edu
RUCKUS Hip Hop & Step
Contact: Amica Jolicoeur, ajolicoeur@students.stonehill.edu
Stonehill Musical Theatre Club (SMTC)
The Stonehill Musical Theatre Club (SMTC) is a student-run organization that welcomes students who are interested in acting, singing, dancing and even set crew. SMTC puts on a musical every school year and performs at other events on campus such as Relay for Life.  
Contact: Louis Sorrenti, lsorrenti@students.stonehill.edu
Surround Sound
The first and only co-ed a cappella group at Stonehill tackling all kinds of artists and genres, from The Chainsmokers to Broadway Musicals. We promise to give you an earful of melodious harmony as well as entertain you with our wonderful senses of humor and stunning charm.  
Contact: Kaitlin Peters, kpeters1@students.stonehill.edu
College Democrats
College Democrats' main goal is encouraging civic participation and activism for local and national interests. We seek to connect students with opportunities within the Democratic Party, from canvassing for local candidates to discussing and addressing major policy issues. Although we operate from the perspective of the Democratic Party, we welcome students of all political persuasions for thoughtful dialogue.
Contact: Siobhan Dowcett, sdowcett@students.stonehill.edu
Model United Nations
A student led group that studies and engages with the world in order to improve it and ourselves.
Contact: Taylor White, twhite2@students.stonehill.edu
American Institute of Graphic Arts (AIGA)
AIGA is a nationwide organization that allows students to attend programs and conferences to better their understanding of design. The program offers many opportunities to acquire new knowledge about the latest advances in the design community, especially through meetings and presentations. Stonehill College is a part of the AIGA Boston Chapter.  
Contact: Lauren Anhalt, lanhalt@students.stonehill.edu
Distributed Education Clubs of America (DECA)
An international association of high school and college students and teacher of maketing, management, and entrepreneurship in business, finance, hospitality and marketing sales and service.
Contact: Taylor White, twhite2@students.stonehill.edu
Healthcare Society
Contact: Kendall Durney, kdurney@students.stonehill.edu
Stonehill Mock Trial Club
Contact: Katherine Griffin, kgriffin2@students.stonehill.edu
Club Sports
The link below will take you to the list of Club Sports recognized by Athletics. SGA works with Athletics to recognize these groups. 
Beacon Of Light
Contact: Tahj Valentine, tvalentine@students.stonehill.edu
Catholic Daughters of America*
Knights of Columbus *
*Campus Ministry recognized group
Disability Enlightenment Project
Focuses on learning about both physical and m,ental disabilities to achieve a better understanding on the different areas around the subject. We hope to give a better idea of how these disabilities should not be seen as a limitation to someone but instead showcase how they can make people stronger. We also hope to give people with disabilities the recognition theyd eserve by working on implementing such things as an honors society to really show our appreciation to their academic accomplishments.
Contact: Nicholas Colvin, ncolvin@students.stonehill.edu
Habitat for Humanity  
A fully student driven club that works with South Shore Habitat and Collegiate Challenge to build affordable housing for families in need. Working with certified contractors, we learn skills to safely build homes for hard working families. Our club fundraises, volunteers, and aids in giving what Habitat for Humanity calls "the hand-up, not a hand-out".
Contact: Emma Gargano, egargano@students.stonehill.edu
Relay For Life
A fundraising club here on campus that works to come up with and execute different fundraisers to benefit the American Cancer Society. We also plan the campus' annual 12-hour Relay For Life event that honors the memory of all those who have battled cancer.
Contact: Alexis Christie, achristie@students.stonehill.edu
She's the First Stonehill
A non-profit organization that sponsors and  advocates for girls' education in low income areas.
Contact: Emma Bergstrom, ebergstrom@students.stonehill.edu
Stonehill March For Our Lives
A chapter of the national organization which was created to in support of legislation and action to prevent gun violence in the United States. We advocate for local changes and education both on campus and in our own communities. We are open to everyone and encourage all to come to a meeting!
Contact: Katelyn Samios, ksamios@students.stonehill.edu
The following student organizations been granted provisional or temporary status by the Student Government Association. If the student groups are granted full status by the time their provisional status expires, they will be placed in one of the above categories.
48 Club
The Stonehill 48 Club's mission is to educate members about the vast wonders of Asian culture and give voice to those who may be underrepresented in our communities. We stand tall as a young, progressive group of diverse individuals who are dedicated to inclusiveness and acceptance for people of every background. We want to create an environment to share ideas, dreams and goals while educating ourselves about all 48 Asian countires and their various cultures.
Contact: Viet Le, vle@students.stonehill.edu
Film Club
Contact: Foley Rabbitt, mrabbitt@students.stonehill.edu
Her Campus Chapter
Her Campus is the #1 media site for college women to post original articles about topics such as current events, entertainment, style, beauty, wellness, and careers. We seek to provide women at Stonehill with an opportunity to creatively explore their college experience through writing and digital media while being involved in a community with other students who share a similar interest. Check out our website: hercampus.com/school/stonehill
Contact: Kelly Lewis & Erin Sousa, klewis1@students.stonehill.edu esousa1@students.stonehill.edu
Hill Thrift
Hill Thrift is an online platform for students to participate in environmentally sustainable shopping. Through Hill Thrift students can buy and sell clothing, electronics, sports gear, etc, safely and efficiently. Hill Thrift can be viewed on Instagram @hill_thrift .
Contact: Mary Gilmartin, mgilmartin@students.stonehill.edu
Outdoors Club
The Outdoor Recreation club hopes to unite students over their common passion of nature and outdoor environments. This includes trips such as: hiking, camping, surfing, rock climbing, volunteering, and much more!
Contact: Ethan Penn, epenn@students.stonehill.edu
Political Science Club
Contact: Jack Herndon, jherndon@students.stonehill.edu
Recreational Arts & Performance Society
Contact: Michel-ange Siaba, msiaba@students.stonehill.edu
Students Outreach for Refugees, Asylees, & Immigrants
Our goal is to act as a sanctuary space for all immigrants, refugees, and asylees in the Stonehill Community and neighboring areas. We seek to educate ourselves and others on campus about the immigration and refugee system, about current events, and how we can take what we have learned to collectively works towards fixing a broken system.
Contact: Glendy Alvarez, galvarez@students.stonehill.edu
Women in STEM
Contact: Nicole Rousseau, nrousseau@students.stonehill.edu
Contact us with any questions.
Roche Dining Commons – 103
The Office of Student Engagement provides opportunities that will empower students to create a fun and positive campus community. The office enjoys a strong working and advising relationship with the Student Government Association, class committees and many of the student clubs and organizations.