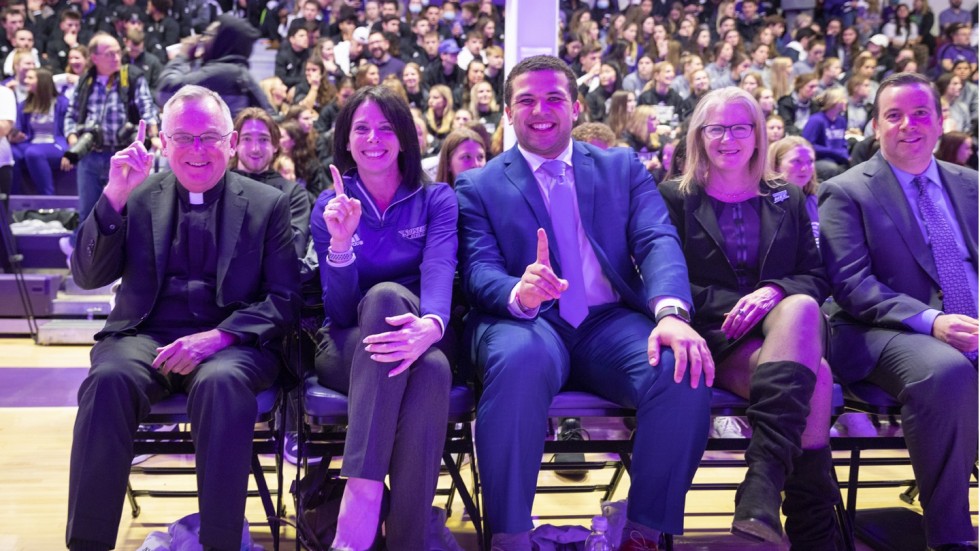 Spring 2022 - Skyhawk Talk
Skyhawks Rise
Stonehill accepts Division I invitation.
Campus was abuzz in April when Stonehill announced it had accepted an invitation to join the NCAA Division I, Northeast Conference. Skyhawks will begin competing in the new division this fall, and the College will become a full member of the Conference in 2026-2027 once it completes its four-year NCAA Division I reclassification period.
"As the College approaches its 75th anniversary, this move to the Northeast Conference and NCAA Division I athletics signals that Stonehill is prepared to achieve its fullest potential—both athletically and academically in the years to come," said President John Denning, C.S.C.
Stonehill fields nine men's and 14 women's athletic programs, with all except equestrian and men's and women's ice hockey set to compete among the NEC's 25 championship sports.
Equestrian will continue to compete within the Intercollegiate Horse Show Association. The College's newest varsity program, women's ice hockey, will begin competition in the NCAA Division I New England Women's Collegiate Hockey Alliance for the 2022-23 season. Men's ice hockey will compete as an NCAA Division I independent while the College continues to work towards a conference affiliation.
"Our students, alumni, coaches, faculty, staff and the entire Stonehill community have together created a special tradition of athletic and academic excellence, and we are eager to build upon that strong foundation as Stonehill begins a bold new chapter of its exciting story," said Dean O'Keefe '94, director of athletics at the College, who played men's soccer as a Stonehill student.
On April 6 at a campus celebration in the Merkert Gymnasium, SGA President- Elect Stephen Cobbs '23 told the crowd, "I look forward to the day where I'll be able to tell my kids about how my graduating class—Class of 2023—was the first that competed at the highest level athletically while maintaining the academic excellence that we all know and love here at Stonehill."
Cobbs, who plays football for the Skyhawks, went on to note how this change will impact the entire community. "Those who may not be directly competing will surely reap the benefits that this rise will bring, as it will allow for our College to be known across the nation."
Learn details about Stonehill's move to Division I.
Stonehill Alumni Magazine