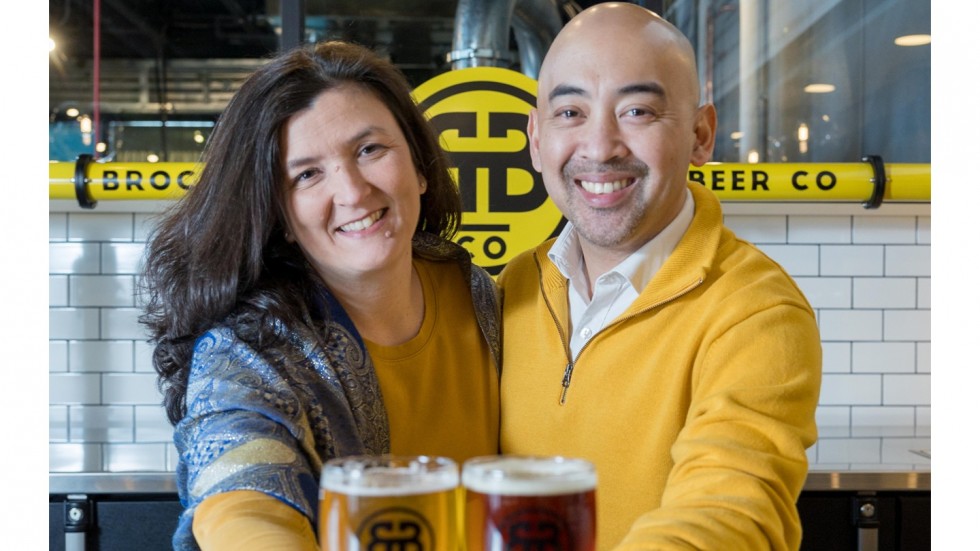 Spring 2022 - Features
Crafting Community
They met and married at Stonehill. Now these two communication majors are getting the word out about Brockton Beer Company and working to revitalize the city's downtown.
It all started one game night. A group of Brockton friends were gathered to play board games and enjoy their favorite craft beer.
Noticing they often drank craft beers from the area—Black Hat Brew Works in Bridgewater, Crue Brew in Raynham, Vitamin Sea in Weymouth—the idea came up: Why don't we make our own craft beer?
The more they talked, the more the group—which includes Stonehill alumni Edmund Cabellon '97 and Rebecca (Roy) Cabellon '96—got to seriously thinking:
Why not? What if the brewpub helped revitalize downtown Brockton? What if they made beers named in tribute to the city's history? And served good food that paid homage to the city's cultures?
That game night idea is now a reality. Brockton Beer Company, the City of Champions' first-ever craft brewery, opened its doors in early June. Their brews are already in stores around Massachusetts. Some bear names reflecting Brockton: Knockout Ratio Double IPA pays homage to the city's boxing history and Fredrick and Main lager is named after the intersection where they're located.
"We started looking into the process of what it would take to do it. Because of Mayor [Robert] Sullivan's revitalization plan, it was the right time to try this," says Ed, a higher education executive, and now CFO and cofounder of Brockton Beer Company.
"We're all professionals, and we're not quitting our day jobs at this point. So, we have standing meetings Monday nights and throughout the week. We're all working on moving Brockton Beer Company forward."
The group of friends invested personal money to get the company started, Ed notes, and they also raised nearly $107,000 through Mainvest, a website that allows users to become micro-investors in small businesses.
His fellow cofounders are Pierre Alexandre, Rowan Olmstead, and Eval and LaTisha Silvera. According to the Massachusetts Brewers Guild, the Brockton Beer Company is one of six Black-owned breweries in the state. "We certainly think we are the most diverse ownership group of any other brewing company in Massachusetts," says Ed, adding that he's a first-generation college graduate. His parents immigrated from the Philippines.
They've hired Julian Miller as their head brewer, and Brockton Beer Company's full kitchen aims to serve food that reflects the city's cultures. "We'll rotate ethnic-flavored foods so people can get a taste of the city—including Spanish, Asian, Dominican, Jamaican, etc. Brockton is so diverse," Ed says. "So, our rotating menu will represent traditional foods from the city's cultures."
Stonehill Roots
Both Cabellons were communication majors. Ed, a business minor, is now handling communications and public relations for Brockton Beer Company. Becky, a communication and elementary education double major, worked in public relations before starting as a teacher in the Brockton Public Schools 26 years ago. She now teaches second grade at the Edgar B. Davis School in Brockton.
"When I have my conversations with Ed, I come at it from the communications/public relations angle—that's what I studied. When he comes back from a meeting with the team, I'll say: 'Did you think of this? That?' And he pretty much has things covered—he took a lot of the same PR courses that I took," Becky says.
Ed and Becky were also leaders on campus, which helped in starting a business. Both were resident assistants and involved with Campus Ministry. Ed was his first-year class president and involved with Alternative Spring Break. Becky was a member of the RFK Society, a service organization.
"My involvement in clubs and organizations, my leadership roles on campus—I drew on those experiences" in cofounding the business, Ed says. "I'm the spokesperson in many ways for the brewery. For my communications degree, I had to do so many public speeches for Professor [Xuejian] Yu—I'll remember that for life."
While Becky isn't a big beer drinker, she supports the mission, says Ed. "She's a Brockton school teacher; she knows the city well; she understands the impact this will have for the city."
"I thought it was a great idea," Becky says. "Brockton's looking for different ways to draw people to the downtown— this is a good draw for all different kinds of people."
Ed adds, "Something can be said for opening a venture like this in a gateway city like Brockton. There's risk involved. We know a brewery in downtown Brockton is going to change the game downtown—attract additional business and people to work and live downtown," he says. "We know it's a risk, but it's part of us being part of that community and contributing to that community. We're creating a spot where people can come and meet their neighbors."
Relationship Roots
Ed was born in Providence, R.I., and grew up in Warwick, R.I. Becky grew up in Glenburn, Maine.
The couple met at Stonehill when Becky was a sophomore living in Boland. Ed, then a first-year student, would often visit his friends who lived in Boland.
One October day, Becky got a rose…then another. "He sent me roses 12 days in a row as a 'secret admirer.' The Halloween ball was coming up. He told me he'd reveal himself at the Mystical Masquerade Ball when Peter Gabriel's 'In Your Eyes' played," recalls Becky.
When the song came on, "the dance floor cleared out. It was like a movie," she recalls.
As campus tour leaders, Ed and Becky often led the same groups while they were dating. "People on the tour would say, 'Are you guys dating?'" remembers Becky. "I don't know how they knew. I was at the front of the line; he was at the back. But we could go off of what the other was saying—people must have picked up on that."
The simpatico communication majors tied the knot on campus in 2001, after Ed proposed, at Nubble Light in York, Maine. The Rev. Daniel Issing, C.S.C. and Rev. Thomas Halkovic, C.S.C. '67 officiated. Their wedding song? Peter Gabriel's "In Your Eyes," of course.
The newlyweds lived in an Easton apartment, before buying their first home in Brockton. "We thought, OK, we'll be there for five years," Becky says. "Five years later, the housing market went crazy, and around the same time, they built a new elementary school near us. We knew we'd have a walkable elementary school."
The longer they stayed, the more people they met, the more the Cabellons fell in love with Brockton. Two years ago, they finally moved from that "five-year" house and bought a new house a mile away.
They've lived in Brockton since 2004. Their kids are 16 and 14, both enrolled in Brockton Public schools. "We've been here so long, met these wonderful families," Becky says. "We believe in Brockton. We want Brockton to do well. We want our downtown to be a destination."
Creating Cheers
The Brockton Beer Company is a passion for those involved. "We're coming to the industry in a nontraditional way," says Ed. "When you look at the brewery landscape, most guys are in their 30s with a beard and have brewed on some level for years. We're opening this because we want to do something for the community, and we love craft beer."
Through Mainvest, the Brockton Beer Company has "over 200 individual investors in us. We raised that $107,000 from all over the country," says Ed. "It was satisfying because we were like, 'Huh. I think we're onto something.'"
They weren't the only ones who thought this. As Mayor Sullivan told the New England Real Estate Journal, "I could not be prouder of the founders of Brockton Beer Company as they continue to forge ahead bringing the City of Champions its first craft brewery in the heart of our downtown."
The initial game night was in 2018. The group spent late 2020 and early 2021 finalizing plans, hiring architects and construction companies to bid for the project and working with the city. "Construction started in June 2021 on our spot, 121 Main Street. Our opening day was pushed back because of COVID and shipping delays," says Ed. "We weren't in a rush because we only have one shot at this."
They plan to reach out to Stonehill to potentially work with student interns. Ed, who recently celebrated his 25th Reunion, said he also reached out to the Reunion Committee. "I invited the Class of '97 to come on down."
As for Ed's favorite brew? "Ticket to Vibe," he says. The New England-style IPA is described on the Brockton Beer Company site as having "pronounced tropical notes rounded out by a smooth mouthfeel and assertive bitterness."
"Our favorite game night game is Ticket to Ride. We drank a lot of craft beer over Ticket to Ride. We wanted to pay homage to that game," explains Ed. The "railway adventure" game can be played as a board game or on a phone—and yes, the Ticket to Vibe can features a train.
Becky, who's "not necessarily a craft beer drinker,"says she wants to "make sure there will be something for everyone—the designated driver, the sober friend who still likes to hang out and eat great food or the tired teacher who wants a glass of wine on a Friday night."
One of the most exciting parts of this ride has been "watching the dream become a reality—how an idea amongst friends grew," Becky says. And now in turn, "the Brockton Beer Company can play [a role] creating community and friendships amongst the diverse citizens of our city."
Stonehill Alumni Magazine