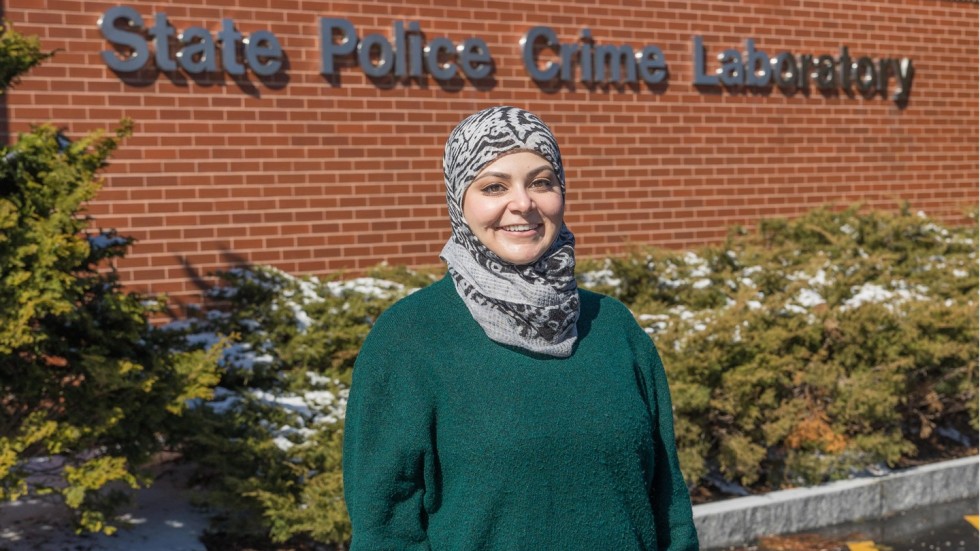 Spring 2022 - Alumni Community - Class Notes
Real Life Forensics
Watching episodes of CSI New York as a graduate student fueled Anum Mir's passion for forensic science. "It made me want to go into forensics and live in New York City," she says. "One of those things happened, so I consider it a win."
After earning a master's degree in clinical pharmacology from the University of Glasgow, Mir '12 was hired as a forensic scientist in the drug unit of the Massachusetts State Police Crime Lab. After a year of training, she became a fully authorized bench chemist. Now in her sixth year with the unit, Mir analyzes physical evidence, often from crime scenes or traffic stops, for the presence or absence of controlled substances.
"Usually with drug analysis we find the same basic things, such as heroin, fentanyl and cocaine," Mir says of her lab cases. "The more interesting findings are LSD and MDMA. We are seeing a lot of mushrooms now."
Outside of the lab, Mir testifies in district, superior and federal court as an expert witness. "It was terrifying at first— being asked questions on the stand—but it gets easier as time goes on. I've now testified 17 times," she says.
A chemistry major at Stonehill, Mir credits her connections to the College with helping her navigate her career. When she was first interviewing for her position, Mir reached out to Brittany (Fox) Missett '11, also a forensic scientist with the Massachusetts State Police, who helped Mir prepare. She also keeps in touch with Professor Magdalena Pederson. "She still checks in to see what I am up to," says Mir.
Eventually, Mir might explore a supervisory role within her unit or train for crime scene forensics, but for now, she is satisfied with her lab work. "When you actually have no idea what something is and you have to use your resources to figure it out, it definitely does feel like CSI."
Stonehill Alumni Magazine