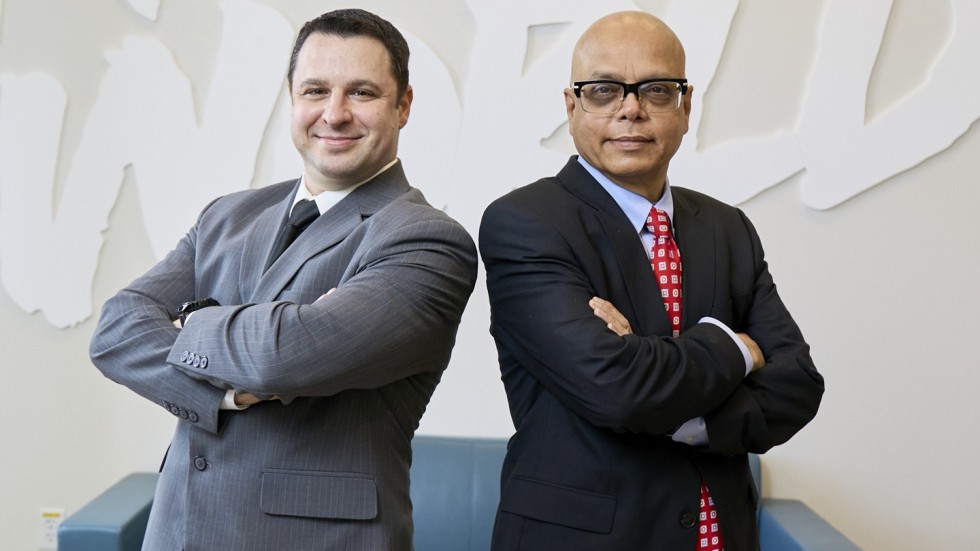 Spring 2022 - 320 Washington Street
Quick Chat with Our New Deans
In February, Stonehill announced the appointment of Kirill Bumin [left] as the inaugural dean of Graduate Studies and Sam Beldona as the new dean of the Leo J. Meehan School of Business.
Kirill Bumin, Dean of Graduate Studies
What brought you to Stonehill?
I understand the value of a nurturing atmosphere that institutions of Stonehill's size can provide and the memorable experiences that they create for their students. Since the development of graduate education at Stonehill is in its early stages, I was also attracted by the opportunity to bring my own vision of graduate education to a school that is eager to experiment and try new things.
What is one priority that you hope to accomplish in your first year?
To develop a graduate studies office that caters to the needs of prospective and current graduate students, a one-stop shop, so to speak—ranging from helping prospective students apply to graduate programs to providing guidance and robust services to existing students and preparing graduate students for graduation.
Is there anything that you were surprised to learn about Stonehill?
Yes, the College's connection to Oliver Ames, the inventor of the modern shovel.
What was the first item you put in your office?
A picture of my family. There is a Belarusian saying—I am originally from Minsk, Belarus—a person is strengthened by their family.
Sam Beldona, Dean of the Leo J. Meehan School of Business
What brought you to Stonehill?
The mission of Stonehill was a significant factor in my decision to join the College. The commitment and passion that the faculty and staff have for ensuring student success was a big draw for me. The senior leadership team is working on multiple strategic initiatives that I knew would move Stonehill to the next level, and I wanted to be a part of that journey. And the long list of alumni who have been amazingly successful as well as the incredibly beautiful campus.
What do you find most exciting about the Meehan School of Business?
The expertise of the faculty and the time and energy they pour into mentoring and interacting with students. The new, state-of-the art building is magnificent and inspiring. I am also eager to work with faculty to ensure reaccreditation of the business school and to create international opportunities for students and faculty.
Please share a lesson you learned as a student that still resonates with you.
Professors who have high expectations for their students bring out the best in them and are thrilled when they succeed.
How do you spend your free time?
I love to travel and experience different cultures. On long flights, I read books, watch movies and listen to TED talks.
Stonehill Alumni Magazine