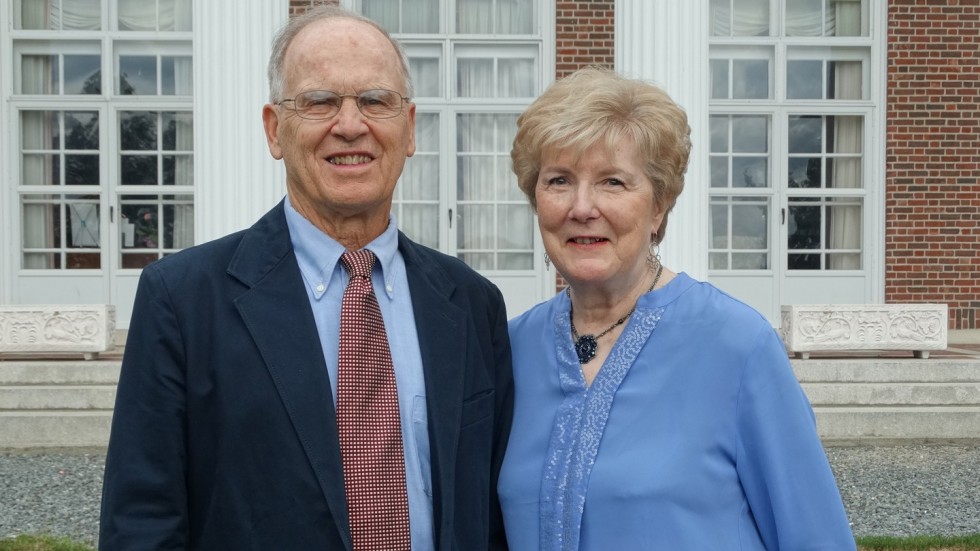 Spring 2022 - Alumni Community
A Part of Who We Are
It's no exaggeration to say that the lives of Bernadette (Crowley) '65 and Edward '64 Paré have revolved around Stonehill College.
The two met as students, held their wedding reception in the old Student Union (now the site of the Thomas and Donna May School of Arts & Sciences building), and chose to settle right in Easton. Over the years, that proximity allowed Stonehill to continue as a touchstone for the couple—the site of many walks, games of tennis, and recreational sports matches for their four children.
"Stonehill is a very inviting place," says Bernadette. "I felt that way the first day I visited. And though campus may have changed, that spirit never has."
As students, Ed and Bernadette were both involved with activities on campus, so it seemed only natural for them to extend that involvement into their alumni life. Almost right away, "we worked on class phonathons for the Stonehill College Fund and on Reunion committees," says Ed. The Parés were delighted when their youngest, Daniel '06, joined the Stonehill family—an occasion that led them to deepen their involvement. They began serving on the Alumni Council and working on the Academic, Community Affairs, Programming and Special Projects Committees.
"Stonehill is like family," Bernadette explains. "When your family asks you to do something, you do it if you can."
Asked if they have a favorite volunteer role, the couple agree it was helping out on first-year move-in day, assisting students and their families in ferrying belongings from car to dorm room. "We would help them carry rugs, books and those little refrigerators. It was quite a difference than in my day, when you had just one suitcase," says Ed. "We enjoyed telling them and their parents how much we loved the school and how much they were going to love Stonehill."
The Parés, who still serve on the Alumni Council, continue to nurture their Stonehill ties. In 2016, for example, they celebrated their 50th wedding anniversary with a special Mass and luncheon in Donahue Hall. "It was just gorgeous," Bernadette reflects. "There were 17 of us—our children, their spouses and kids. It was actually exactly 50 years ago to the day we married. It was very special and just what we wanted."
Even now, nearly 60 years after they graduated, the Parés remain grateful for their Stonehill connections. "Our Stonehill experience has shaped us in so many ways," Ed concludes. "It's part of who we are."
Stonehill Alumni Magazine