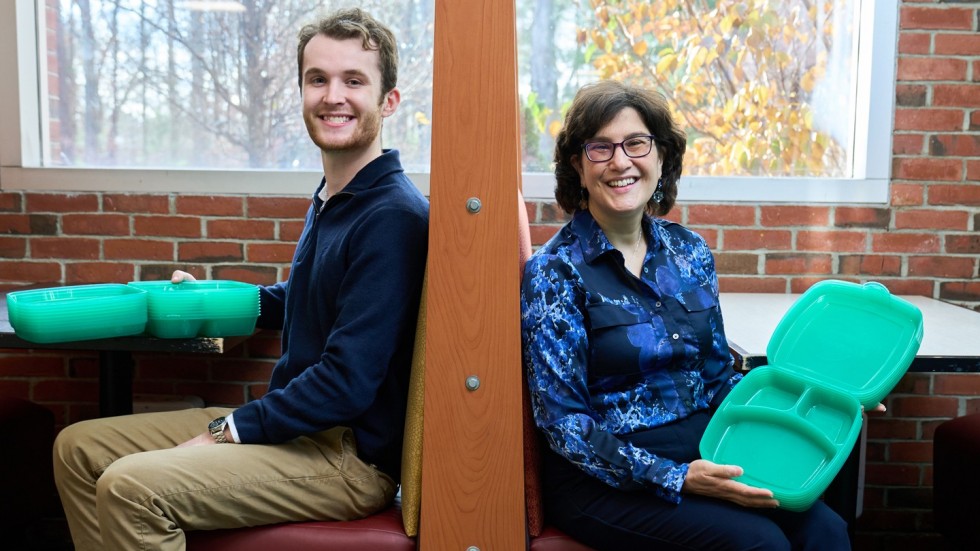 Spring 2022 - 320 Washington Street
App Boosts Green Initiative
Though Stonehill is associated with the color purple, the Environmental Stewardship Council (ESC) has gone to great lengths to help the College go green. Their mission is to eliminate a major source of waste on campus: single-use take-out containers.
"Disposable items are a real thorn in our side," says Professor of Chemistry Cheryl Schnitzer, chair of the ESC.
Close to 200 million Americans reported using disposable food storage containers in 2020, according to U.S. Census and Simmons National Consumer Survey data. These to-go products contribute to climate change by clogging landfills and waterways.
The ESC provided plastic reusable containers to all first-year students from 2014 to 2020 to address this issue. Director of Purchasing Gregory Wolfe, who serves on the council, notes that the project resulted in the elimination of over 75,000 single-use containers from Stonehill's waste stream in 2016 compared to the previous year.
COVID-19 brought the program to a halt, but now a new app is getting Stonehill back on track. Choose2Reuse launched in the Apple Store last fall, and Dining Services implemented it this past February.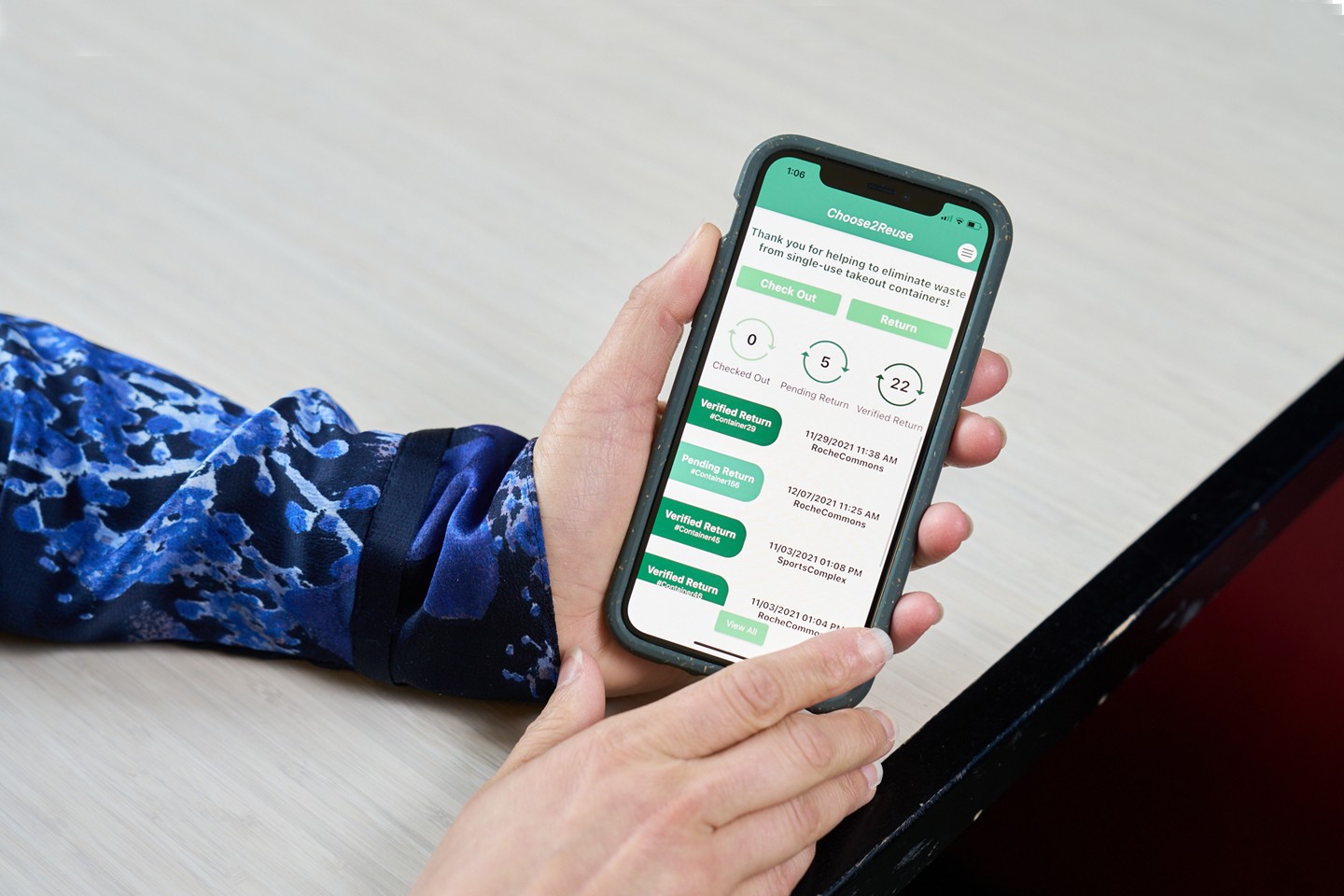 The app allows the ESC to collect data on the reusable containers and ensure their repeated return. The program's developers aim to achieve at least 360 uses per container to guarantee environmental benefits.
Choose2Reuse gamifies the use of the containers. Students scan a QR code affixed to the containers, enabling administrators to track borrowing and returning habits.
"If users return the container within 48 hours, the app rewards them 15 points," Schnitzer explains. "If they return it after that, they receive five points. When they reach 500 points, they earn a Climate Champ badge and can cash the points in for a free treat in the cafeteria."
Schnitzer first conceptualized Choose2Reuse after Professor of Computer Science Robert Dugan and Assistant Professor of Management Information Systems Michael Salé invited community members to pitch ideas for their Computer Science Capstone course.
Each spring semester, students in that class collaborate with clients to build working apps that solve problems. Schnitzer's idea was chosen, and she met with the class regularly during the semester.
Additionally, the Massachusetts Department of Environmental Protection awarded Schnitzer a $5,000 micro-grant through its Reduce, Reuse, Repair program. These funds enabled Computer Science major Caleb Hadley '22 to work on Choose2Reuse through summer and fall 2021 as part of an independent study.
"In computer science, you usually specialize in different fields," Hadley says of working on the front end or back end of projects. "Through Choose2Reuse, I've been able to work in both realms."
Schnitzer and Hadley then partnered with the ESC and students in Professor Denis Malin's Business Management course to beta test the app.
General Manager of Dining Services Kathleen Fitzgerald, who helped launch the app, is hopeful Choose2Reuse will positively impact Stonehill.
"This app offers a really good way to get students and staff to go green. People missed the reusable containers during the pandemic," she notes. "It is great to see them being used again."
In the fall, Choose2Reuse will be rebranding to Reuzzi.
Stonehill Alumni Magazine