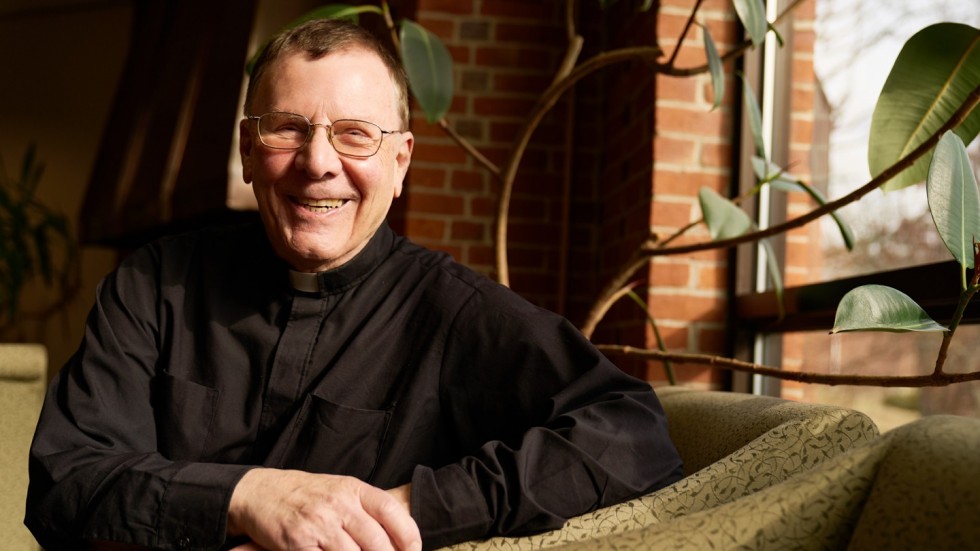 Spring 2022 - Faculty Spotlight
From Lil Wayne to William Shakespeare
Fr. James Chichetto explores the process of writing.
Big, ambitious projects do not intimidate Associate Professor of Communication James Chichetto, C.S.C. '64. Since the 1990s, Fr. Chichetto has been working on a 12,000-line poem called The Dream of Norumbega.
The epic poem explores a major topic, revisiting America's past to highlight those who have been overlooked throughout history, such as Native Americans and African Americans. To critical acclaim, he has already published the first four volumes of the epic. He is now editing the final two installments.
In addition to The Dream of Norumbega, Fr. Chichetto is the author of several books of poetry and has contributed to numerous journals and anthologies. He also teaches courses on war and pacifism, metaphor and song, and as befits a prolific author, one on writing.
As his students will attest, he is a stickler on grammar because, as he explains, "having no grammar is like repairing a building with no scaffolding." While demanding on basics like footnoting, Fr. Chichetto is generous and open in sharing his writing experiences with students while engaging them in debate and conversation.
"Every year, students introduce me to fresh insights about popular songs, share their concerns about conflicts, both here and abroad, and challenge me to deepen my understanding of topics like American rap idiom in music," he explains.
In fact, he credits one class for helping him to develop a paper on the value of idiom in the works of the award-winning rap artist Lil Wayne and the renowned playwright and poet William Shakespeare, which he delivered at an academic conference at Princeton University.
Fr. Chichetto believes that the act of writing can be the easiest part of the creative process if "you have been inspired to put down ideas and voices that have been percolating in your head for a long while."
He notes, however, that editing your work can be challenging because "it involves rewording, with your ear to your inner voice, checking data and modifying concepts, images and opinions."
In order for students to be better writers, he encourages them to "read, read and read," which is something he does especially in the areas of history, religion and literature.
Reflecting on the writing process for both himself and his students, he points to the essayist and poet Henry David Thoreau, who noted, "How vain it is to sit down to write when you have not stood up to live."
"In a way, writing is about probing one's experiences, one's self, the silence and speechlessness we sometimes live through," he says. "Then putting these things down to make sense of them."
Stonehill Alumni Magazine