Visual & Performing Arts Department
The Stonehill College Visual & Performing Arts Department trains the makers and performers who understand more than their craft, the thinkers who can apply their knowledge to a diversity of subjects and the administrators who understand problems from a multitude of perspectives.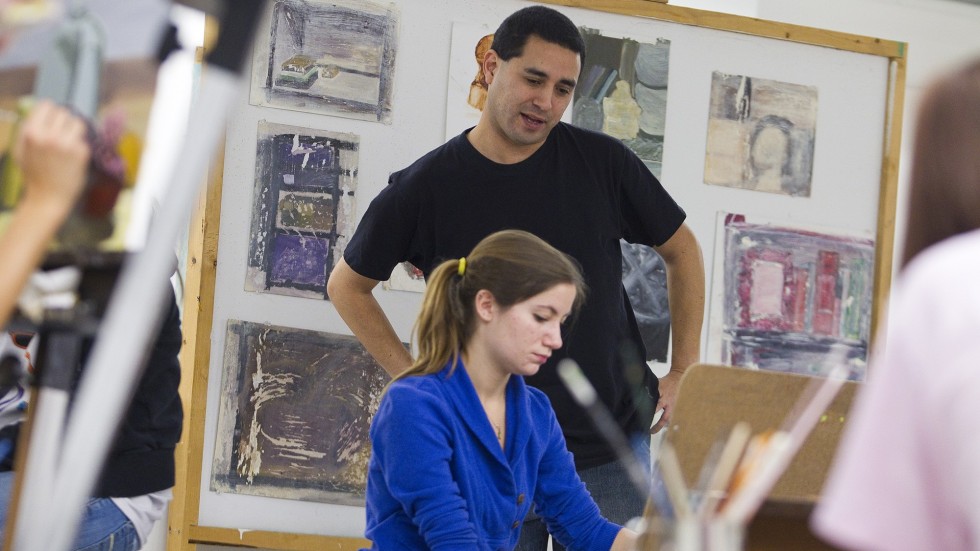 Department Overview
Our Department encourages you to be one of the artists, scholars or administrators that make our contemporary world vital.
By stressing this integrated approach to learning in the arts, the Visual & Performing Arts Department is unique among undergraduate programs in that it mirrors the contemporary professional world, where graduates will find a culture of professional diversity and disciplinary overlap. Students will prepare for a life in which those who have the depth of experience and training are able to navigate between traditional roles and solve problems, all while passionately pursuing their dreams.
Gaining Appreciation Through Perspective
In all of our courses, students gain an appreciation for the modes through which artists have addressed essential aspects of the human condition in various cultures and during different historical periods.
We offer a curriculum that combines rigorous academics with experiential learning, allowing our students to explore their own creative potential with hands-on study of specific techniques.
The Visual & Performing Arts Department offers three majors, including Arts & Visual Culture, Graphic Design and Performing Arts, and seven minors.
Arts & Visual Culture, B.A.
Arts and visual culture majors at Stonehill concentrate in one of three areas: Arts Administration, Studio Arts or Visual Studies.
Stonehill's Arts & Visual Culture major with a concentration in Arts Administration is for those who aspire to work in a museum, performing arts company, non-profit organization or other cultural institutions.
Combining knowledge of business and cultural organizations, the arts administration concentration explores topics like the role of arts in society, management strategies, funding venues, and legal and ethical issues in the arts.
Learn more about our Arts Administration concentration and minor. 
Stonehill's Arts & Visual Culture major with a concentration in Studio Arts offers students strong fundamental training in a nurturing environment where they will be exposed to a rich array of conceptual and formal approaches to artmaking.
Our studio arts students are challenged to find their unique outlook and are encouraged to cultivate the tools needed to express their individual points of view. These tools include fundamental art and design skills, critical thinking skills, and an awareness of the historical and contemporary context in which they operate.
Learn more about our Studio Arts concentration and minor. 
Stonehills Arts & Visual Culture major with a concentration in Visual Studies encourages students to study visual products from the past and present, including paintings, sculpture, architecture, film and mass media.
Visual studies students learn to critically engage with these forms and to understand them as a window into discussions about identity, society and the formation of values. Visual studies bridges the world between multiple traditional academic disciplines including art history, communication, English and a number of other related fields.
Learn more about our Visual Studies concentration. 
The Art History minor at Stonehill blends in-depth study of artistic periods and individual artists' styles with experiential learning that can put students in a local teen art program or in a museum halfway around the world.
Learn more about our Art History minor.
Graphic Design, B.A.
The Graphic Design program at Stonehill incorporates theory with practical application, providing students with the foundation needed to become successful and thoughtful practitioners. Graphic Design is also offered as a minor.
Performing Arts, B.A.
The Performing Arts program at Stonehill offers four concentrations: Dance, Music, Theatre or Cross-Disciplinary.
Stonehill dance students experience creative thinking through composition and physical expression, build self-esteem, learn teamwork and presentation skills, and develop an appreciation of the art form, which can be a lifetime experience. There are numerous academic-based and extra-curricular performance opportunities for students interested in dance. 
Qualified students can gain dance experience through The Stonehill College Dance Company, a company that reflects the spirit of the College. The company is comprised of auditioned dancers who learn choreography from well-known area choreographers and perform in various venues on and off campus throughout the semester. Individual creative expression is emphasized.
Learn more about our Dance concentration and minor. 
The Performing Arts major with a Music concentration gives students a deep historical and cultural understanding of music while providing opportunities to perform in instrumental and/or vocal-based ensembles.
Collegiate Chorale, small chamber-based ensembles, guitar ensemble as well as one-on-one studio lessons provide the musician with a large range of performance opportunities. Our dedicated professors work closely with students to understand their goals and form an appropriate course of study based on their interests.
Learn more about our Music concentration and minor. 
Through the Performing Arts major – Theatre concentration and the Theatre Arts minor, students enter the world of theater arts and discover themselves and their abilities anew while challenging their body, mind and imagination. Our program aids students' personal development in several ways:
A deeper understanding of the workings of the human imagination and emotions
The use of the body and voice as a means of expression
The complexities of interpersonal relationships as seen in art and life
Experiential learning opportunities
Students in the program enjoy the benefits of Hemingway Theatre, a 250-seat facility that stages theater productions and dance company performances. 
Learn more about our Theatre concentration and Theatre Arts minor. 
Students whose interests span traditional disciplines have the ability to form their own program of study using the Performing Arts Major – Cross-disciplinary concentration. Students in this concentration share the same core as all performing arts students, but can select classes from between theater, dance and music. Education double-majors find this especially useful in that it prepares them for a career in education where they will "wear many hats."
The Music Technology program at Stonehill enables students to create music using the latest software and hardware. Students will learn to record instruments, as well as to edit and mix multitrack recordings.
Learn more about our Music Technology minor. 
Art as Social Catalyst
The Department of Visual & Performing Arts expands the definition and activities of traditional arts to include art as a form of outreach and as a social catalyst, where students are engaged in social service and mentoring in local communities. 
Such outreach and mentoring work is a reflection of Stonehill College's Congregation of Holy Cross values, which call on us to serve the communities in which we live, learn and work.
This is seen in programs such as Stonehill's Arts Outreach, which pairs middle school-age students with Stonehill mentors to explore topics in studio arts, dance or the performing arts. The program has been serving local youth for more than a decade and continues to grow in scope and effectiveness.
Similarly, InHouse Design, our student-run graphic design service, regularly does work for nonprofit groups and Community-Based Learning programs.
A Supportive Environment where Deep Bonds are Formed
As might be expected, our Visual & Performing Arts Department faculty comprises working artists, musicians, historians and graphic designers, all of whom are deeply committed to the kind of mentoring and guidance that allows students to find success both in the classroom and in careers.
In addition, students will find that Cushing-Martin Hall, which houses many of our studios and classrooms, fosters the creation of close-knit artistic communities, mainly because visual and  performing arts students typically work there on projects during the evening hours, forging strong bonds of friendship, and sharing ideas and observations.
Campus Resources
The Carole Calo Gallery
The Carole Calo Gallery is a working gallery space where students annually curate a professional exhibition and that hosts other professional exhibitions throughout the year.
Extended Classroom
Students study on-site at museums, galleries and historical sites in New England and New York as well as study-abroad programs in Florence, Perugia, London or Paris.
Arts Outreach
The Arts Outreach pairs elementary school students with Stonehill mentors during the academic year.
InHouse Design
This student-run graphic design service regularly does work for campus organizations and off-site, non-profit institutions.
Student Chapter of AIGA
American Institute of Graphic Arts - the professional association for graphic designers.
Music Technology Lab
Housed in Cushing-Martin Hall, this state-of-the art resource enables students to create music digitally, sync it to video and more.
Hemingway Theatre
A 250-seat facility that stages theater productions and dance company performances.
Other campus resources
Digital Photography Lab
New Dance Studios
New Music Studios
Individual and Group Art Studios
State-of-the art Graphic Design Studio
Traditional Letterpress for Graphic Design
Ticket Liaison Program with the Boston Symphony Orchestra
Digital Photography Lab
Analog Photography Darkroom
Visual & Performing Arts Internship Opportunities
Places where visual and performing arts students have recently interned include:
Visual & Performing Arts Honor Society Affiliations
Lamda Epsilon Sigma
Stonehill's campus-wide honor society, Lambda Epsilon Sigma, recognizes students from all areas of study. Students who have demonstrated a well-rounded thirst for knowledge are invited to apply.
Alpha Psi Omega
Alpha Psi Omega is the national theater honor society.
Contact us with any questions.
Associate Professor of Visual & Performing Arts, Visual & Performing Arts Department Chair, Studio Arts Program Director, Art History Program Director
Visual and Performing Arts