Arts Outreach
The Arts Outreach program is a prime example of Stonehill College's commitment to helping students develop the skills needed live fulfilling lives and inspiring them to care deeply about building a more just and compassionate society.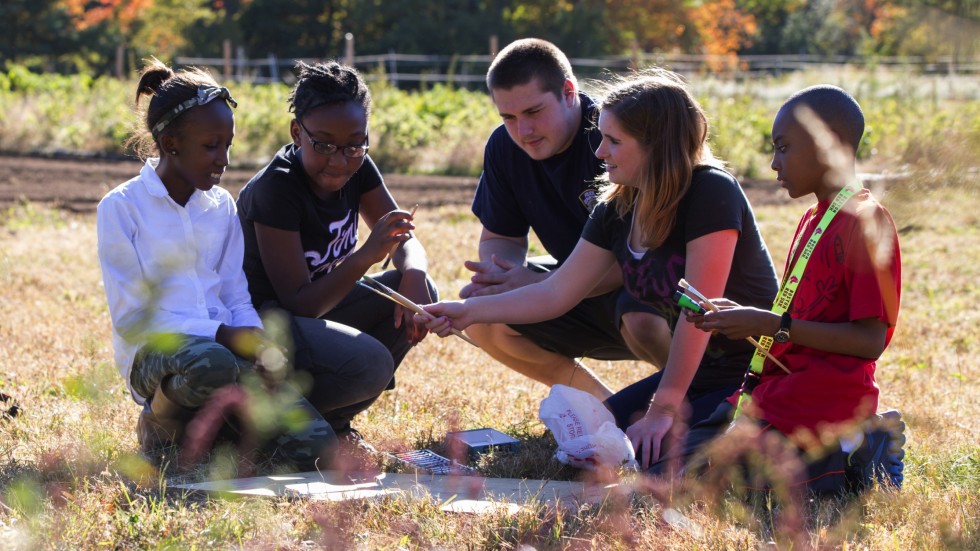 Program Overview
Started in 1997, the program pairs under-served children from the nearby city of Brockton with Stonehill mentors. Because most of the Stonehill students who participate have little experience in art, the projects they undertake – ranging from photography and videography to painting and sometimes dance – provide an opportunity for the mentors and mentees to learn and do something new together.
A Mutually Beneficial Arrangement
In addition to working with the children, Stonehill students also attend workshops conducted by experts in adolescent counseling and juvenile criminal justice. They learn not only about the socioeconomic circumstances that sometimes prevent children from reaching their potential but also how mentoring can inspire such children to do better both in school and in their personal lives. In the process, the mentors also develop leadership and problem-solving skills that have the potential to benefit them personally and in their careers.
Statistics kept since the program began show that among the benefits to the mentees are stabilized or improved academic achievement, school attendance and behavioral standards. They also realize gains in self-confidence, decision making and work ethic. Being on campus, and being able to ask the mentors questions about college, also gets the children to begin thinking about going to college themselves.
This is a unique opportunity for students with an interest not only in art, but also in sociology, psychology, art therapy and education.
Putting it all to work
Graduates who have gone on to work in the art therapy field include:
Cara Janczunski '03 graduated with double major in psychology and studio arts. After Stonehill, she went on to earn a master's degree in art therapy at Lesley University and since then has become a licensed, practicing art therapist in Taunton, MA.
Alexandra Caminiti '09 graduated from the master's program at the School of Visual Arts in New York City, is now a licensed art therapist in Staten Island, N.Y.
Colleen Brady '11 graduated in June 2014 with an expressive therapy master's degree from Lesley University.