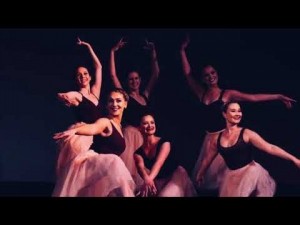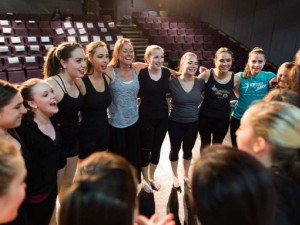 A fast-forward look at dance at Stonehill
Watch a video created by Stonehill Dance Company member Kayla Provencher '20 to get a sense of what the experience is like.
The Arts Take Center Stage
More musicals and professional development are at the heart of a reimagined Visual & Performing Arts program that enhances both intellectual flexibility and the experiences students need to thrive in their pursuits.
READ MORE
Kaleidoscope by Stoneworks Dance Company
Stonehill dance students experience creative thinking through composition and physical expression, build self-esteem, learn teamwork and presentation skills, and develop an appreciation of the art form that can be a lifetime experience.
Introductory classes such as Dance Technique offer a compilation of dance styles while more advanced classes, such as Ballet II and Advanced Jazz Dance, allow students to refine their techniques and challenge themselves.
Students also have the opportunity to help others through an outreach program that pairs Stonehill dance students with children in the local Brockton school districts. Using dance techniques to teach movement exercises, the Stonehill students and their mentees together choreograph and perform a dance show at the end of the semester.
Dance Company
The Stonehill College Dance Company provides performing experience for qualified students through participation in a company that reflects the spirit of the College. The company is comprised of auditioned dancers who learn choreography from well-known area choreographers and perform in various venues on and off campus throughout the semester. Individual creative expression is emphasized.
Internships & Graduate Outcomes
Stonehill students of dance have many opportunities for internships in arts administration. Two recent internship placements were at Urbanity Dance Company in Boston and Alison Cook Beatty Dance Company in New York City.
Students have combined dance with their science curriculum to form degrees that can be used in graduate studies of dance movement analysis and kinesiology.
Clubs & Organizations
Although not affiliated with the Visual & Performing Arts Department, these student organizations are geared toward students interested in dance.
Dance Club
The Dance Club welcomes all students interested in the art of dance to learn various dance routines. The Dance Club hosts a semester recital once a semester so the campus community may enjoy the work of the club.
Dance Team
The Stonehill College Dance Team is an intercollegiate team that practices weekly with a goal of competing at and placing in various dance competitions across the country. Tryouts are held each semester. Each year the team also competes at NDA College Nationals.
Related Pages