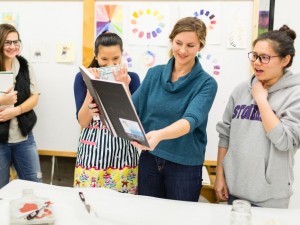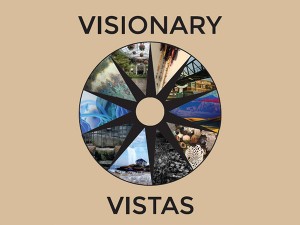 The Science and Soul of Art
From making pain with kitchen ingredients to creating an authentic fresco on-site at a villa in Italy, Stonehill immerses students in a multifaceted exploration of art.
READ MORE
Visionary Vistas
Each fall, students curate an exhibition of the professional artists' work in the Carole Calo Gallery on campus. The eagerness, attentiveness and professionalism of the eight student-curators of Visionary Vistas are evident in this compelling exhibit
VIEW THE CATALOG
All arts and visual culture students begin their study with a core curriculum that prepares them for further exploration of the managerial, artistic or theoretical applications of the visual arts. From there, students diverge into specific concentrations.
Stonehill's Arts & Visual Culture Major with a Concentration in Arts Administration is for those who aspire to work in a museum, performing arts company, non-profit organization or other cultural institutions.
Combining knowledge of business and cultural organizations, the arts administration concentration explores topics like the role of arts in society, management strategies, funding venues, and legal and ethical issues in the arts.
Stonehill's Arts & Visual Culture Major with a Concentration in Studio Arts offers students strong fundamental training in a nurturing environment where they will be exposed to a rich array of conceptual and formal approaches to artmaking.
Our studio arts students are challenged to find their unique outlook and are encouraged to cultivate the tools needed to express their individual points of view. These tools include fundamental art and design skills, critical thinking skills, and an awareness of the historical and contemporary context in which they operate.
Stonehills Arts & Visual Culture Major with a Concentration in Visual Studies encourages students to study visual products from the past and present, including paintings, sculpture, architecture, film and mass media.
Visual studies students learn to critically engage with these forms and to understand them as a window into discussions about identity, society and the formation of values. Visual studies bridges the world between multiple traditional academic disciplines including art history, communication, English and a number of other related fields.
Competitive Advantages
Our Arts & Visual Culture Program is unique in that it mirrors the contemporary professional world where students will be asked to work in a culture of professional diversity and disciplinary overlap. For this reason, our program takes an integrated approach to learning in the arts.
Students prepare for a life in which those who have the depth of experience and training to navigate between traditional roles are best equipped to thrive. All this while passionately pursuing their dreams.
Upon graduation, students will be able to:
Place a work of art within its historical, philosophical and socioeconomic context
Demonstrate knowledge of at least three art historical methodologies by employing critical theory
Demonstrate an awareness of and sensitivity to form, line, shape, rhythm, volume, place, pattern (repetition and variation), texture, space, value, color, content and style as it applies to 2D/3D and time-based media
Develop appropriate vocabulary for describing visual and artistic phenomena
Begin to form personal vision and identify taste or preference for various modes of visual expression as well as recognize certain thematic interests
All arts and visual culture students also participate in a Capstone experience that brings artists, administrators and scholars into the same room to conceptualize, produce and oversee an exhibit of their making.