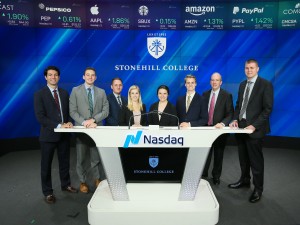 From Meehan to Wall Street
The Stonehill College Investment Finance Initiative took its annual Three-day August Workshop to New York City this year, including meetings with alumni and tours of Bloomberg, Nasdaq and the N.Y. Stock Exchange.
SCIFI students recently visited the Nasdaq stock exchange, where they participate in the closing bell ceremony. Pictured above (l to r) are Nick Landano '20, Edward Magi '20, Kyle Boucher '20, Jennifer Devine '20, Sarah Bessette '21, Brandyn McColligan '20, Professor Michael Mullen (SCIFI program director) and Phillip Noonan '20.
SCIFI is...
A tailored, multi-year course of study in investment finance
Available to all students, all majors
Designed to develop and enhance student critical thinking and analytical skills
Through hands-on academic and security analysis experience
Combined with internships, mentoring and participation in the management of real-money
Excellence and Opportunity Beyond the Classroom
SCIFI offers a superior and unique academic platform to demonstrate the depth and breadth of a Stonehill College education in investment finance. For students, the reward is a truly experiential learning opportunity and a differentiated professional development experience that enhances post-graduate academic and career prospects. For alumni and corporate partners, SCIFI is a meaningful experience both at the individual level and as a reflection on your respective enterprises.
Why SCIFI?
An interesting and dynamic course of study
A huge resume builder
Gain real life asset management experience
Offers great networking opportunities
Access to targeted summer internship opportunities
Improve your financial modeling and analytical skills
Study the core body of knowledge for the CFA Certification
Qualify for scholarship assistance toward the CFA level one exam
Get early and active assistance from Career Services
Learn More ...
The College's emphasis on a liberal arts education serves well in preparing students interested in this field's postgraduate opportunities.
Stonehill alumni in the investment field form the core of a mentoring team for students that participate in the program.
Admission into the program is a competitive process open to all students at the College regardless of their declared major.
Related Pages