Technology Services
Stonehill is committed to enabling all of its students in the proper selection and use of current technologies for both current academic research and post-graduate opportunities. To that end, the following are some of the services available to students.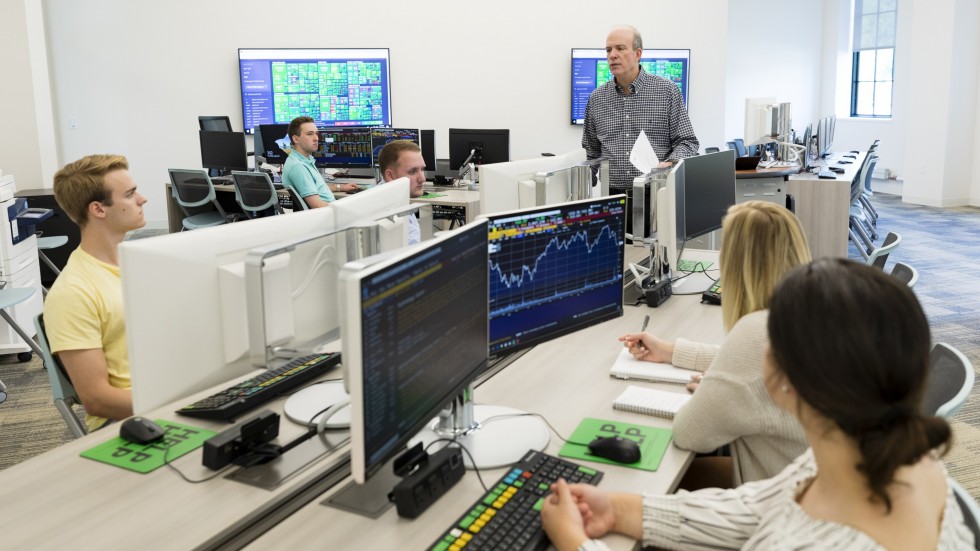 Bloomberg Professional Service
Stonehill has 12 dedicated Bloomberg systems available for student use. The Bloomberg Professional service is the world's leading interactive financial information network, seamlessly integrating the very best in real-time data, news and analytics. Within the business community and especially in the fields of finance, economic and banking and investment management, the use of information from Bloomberg has become an integral part of research and management. Stonehill business and economics faculty have embraced the use of this service as part of the practical application of the curriculum.
Bloomberg Certification
All Stonehill students are actively encouraged to achieve Bloomberg Certification. Students participate in Bloomberg University's online training program. Stonehill College sponsors this certification so there is no additional charge to our students. Students spend about six hours of their own time and can proceed at their own pace. Once students complete the first part of the educational material and are comfortable with the included material, they become eligible to take the first online exam. Once passed, students can then complete additional modules in equities, fixed income, commodities and currency. After completing a second exam, students receive a certificate of completion and can then add this important skill to their professional resume.
Technology Helpdesk and Support
Staffed by trained students and professional staff, the Stonehill Information Technology Department provides support and assistance to all students by telephone, email or in person. Services are available during and after business hours and on an extended schedule during exam periods.
Stonehill Library Services
The Stonehill College Library provides online and in-person reference services. The library collection provides a variety of discipline-specific data resources for student academic research. Library staff is available to assist students with non-academic research and reading. Some of the more common services used by business students are listed below.
Business Source Premier
Business Source Premier provides full-text coverage of scholarly business, management, and economics journals. This collection includes publications covering topics such as accounting, banking, finance, international business, marketing, and sales; it also includes company, industry and country profiles.
Nexis Uni
Nexis Uni features more than 15,000 news, business and legal sources from LexisNexis - including U.S. Supreme Court decisions dating back to 1790 - with an intuitive interface that offers quick discovery across all content types, personalization features such as Alerts and saved searches and a collaborative workspace with shared folders and annotated documents.