Organizations & Clubs
Students in the Leo J. Meehan School of Business are encouraged to join clubs and honor societies on campus. These clubs regularly host meetings, guest speakers and networking events.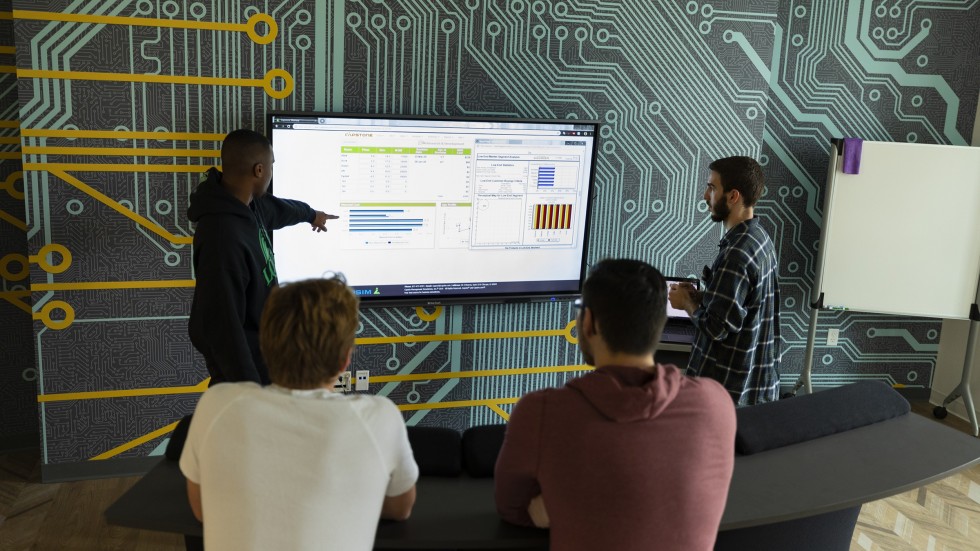 The Accounting Association is a student-led organization open to all Stonehill students who are interested in careers in accounting.
The American Marketing Association (AMA) is a national marketing professional association for qualified undergraduate, graduate and doctoral marketing students and marketing faculty.
Beta Gamma Sigma is the international honor society recognizing business excellence. It is for students enrolled in business and management programs accredited by the AACSB.
Beta Alpha Psi is an international honorary and service organization for accounting students enrolled in AACSB-accredited universities.
Distributed Education Clubs of America (DECA) is an international association of high school and college students and teachers of marketing, management, and entrepreneurship in business, finance, hospitality and marketing sales and service.
The Economics Club is a student-led organization for students interested in economics.
The Financial Management Association (FMA) is a global leader in developing and disseminating knowledge about financial decision making.
The Healthcare Society is a student-run organization that provides tools and opportunities for students interested in healthcare.
Healthcare Society Bi-Weekly Meeting
Mondays, 5:00 p.m.– 6:00 p.m.
Duffy 216
The Healthcare Society holds biweekly meetings on Mondays. This club provides great tools and opportunities for students interested in healthcare. Over the year, the club will hold a résumé workshop, host a panel of guest speakers, discuss how to find an internship and provide networking advice. Anyone interested in healthcare is welcome to attend.
Stonehill's campus-wide honor society, Lambda Epsilon Sigma, recognizes students from all areas of study. Students who have demonstrated a well-rounded thirst for knowledge are invited to apply.
The Marketing and Management Association (MMA) is a student-run organization that brings guest speakers and career-related workshops to campus for students interested in marketing and management.
Phi, the campus chapter of the International Honor Society in Economics, Omicron Delta Epsilon, recognizes academic achievement in economics.
The Stonehill College Inspire Finance Initiatives (SCIFI) is a multiyear course of study designed to enhance students' critical thinking and analytical skills. Students conduct hands-on academic and security analysis. It combines a dynamic course of study with internships, mentoring and management of real money to represent a unique real-world experience for students. Today, SCIFI is composed of three initiatives: the Skyhawk Investment Group, LAUNCH and ENGAGE.
Upsilon Phi Delta, the national honor society for the profession of healthcare management, recognizes students who achieve distinction in healthcare administration, achieve academic excellence, make outstanding contributions to healthcare management, and who uphold the highest ethical standards of the profession.
Women in Finance is a club open to all students in all majors with an interest in exploring careers in finance.