Marketing majors leverage caring, creativity and business savvy
At organizations that range from Oracle to Boston Children's Hospital, graduates are empowered to thrive in a diverse array of industries.
Casey Powell '19 has fond memories of pretending to be a store owner while playing with her sister as they grew up together on Cape Cod.
"It's no wonder I majored in marketing," she said. "I think business has always been in my blood. I just didn't realize it at the time."
But in a reflection of her personal values and Stonehill's emphasis on helping others, she ultimately decided to apply her marketing degree to a role at Boston Children's Hospital. As an associate marketing manager for one of the most renowned pediatric centers in the world, Powell oversees the creation of digital marketing content highlighting the miracles happening at the hospital each day.
"I like that I've used my degree to fulfill a larger purpose," she said. "I may not be on the front lines like doctors or nurses, but I get to help patients by highlighting the hospital's services."
A Balanced Education Maximizes Opportunity 
Through courses that emphasize applied learning, marketing majors such as Powell graduate with the experience needed to fulfill marketing functions across industries that include health care, advertising, market research, sales and manufacturing. In the process of learning how to fulfill customer needs, students also develop key critical thinking skills needed to thrive in rapidly evolving industries.  
As part of the Meehan School of Business, Stonehill's Marketing program has been certified by the Association to Advance Collegiate Schools of Business (AACSB) International, an endorsement that today's leading organizations look for and one held by only 6% of undergraduate business schools. Marketing students also have the opportunity to gain an even greater competitive advantage by continuing their education in Stonehill's graduate program, where they can earn their marketing master's degree in one year. 
Professor Eddie Rhee, director of Stonehill's Marketing program, says the college's holistic approach sets its marketing degree apart from those offered by other institutions.  
"Our marketing majors aren't just businesspeople," he said. "They balance their education in business with Stonehill's strong liberal arts foundation. We produce well-rounded graduates. That's how we stand out." 
To that end, Stonehill's marketing students often complement their degree with double majors or minors in graphic design, entrepreneurship, psychology, communication and data analytics. 
Marketing major Katherine Frodigh '22 recently graduated with a minor in entrepreneurship. The Pembroke, Massachusetts, resident notes her dual degrees have served her well as she develops her company, Bandanlets by Katie Frodigh. The young business owner designs, manufactures and sells homemade jewelry to surf shops, boutiques, restaurants and sports stores across Cape Cod. 
"In my marketing courses, I've learned about designing and managing products, getting them in front of the right audiences, and everything in between," Frodigh said. "Meanwhile, my entrepreneurship classes have helped me learn about personal financing, starting a business from scratch and turning a personal hobby into a successful operation." 
Besides running her own business, Frodigh is also a marketing coordinator at Archbishop Williams High School in Braintree, Massachusetts. She assists with fundraising and admissions programs. Additionally, she oversees the private school's social media accounts. 
"It's one thing to read a textbook and view PowerPoint presentations in class, but actually having a hands-on opportunity to practice skills through internships is so beneficial," Frodigh said.
Timeless Skills Open Many Doors in Technology-Driven Fields 
Granite Telecommunications, TechTarget and W.B. Mason are among the companies where recent marketing graduates have been hired. Students have also gone on to graduate programs at schools such as Boston University, New York University and University of Notre Dame.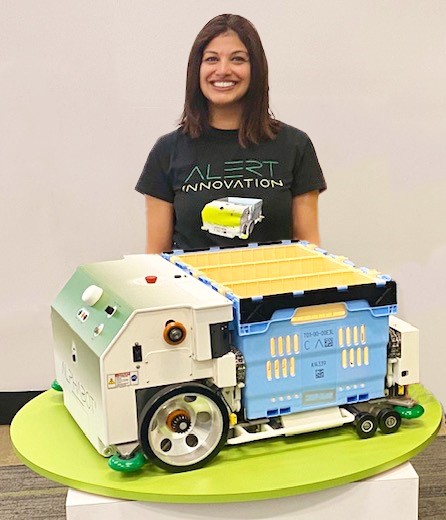 Suchi Pandey '99, a marketing major and computer information systems minor originally from Malden, Massachusetts, is currently a program manager for Alert Innovation, a leader in e-grocery technology. She began her career as an applications consultant at Meditech, a company that develops information systems for health care organizations.  
"I've built on my experiences and pursued many great career opportunities because I started my career with a great company like Meditech," Pandey said. "I was able to establish a solid foundation for my career at that organization because of my Stonehill experience. The professors were always so helpful and ready to provide guidance if I needed it." 
Mike Lee '14 serves as an application sales manager at information technology services company Oracle. He oversees sales of the organization's back-office suite of Fusion cloud-based business applications. The marketing major and communications minor felt well prepared for this role because of internships he completed during his college years.  
Interning for Spark Foundry (formerly Mediavest), Lee worked with the New York-based company's shopper marketing team to develop campaign proposals on behalf of grocery stores. The Clinton, Connecticut, native also interned for United Way of Greater Plymouth County. He helped organize fundraising events and oversaw the nonprofit's social media channels. Lee appreciates that these experiences exposed him to the diverse opportunities available to him because of his degree. 
"There is a large and complex ecosystem of marketers across a wide range of companies and organizations," he said. "Stonehill does a really good job of distilling that entire ecosystem and helping students realize where they see themselves fitting in."  
Stonehill's Marketing program relies on external partners to help expose students to that ecosystem. Instructors routinely partner with organizations, including Oracle, Humana and Elliott Physical Therapy, to facilitate various service learning projects in their classes.   
As part of her Capstone course, Samantha Conti '22 of Swampscott, Massachusetts, worked on a fundraising campaign for the Old Colony YMCA. She and her teammates will present their work to the company's board of directors at the end of the semester. 
Conti, who is currently a social media influencer with a focus on fashion and lifestyle topics, found collaborating with marketing professionals to be beneficial to her learning. Such experiences not only allowed her to become more familiar with the latest trends in marketing but also gave her insight into what it takes to succeed in this field. 
"Experiences like this have taught me to think creatively, to push boundaries, to think outside the box," she said. "The value of creative thinking as you try to effectively solve problems can't be understated." 
Related
Sign up now to be added to our mailing list, and we will show you how Stonehill could become part of your story.

Our visit programs will help give you a better understanding of how Stonehill's expansive leadership and experiential learning opportunities equip students for success in a rapidly evolving and globally competitive world.

Stonehill College provides an exceptional learning experience for both undergraduate and graduate students. We invite you to review the process, requirements and application deadlines for our entry options.