Philosophy student Jess Vining '20 interviewed philosophy major Erica Bigelow '18 on her new life as a philosophy graduate student at Miami University in Ohio. It is excerpted from the Hillosophy newsletter here.
What are you currently studying, and aim to study?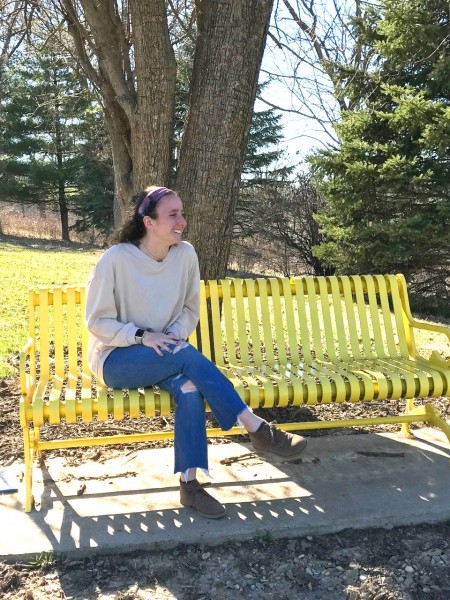 I'm currently taking two topic seminars, Freud & Hegel, as well as a research seminar that's aimed at helping us prepare a paper for graduation. For the research seminar, I'm using a paper that I wrote last fall in which I provide an epistemological reading of the harm brought about by sexual trauma. In it, I also look at popular activism (focusing specifically on the #MeToo movement) as addressing these epistemic harms and providing an epistemic good. Last semester I took three seminars - Feminist Epistemologies, Kant, and Advanced Ethical Theories which focused on intention and action theory. I'm also a graduate assistant (GA), so I have been a GA for one class each semester; the fall was an introductory Theories of Human Nature course, and I'm currently a GA for a Modern Philosophy course that begins with Descartes and will end with Kant.
How much of what you study now is built off of what you learned at Stonehill?
A lot of what I'm studying now is relevant to what I studied at Stonehill. Last semester, for instance, the Feminist Epistemologies course built on a lot of the themes we talked about in Professor Mitchell's Feminist Philosophy course, as well as in some of the more interdisciplinary courses in American Studies and Gender & Sexuality studies that I took. Professor Mekios' Descartes to Hume class was hugely helpful going into the Kant seminar, and it's really coming in handy for the class I'm graduate assisting this semester, since it's really similar content-wise. Overall, I think the diversity of interests among Stonehill's faculty members was really valuable to me. The seminars I took last fall featured three different approaches to philosophy, but I felt like I was able to navigate them all well.
What is your goal, or main drive, as a philosopher?
My main goal as a philosopher is to keep doing philosophy and asking (& working toward answering) questions that excite me.
What does your life outside the classroom look like?
I practice yoga for at least an hour daily, a practice which became a huge part of my life following the Yoga & Indian Philosophy LC with Profs. Lannstrom & Kuhn. I want to become a registered yoga teacher soon, but I'm trying to figure out when it would make the most sense for me to get certified. Aside from that, I've been doing a bit of independent research and writing.