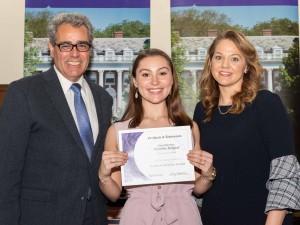 Nicolette Kolgraf '19 Recognized as Gender & Sexuality Studies Student of the Year
Nicolette Kolgraf '19 Received the 2019 Gender & Sexuality Studies Program Student of the Year Award
Read More
Gender & Sexuality Studies is an interdisciplinary field that straddles the social sciences and humanities in order to examine how and why gender matters in our lives and in our world. Informed by feminist and queer theoretical perspectives, it explores the differences within and between men and women and the construction of those differences within gendered systems of oppression.
Unlike similar programs elsewhere, where institutional dogma might muzzle debate, Stonehill College is welcoming to those who bring diverse opinions and viewpoints to the discussion.
Gender & Sexuality Studies courses focus on a range of gendered institutions, such as family, work, religion, education, health, medicine, media and politics. Our courses also investigate the many ways scholars, artists and activists have researched, represented and critiqued our gendered world. Among the topics students can expect to study are:
The impact of gender and sexual identity on human relations within local, national, and global communities
The relationship of gender to race, class, ethnicity, sexuality, ability, religion, and nationality
The distinctions among biological sex, gender, sexual orientation, and sexual identity
The history and implications of gender and sexuality in questions of social justice
A Program Built to Suit Your Goals
Students in the Gender & Sexuality Studies major will learn the critical thinking and analytical skills necessary to enter the job market or pursue graduate study in a variety of fields including Women's Studies, Sociology, English and History.
You will be able to develop expertise through directed studies and gain practical experience through internships, both of which will help you develop your career path.
Other attributes of the program include:
Customizable program to meet individual interests and needs
Highly interpersonal, one-on-one interaction with dedicated faculty mentors
Flexible course schedule
Manageable course requirements
Gender & Sexuality Studies is also an excellent double major or minor for students who want to distinguish themselves on the job market. It's not uncommon for students to combine this major with one in marketing, psychology or international relations. A student with a major in business and Gender & Sexuality Studies enters the marketplace with a distinct competitive advantage.
Learning Goals
The following are learning experiences we hope all Gender & Sexuality Studies students have before graduating:
Examining the impact of gender and sexual identity on human relations within local, national, transnational and/or global communities (historically and/or currently)
Analyzing how race, class, ethnicity, sexuality, ability, religion and/or nationality intersect with gender identity and impact gendered analyses
Critically reading, recognizing and analyzing the construction of gender and sexuality in a variety of texts (written, visual, other)
Examining a student's own gender role assumptions and identity
Understanding the history and implications of gender and sexuality in questions of social justice
Connecting scholarly inquiry to gender/queer justice through service, internships and practica
Understanding how gender and sexuality are defined and reproduced within ideological institutions
Engaging in candid, respectful dialogue about subjects that may be sensitive or controversial
Related Pages