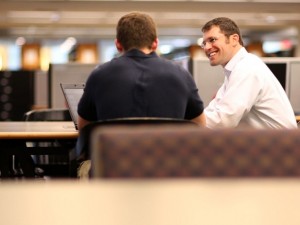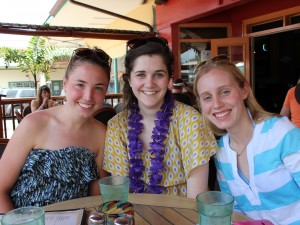 The Versatility of Economics
Stonehill's economics majors launch myriad careers at the intersection of finance and human behavior.
Story
Stonehill Students Participate in Undergraduate Research Competition
Three Stonehill students recently traveled to Cancun, Mexico, to participate in the 2015 Undergraduate Research Competition hosted by the Association for Private Enterprise Education (APEE).
Conklin and Doherty Named Economics Department's 2015 Outstanding Students
In recognition of outstanding academic achievement, Hayley Conklin '15 and Daniel Doherty '15 have been named 2015 Outstanding Students by the Stonehill College Economics Department.
Thomas Gumbley '16 Awarded Competitive EPA Fellowship
Economics and Environmental Studies major Thomas Gumbley '16 has been awarded a $50,000 Environmental Protection Agency (EPA) Greater Research Opportunities (GRO) Fellowship For Undergraduate Environmental Study.
"I get to, day in and day out, work with really talented, driven students who have questions of their own, care about the world and want to make it a better place."
Gilmartin, Zecha named Economics Students of the Year
In recognition of outstanding academic achievement, Kevin Gilmartin '14 and Joanna Zecha '14 have been named top students in the Economics Department for 2014.
Our Economics Department, both in terms of curriculum and other learning experiences, provides students with the foundation they need to apply theory to conventional economic issues and to explore contemporary research into human behavioral puzzles.
Student success in the program is bolstered by a student-professor ratio that fosters strong mentoring relationships while providing a wide array of course options.
The journey begins with Microeconomic Principles — which analyzes the consumption behavior of households, the price and output decisions of firms under various forms of market structure, the distribution of income — and Macroeconomic Principles, which looks at the overall level of economic activity, prices and employment within the framework of American capitalism. Students can go more deeply into one of these areas by taking a corresponding First-Year Seminar.
In all classes, our main objective is to help students develop critical reasoning and problem-solving faculties. To that end, teaching analytical and communication skills are the common denominators of the Stonehill Economics curriculum. Professors also guide students in making course choices based on the student's interest and goal, which may be law school, graduate school in Economics or Finance, business school, public policy school or a career in the financial markets.
The Department further recognizes an intellectual, cultural and social duty to the community and pledges its resources to that end.
Merging Creativity, Analytical Thinking and Clear Communication
The Economics faculty will help students learn to identify and address wide-ranging issues of great national and international interest. We do this by teaching the theory, methodology and empirical techniques of the economic model as it relates to matters of social science inquiry, financial markets and human behavior.
Our faculty is united in the belief that one must develop the ability to think analytically and creatively as well as communicate clearly through written and oral presentation. Small classes allow for stimulating discussions and enhanced individual attention.
Our faculty's interests encompass a wide variety of subjects resulting in a range of Economics major courses including, but not limited to:
Development Economics
Economics of Sports
Economics of Social Issues
Money and Banking
Health Care Economics
International Economics
Fixed Income Analysis
Public Sector Economics
Portfolio Management
Econometrics
Forensic Economics
International Finance
Economics and the Law
Economic History of the 20th Century American Family
Opportunities that Offer a Competitive Advantage
The requirements for an Economics major are structured to give students the opportunity to simultaneously explore other fields of study and thereby acquire a multifaceted foundation from which to launch their career or pursue an advanced degree. Economics majors at Stonehill also have the chance to join faculty in research projects, including recent work on the economics of professional sports, and they are encouraged to take advantage of our extensive study abroad program.
The Economics major is compatible as part of a double major program with almost any other major at Stonehill. About half of our students link the Economics major with other programs. Guided by career goals and personal interests, recent Economic majors have also majored in Philosophy, Political Science & International Studies, History, Psychology, Mathematics and various Business Administration disciplines.
The LION (Learning Inside Out Network) program is an intensive international internship and research opportunity for students interested in the theory and practice of global security. The program builds on courses in security studies, conflict analysis and resolution, global crime, international criminal justice, human security, and international development through a semester-long international internship experience with an NGO, think tank or media organization in Armenia or Serbia. Learn more.
Related Pages