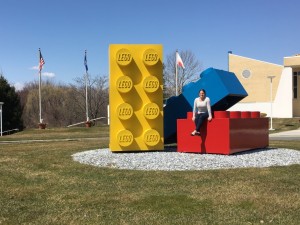 Stonehill's Emphasis on Global Citizenship Gives International Business Majors a Competitive Edge
Stonehill's International Business program arms students with a broad base of knowledge and experiences that serve them well in the globally competitive economy.
Read More
Bloomberg Ranks Stonehill's Business Program Among Best in U.S.
Stonehill College's business program was recently named one of the best in the United States by Bloomberg, which surveyed nearly 30,000 students and 600 companies to determine the best undergraduate business schools of 2016.
Read the Story
Setting Sail: Oscar Tsao '17 to Spend Semester At Sea
Stonehill's Oscar Tsao '17 will embark on a sailing adventure to Spain and Portugal through the highly competitive Sea Education Association (SEA) Semester Study Abroad Program.
Story
Whether profit, nonprofit or governmental organizations, employers want individuals who can:
Succeed in assignments abroad.

Interact with multinational counterparts in other parts of the world from a domestic base.

Manage the interaction with the multicultural domestic population here.
Those multicultural domestic populations, which have become such a powerful force in our economy, bring with them their culture, history, arts, customs and religions. As a result, their expectations on the delivery of goods and services require uniquely developed business skills along with broad cultural awareness.
Building on Stonehill's liberal arts foundation, the International Business major at Stonehill College provides the flexibility to study international concepts by taking courses outside of the Business Department. International Business students can choose from a variety of course offerings including:
Cultural Anthropology

International Economics

Intercultural Communication

International Politics
It is a synergistic collaboration of great benefit to International Business graduates. The growth of our culture and our economy will come in large part from globalization and students with the broadest exposure to this new paradigm are the ones who are best position for success.
A Potent Merger of Business Acumen & Liberal Arts Perspective
In their second year in the program, students become eligible to join a Sophomore Learning Community that connects an introductory course in a business concentration with an Arts and Science course. This unique approach expands the student's level of interdisciplinary understanding and creates a platform to accelerate learning in the student's major discipline.
A recent example is a learning community titled "Women's Global Issues", exploring women's issues in a global context through Gender Studies and Communication and International Business courses.
Related Pages