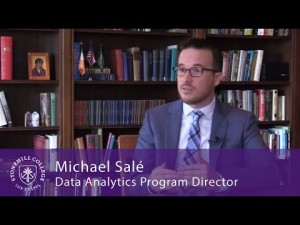 A Step Above the Rest
Stonehill's accelerated Data Analytics Master's Degree Program has the added avantage of including SAS Certification and the convenience of an executive format.
Request Info Today!
A study performed by Accenture, one of the world's largest consulting firms, found that over 90% of their clients have data analytics goals in their strategic plans. However, when it came time to hire employees with these skills, over 60% of searches failed.
The Data Analytics Master of Professional Studies (MPS) Degree Program at Stonehill provides the skills needed to fill this market gap. Students not only earn a master's degree in one year, but also earn a SAS certification. In addition, its executive format fits seamlessly into students' busy professional life while fostering valuable networking and learning opportunities with classmates who are also charting their path to success in the field.
Tactical Advantages
1. Earn dual master's degree and coveted SAS certification in 12-month accelerated program
2. Connect with working professionals ­in a variety of industries and from a wide geographic region
3. Benefit from a blended model of online and weekend courses
4. Learn from faculty with extensive field experience
Applied Approach Provides Key Industry Skills to those in technical and non-technical roles
The Master of Professional Studies is a master's degree that combines the focused study of traditional graduate degrees (MA, MS) with the specialized, industry-specific skills students can immediately use in both technical and non-technical roles. MPS degrees emphasize the skills that today's employers want and are also highly applied, incorporating hands-on research and client engagements to give students firsthand experience practicing what they learn.