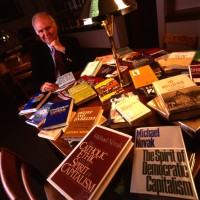 Stonehill alumnus, Michael Novak '56, retired George T. Jewitt Scholar in Religion, Philosophy and Public Policy at the American Enterprise Institute in Washington, D.C, is a world renowned author, philosopher and theologian and recipient of the 1994 Templeton Prize. His published works include texts on ethnicity, sports and democratic capitalism. The Novak Collection includes over 300 linear feet of manuscripts, books, correspondence, newspaper columns, awards, and journal articles, and is regarded as being central to a fuller understanding of American Catholicism in the second half of the 20th century.
See Also Micheal Novak's Personal Website
Requests for information can be submitted via email to the Director of Archives and Historical Collections, Nicole Casper at ncasper@stonehill.edu or 508.565.1121.