Stanley A. Bauman Photograph Collection
PLEASE NOTE: REFERENCE REQUESTS ARE CURRENLTY TAKING US ABOUT TWO WEEKS TO COMPLETE. ORDERS FOR PRINTS FROM THE BAUMAN COLLECTION ARE CURRENTLY AVERAGING 5-6 WEEKS FROM THE TIME WE RECEIVE THE ORDER FORM AND PAYMENT TO THE TIME WE MAIL IT TO YOU.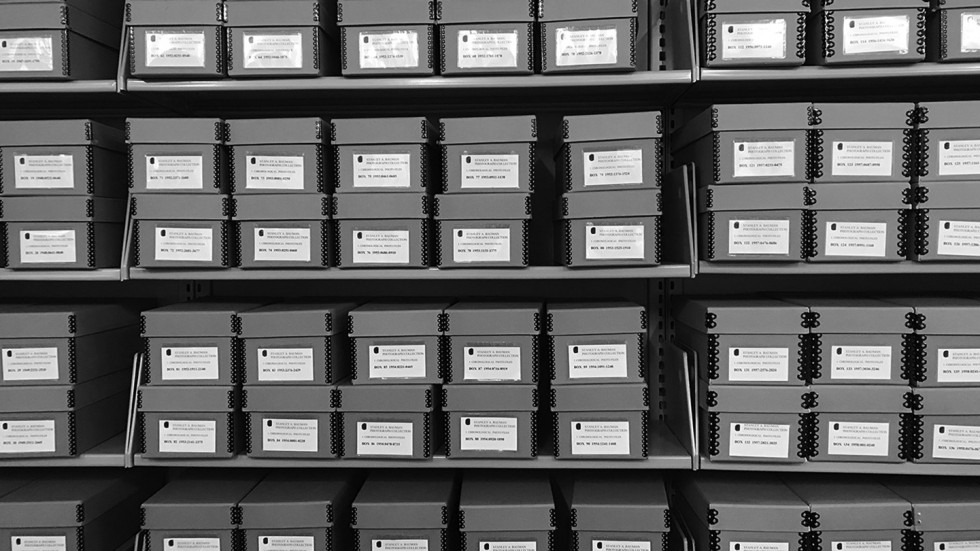 Born on April 25, 1913, Stanley A. Bauman, was a life-long resident of Brockton, Massachusetts. He began taking photographs in the 1930s. By the time of his death in 2007, Mr. Bauman took over 500,000 negatives primarily of Brockton and Southeastern Massachusetts.
In 1997, Mr. Bauman announced that he would leave his collection to Stonehill College after his death. The bulk of the collection is negatives dating between 1946 and 2002. There are a limited number of negatives taken between 1934-1941. Unfortunately, when Mr. Bauman enlisted in the Army in March 1942, he burned many of the negatives he believed weren't important because he had a premonition that he wouldn't return home.
Finding Images
The Bauman Collection is a physical collection of negatives. Only a portion of images have been digitized. We digitize on request and post images we believe will be of interest on our Facebook page. Mr. Bauman carefully cataloged his negatives using a six-digit code in a paper index system. This code is needed for us to find negatives
ArchivesSpace - Patrons may use our online collection management software, ArchivesSpace, in order to search for negatives in the processed portion of the collection. Since it is an accurate representation of what the collection contains, we refer all patrons to ArchivesSpace. Please note that ArchivesSpace does not contain images. Currently ArchivesSpace includes negatives taken by Mr. Bauman between 1946-1961.
Mr. Bauman's Paper Indexes - For negatives that have not been processed (1962-2000) we have scanned each of Mr. Bauman paper indexes and converted them to PDF files. These files are arranged chronologically by year and are available in our open access repository. Because the original pages contain handwritten and typed text, they for the most part cannot be searched. The files may also not be accessible by screen readers. If you have difficulty accessing these files, please contact us. Again, you will not find images rather references to the images
Research Appointment - We are unable to accommodate walk-in appointments and encourage researchers to use options 1 and 2 to find and request images.
Facebook - We regularly post images to our Facebook page

and this is where you can find some of the most iconic images from Brockton and the surrounding area. If you would like to order a print of an image on Facebook, please email archives staff the image's title, original date, and item number (if posted with the image), as well as when the image was posted to Facebook. All of this information accompanies the image on our Facebook timeline.

Request Images - If you are interested in seeing images, please submit a request a for a contact sheet. Contact sheets are provided at the request of patrons. Watermarked PDF contact sheets of a maximum of 5 envelopes/25 negatives (whichever is greater) are provided at no charge per requester, per month. Requests exceeding this monthly limit will incur a charge of $0.50 per additional negative (with a minimum of a $5.00 charge). To order contact sheets, complete this form and make sure to include the item number(s) and title(s) of the negative(s) you would like to see. Please note, depending on the size of the request and current workload this process may take several weeks to complete.
Purchasing Prints - You may purchase prints of scanned images. Stonehill contracts with a professional photo lab for high-quality photographic prints. These prints are not watermarked, but are protected under copyright and cannot be duplicated under any circumstances. Print orders can take up four (6) weeks to complete, and are mailed to you via the USPS. Photographs are available for purchase at the current prices. Complete this form to order prints.
Digital Images - Low resolution JPEG files at a maximum of 150 dpi and 2 inch x 3 inch scans of Bauman images may be requested at a cost of $8 per image. Images will contain a watermark and are for personal use only. Contact us for information regarding commercial use of Bauman photographs.
Martin Institute – 2nd floor, room 208
The Archives and Historical Collections Department hosts collections that document the history of Stonehill, Southeastern Massachusetts, and/or support the mission of the College.