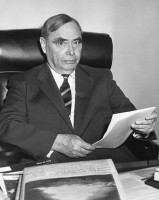 The papers and artifacts of Congressman Joseph W. Martin, Jr. were deposited at Stonehill in 1969. Martin was a member of the U.S. Congress from 1925-1966. He served as Speaker of the House of Representatives twice and as Minority Leader for eight terms.
The collection includes over 200 linear feet of correspondence, diaries, speeches, press releases, scrapbooks, voting records and photographs documenting Martin's political career.
While materials are no longer actively acquired, efforts are made to acquire books documenting politics during the time Martin served. Donations of items from Martin's political career and pertaining to his relationship with constituents are welcomed.
Requests for information can be submitted via email to the Director of Archives and Historical Collections, Nicole Casper at ncasper@stonehill.edu or 508.565.1121.