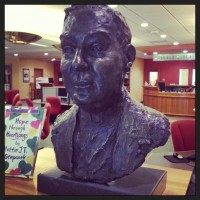 Fr. Bart is a bust of Rev. Bartley MacPháidín, the college's 8th president that resides in the MacPháidín Library and is the unofficial mascot of the library staff. Fr. Bart enjoys reading books, pastries from Ace's Place Café and dressing up for holidays and special events.
The Library is named for Rev. Bartley MacPháidín who served as president of Stonehill College for 22 years from 1978 until 2000.
Check out Fr. Bart's pins on pinterest!