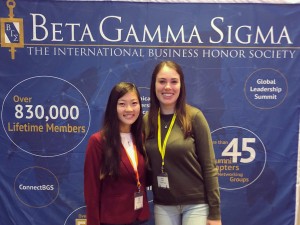 Success at International Business Conference Affirms Strength of Stonehill's Program
For the second year running, a team led by a Stonehill student won its case competition at the international business honor society summit.
Read The Story
Stonehill senior leads winning team at international conference
The leadership skills Ryan Peck '18 developed at Stonehill College helped propel his team to a major victory at the international business honor society Beta Gamma Sigma Leadership Summit in Orlando, Florida, this month.
Read The Story
Bloomberg Ranks Stonehill's Business Program Among Best in U.S.
Stonehill College's business program was recently named one of the best in the United States by Bloomberg, which surveyed nearly 30,000 students and 600 companies to determine the best undergraduate business schools of 2016.
Read the Story
A Head Start in the World of Finance
The Stonehill College Investment Finance Initiative allows students to manage an actual investment fund, honing their analytical and critical thinking skills while gaining experience that gives them a competitive edge.
Read More
Excellent by All Accounts
Graduates of our Accounting Program hone their skills in the industry's biggest firms and often use that experience to launch a sweeping array of successful business endeavors.
Stonehill Alumni Are Thriving on the Frontier of the Internet Economy
Stonehill graduates are applying business and computer science skills to help shape the rapidly evolving world of e-commerce.
Stonehill's Business Administration Department is among the five percent of business programs in the world to have earned accreditation from the Association to Advance Collegiate Schools of Business (AACSB), a distinction that signifies a high quality program and one that is valued by both employers and business graduate schools.
Our business degree programs give students the skills, knowledge and experience needed to launch a career in their chosen field along with a liberal arts foundation that signals to employers that they are a well-rounded and adaptable thinker. As our alumni have demonstrated repeatedly, it's this combination of skills that helps pave the way to professional success.
Business Administration Minor
The Business Administration minor allows Liberal Arts or Science majors to explore each of the functional areas of business at a beginning level to better prepare them for eventual careers within a business environment. Through the two elective course requirements, it also encourages students to investigate one or more business disciplines at an advanced level in order to allow them to possibly find connections between the skills that they have developed within their major and the needs of business employers. The minor can also be used as a preparation for non-business students who wish to pursue graduate study in Business Administration.
In a reflection of our Congregation of Holy Cross roots, the business program prepares students "to make ethical, thoughtful and significant contributions to their organizations and communities as professionals," and stresses the importance of courage and conviction in a global environment.
The Support Needed to Succeed
There are several other factors that account for our exceptional reputation and they are worth considering when comparing business degree programs. Among them:
As an undergraduate-only institution, our students are taught by full-time faculty whose main focus is teaching and advising. Our faculty bring both solid academic credentials and business experience into the classroom, and provide individual attention to students through academic advising and career mentoring.
The case-study approach used in many classes will sharpen your decision-making and problem-solving skills.
Students will have the opportunity to apply classroom theories to real-world experiences by engaging in comprehensive on-the-job internships either domestically or internationally and through our many co-curricular programs.
These experiences, both in and out of the classroom, combined with accessible faculty, dedicated alumni and our well-earned reputation for excellence, prepares students well to take the next step, whether it be entry into the job market, an MBA or other graduate business programs.
Move Quickly from Learning to Doing
Stonehill's business program is renowned for getting students out into the field for the kind of real-world experience that not only adds important perspective to their coursework but also connects them to the people who can play a role in determining their success after graduation.
Students will have the opportunity to apply classroom theories in comprehensive on-the-job internships, either domestically or internationally, and through our many co-curricular programs.
Developing Ethical and Compassionate Leaders
Long before media scrutiny turned it into a focal point in the business world, Stonehill was incorporating ethical perspective and corporate social responsibility into its business curriculum.
The "Programming Ethical Design in Digital Age" Learning Community (LC), for example, teaches students how to create 'good' or 'ethical' digital designs to help resolve problems and challenges encountered in the professional world and everyday life. In a rapidly changing, interconnected society, tomorrow's leaders will need creativity, problem-solving skills, technological fluency, and ethical reasoning in order to be successful. This Learning Community provides students an overview of three domains: design thinking, ethical approach, and computer programming. Students will develop both conceptual appreciation of ethical design and basic understanding of computer software programming. Topics include architecture, crime prevention, fashion, industrial products, urban planning, and workplace.
Related Pages