Courses
Stonehill's Integrated Marketing Communications (IMC) Master's Degree program serves those who seek a more comprehensive curriculum rather than a pure business program. Stonehill's program has a creative focus that begins with an Introduction to Creativity course.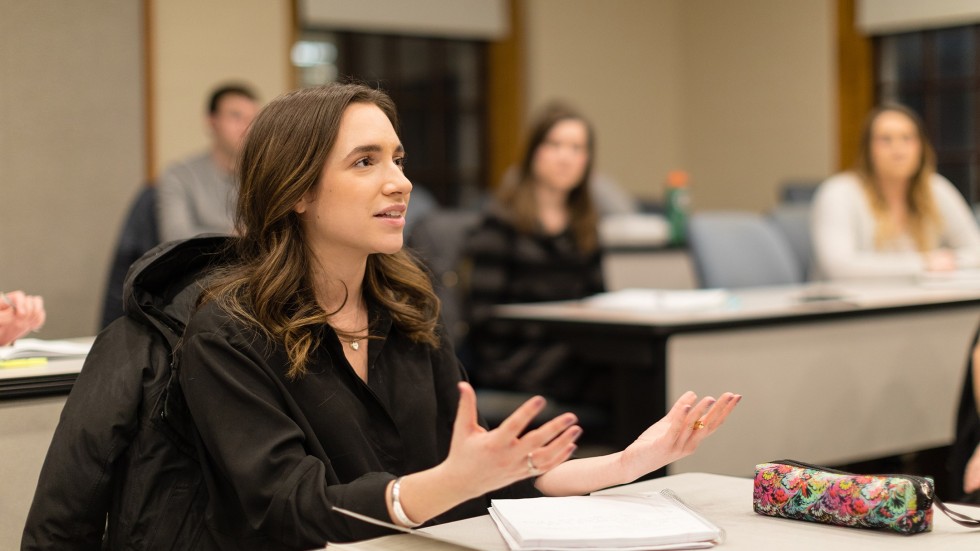 Program Structure
The majority of the IMC courses are taught on campus in Stonehill's state-of-the-art Meehan School of Business. Some courses are offered online to provide added flexibility for working professionals.
Our campus-based structure provides students with the opportunity to work in a highly interactive environment, where professionals from a wide array of industries work collaboratively on projects to solve real-world challenges.
Program consists of 12, 3-credit courses
Courses typically meet once a week in the evening
Campus-based coursework to provide ample opportunity to work alongside other professionals
Some online course options offered for flexibility
Required Core Courses
This course is the introductory course to the IMC Master's degree program at Stonehill College.  It is designed to introduce students to the fundamentals of Integrated Marketing Communications (IMC) in the context of a creative and innovative program design.  Students will learn techniques for improving the flexibility and originality of their thinking and will explore approaches used by practitioners of Integrated Marketing and Communication to create and sustain organizational innovation.  Students will learn and apply the IMC planning process and examine the role of integration to ensure consistency of creative strategy.   This course will also provide a comprehensive orientation to the Stonehill IMC Master's degree program.
This course is designed to expose graduate students to both traditional and contemporary organizational communication theories. This course emphasizes the applied nature of organizational communication using foundational and recent research in the field. Throughout the semester, we will direct our focus to understanding relevant research designs and methodologies for studying communication within organizations, particularly within the context of integrated marketing communication.
This course is designed to serve as an introduction to the theory and practice of marketing management. Students will develop their skills to formulate effective marketing strategies and assess market opportunities as well as to design strategy implementation programs. In addition, students will have the opportunity to communicate and defend their strategy recommendations and build upon the recommendations of their peers.
This course is a general overview of Graphic Design in IMC. Students will be introduced to the contributions and potential of a graphic designer as part of an integrated marketing team. Such things as workflow, the technological tools utilized, useful terminology and project pacing will be covered. Students will be exposed to the visual problem solving angle within integrated marketing.  In addition, basic design principles and the ability to identify effective design modules will be introduced.
During this final course, IMC students will have the opportunity to apply the comprehensive skills they have built throughout their study of the concept and practice of integrated marketing communications. Students will work their advisor to choose a company or organization to take on as a "client." Students will develop an integrated marketing communications plan, creating a well-researched, creative, integrated plan for their client. Students will work individually with their advisor and client though team approaches will also be possible depending on clients and client needs. Students will convene at multiple points during the semester to provide oral updates, written assessments, a final plan, and a strategy pitch to fellow students.
Elective Courses
This course provides graduate students a conceptual framework for understanding public relations and its role in crisis communication management. This course emphasizes the principles and processes of creating and managing an effective public relations communication plan that meets the distinct needs of crisis situations in organizations. Students will learn crisis communication theories and analyze real-world crisis case studies as context for understanding and evaluating crisis communication campaigns and how the function fits into the larger context of the communications profession. Students will also consider professional, ethical and legal issues inherent in the practice of crisis communications. 
This course explores the research underlying communication and marketing campaigns. The course will cover both qualitative and quantitative methodologies. It is here that students will fully appreciative how their creative impulses can have practical rewards. Students will also be introduced to the techniques used to identify and reach audiences and to monitor results of marketing campaigns.
This course introduces students to the interdisciplinary study of how consumers act in the marketplace. The course examines the consumer decision process and the effect on consumer decision making of external environmental influences (culture, sub-culture, social class, reference groups, family, and personal influences) and of internal psychological influences (personality and lifestyle, learning, motives, perception, and beliefs and attitudes). Topics in the behavioral sciences as they apply to marketing. Application of psychological, sociological, anthropological, and economic theories and models to the understanding of buyer behavior and the development of an integrated marketing strategy.
This course focuses on developing integrated marketing communication plans that include advertising, promotion, direct marketing, sales, public relations, event marketing, and new electronic media. This dynamic marketing model requires a completely different approach to planning and budgeting, and clients and agencies increasingly are seeking managers with just such expertise.
Upon completion of this course, students should:
  have a solid understanding of the strategic and tactical elements useful in IMC;
identify how market research and company objectives relate to the process of designing successful IMC campaigns;
explain how effective creative strategies are developed and implemented.
This course will focus on communication through visual media as it relates to integrated marketing. Students will be engaged in exercises that will illustrate design theories and visual problem solving. Design principles will inform the course and students will be creatively challenged to demonstrate an understanding of them through presenting an original project for peer review.
The aim of this course is to introduce the scope of practice of graphic designers and how their work shapes our marketplace. Students will view visual communications through the lenses of history, theory, and practice. An inside look at the workflow and practice of professional graphic designers will illustrate how market related problems are solved visually.
This course is designed to allow students to develop and execute a marketing campaign using a variety of new media platforms. Students will learn to integrate skills, strategies, and tactics to create a cohesive, dynamic whole across platforms. Because an understanding of new media is essential to an organization's overall strategy, this course will focus on those tactics and strategies in emerging media.
While the focus of this course will be on the development of a visual identity and creation of a brand that supports this identity, the foundation of this development will focus on utilizing design as a means for communication. Project research and development of a target audience, personas, value stories, and positioning will lead the creative brief for student design work. Using the design process, students will learn to master the relationship of form, function, and content in order to create meaning, communicate message and information. A comprehensive package of design specifications will be created for various forms of visual solutions including print, digital media, artifacts, information, and environments and systems.
This course focuses on several important areas impacting the dynamic nature of Internet marketing by addressing the role of mobile, social, and local marketing in today's environment, the integration of e-commerce into the marketing activities, and the major problems and opportunities that e-commerce activities pose for the marketing manager.
This course explores several aspects of the new digital marketing environment including topics such as digital marketing analytics, search engine optimization, social media marketing, and 3D Printing. It will provide richer understanding of the foundations of the new digital marketing landscape and a new set of stories, concepts, and tools to help the students digitally create, distribute, promote and price products and services.
This course is designed to familiarize students with the media industry and its business practices, operations, content and technology with an emphasis on the digitization of media channels and platforms. The course establishes an understanding of the basic economic principles that underlie media businesses and the markets through which audiences are aggregated for advertisers. Emphasis is placed on the roles of audience measurement and media technology in shaping the content of media and the capabilities of advertising and other brand communications to reach audiences. The course emphasizes how the ongoing convergence of media content and commercial messages is redefining the media business and the world of integrated marketing communications.
A student may receive up to 3 internship credits. The graduate internship is designed to familiarize and significantly advance the Integrated Marketing Communications master's student's knowledge of integrated marketing communications. The internship is designed to give students the opportunity to apply IMC theories and concepts in a professional setting.