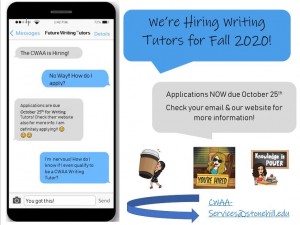 We're Hiring Writing Tutors!
Requirements
Writing tutors are strong writers, attentive listeners, and thoughtful collaborators who enjoy working with others. Students from any discipline are eligible and must meet the following criteria prior to hire:
Maintain a 3.0 GPA and uphold a positive standing with the Office of Community Standards.
Submit the online application including a faculty recommendation.
Participate in interviews with the Senior Writing Tutor and Director.
Complete WRI 369, Tutoring Writing: Theory and Practice
Complete (3) observations of at least two consultants in the CWAA outside of class time.
Submit all required forms to Student Employment prior to employment.
Completing the application:
Ensure you meet the criteria and that Tutoring Writing: Theory and Practice fits in your schedule.
Contact a faculty member or adviser who can speak to your qualifications. When you submit the application, an electronic recommendation form will be emailed directly to them for completion.
Submit an application, which includes a current resume and writing sample that demonstrates your skill with academic writing.
Selection process
All applicants will be notified of their selection prior to registration deadlines.
Selected applicants will participate in an interview with the Senior Tutor and Director. Bring a hard-copy of the completed Course Approval Form.
Chosen students must register for Tutoring Writing: Theory and Practice and earn a grade of B or better.