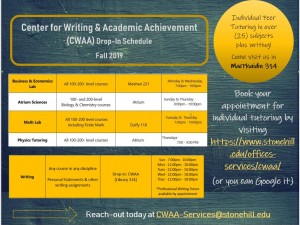 You Asked For It!
Due to demand, Physics Drop-In Tutoring will take place in the Atrium on Thursdays from 7-9 PM. Get your Isotope on with the Force of Gravitation!
Olivia Peterson '18 talks about the many ways in which students can learn about the Center for Writing and Academic Achievement, and all it has to offer.
Individual Peer Tutoring
Our most popular, individual peer tutoring is offered in over (25) subjects. You can book a 30 mins or 60 mins appointment with ease using our booking system. Simply type-in your myHill credentials, search the schedule, and get ahead today. Appointments start September 9th.
What is Group Subject Tutoring?
You may hear people refer to these as "Labs." That's just our fancy way of saying you will be working with each other and a peer tutor.
Have a quick question or need guidance on a specific problem? See the schedule below for our Fall 2019 Schedule. No appointment, no pressure, we are here for you.
Fall 2019 Drop-in Schedule: September 9th-December 10th
Business & Economics Lab

All 100-200 level courses

Meehan 221

Monday & Wednesday

7:00pm - 9:00pm

Physics Tutoring

All 100- 200 level courses

Atrium

Thursday

7:00pm- 9:00pm

Atrium Sciences

100- and 200 level Biology & Chemistry courses

Atrium

Sunday to Thursday

8:00pm - 10:00pm

Math Lab

All 100-200 level courses including Finite Math

Duffy 118

Tuesday & Thursday

7:00pm - 10:00pm