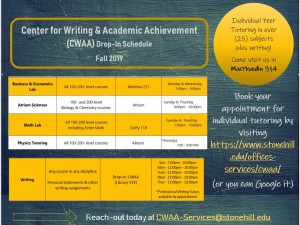 Drop-In Peer Tutoring
No appointment necessary, no pressure.
Our Subject Tutoring
Math including Statistics, Finite Math, & Calculus 1 & 2
Computer Science
Psychology & Speech Pathology
Business & Economics
Foreign Languages: Arabic, French, Spanish, Italian, Chinese, Latin & German
Physical Sciences: Biochemistry, Biology, Environmental Science, Neuroscience, General Chemistry, Genetics, Organic Chemistry & Physics
Our Writing Support
All Courses in General Education including Literature, Religious Studies, History, & Philosophy
All courses in every major/minor
Physical & Social Sciences
English Language Learning (ELL) Writing
Cover Letters, Personal Statements, & Resumes
Need help getting started? Our writing peer-tutors can help you at any stage of the writing process. From thought-to-paper, we are here for you.