Going for the Glass
Stonehill DECA wins big at international conference.
Stonehill College's DECA chapter recently participated in the International Career Development Conference (ICDC), held at the Baltimore Marriott Waterfront earlier this month. Sixteen students from the Meehan School of Business competed against over 100 schools in events designed to prepare them to become leaders and entrepreneurs in marketing, accounting, finance, hospitality and management.
Tye Skeldon '23, management major and communication minor, and Myra Hines '23, marketing major, brought home the coveted DECA Glass after placing first internationally in the ICDC's Marketing Communications Competitive Team event. Alexander Bates '22, management major and economics minor, and Thomas Brennan '22, economics major and business administration minor, achieved a Top 10 finish in the same competition. Leilah Johnson '23, finance major and economics minor, also had reason to celebrate as she ranked among the Top 10 in the Corporate Finance Competitive Individual category. Rafael Mejia '24, finance major, received a 90th percentile score in an exam he took as part of the Entrepreneurship Operations Individual event.
"This is a truly amazing accomplishment by our chapter. The students have worked so hard all year to compete. Their success is a testament to the quality of the business education at Stonehill," said Dr. Michael Salé, assistant professor of management information systems and Stonehill DECA faculty advisor.
Skeldon notes that he and Hines felt confident going into the conference; however, receiving the DECA Glass came as a surprise to him.
"This accomplishment means the world to me," he said. "I have been competing since my first year at Stonehill. It was great to experience my first in-person ICDC and make Stonehill proud while coming home with some hardware."
Hines said her favorite thing about DECA is collaborating closely with Salé and her peers to hone new abilities.
"DECA has absolutely made me career ready because it has helped me unlock many different skillsets," she said. "My public speaking has improved significantly. I've also developed critical thinking skills. Preparing for conference presentations in such a short time has set me up for the real world by teaching me how to pivot at a moment's notice. DECA has been a highlight of my career at Stonehill."
As he celebrates his students' recent achievements, Salé is also looking to the future.
"Originally chartered seven years ago, Stonehill's chapter has grown to be the largest in Massachusetts, and it has competed at ICDC numerous times," he said. "We can't wait to begin preparing for ICDC 2023 in Orlando."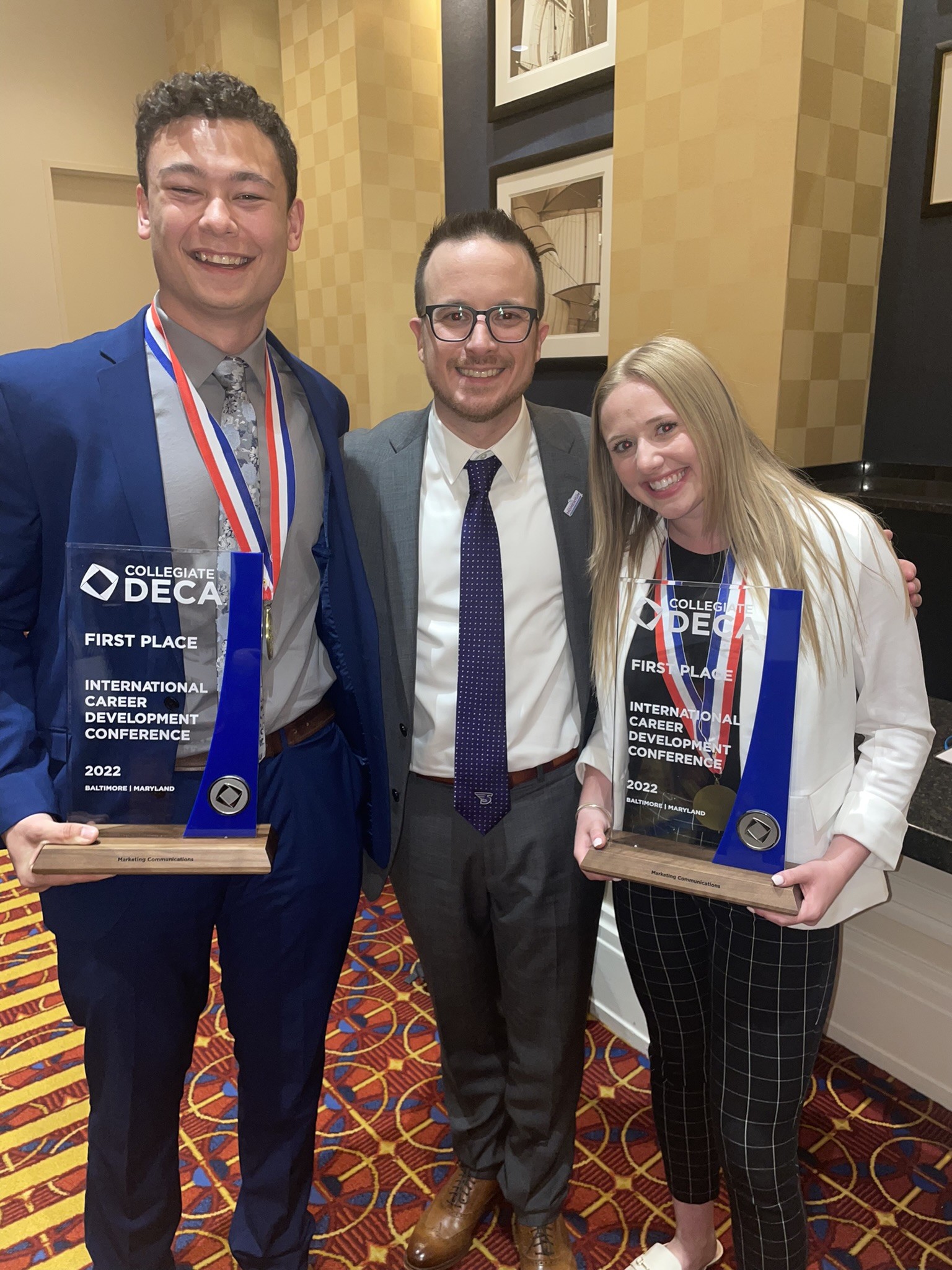 Tye Skeldon '23 (left), Dr. Michael Salé (middle) and Myra Hines '23 (right)