With the generous support of Robin McQueen-Lynch '80 and Bob Flynn '87, Stonehill College launched a Wellness Initiatives Fund in the Spring of 2019.
The Wellness Initiatives Fund provides financial support to various student wellness programs, trainings, and events.
Support the Wellness Initiatives Fund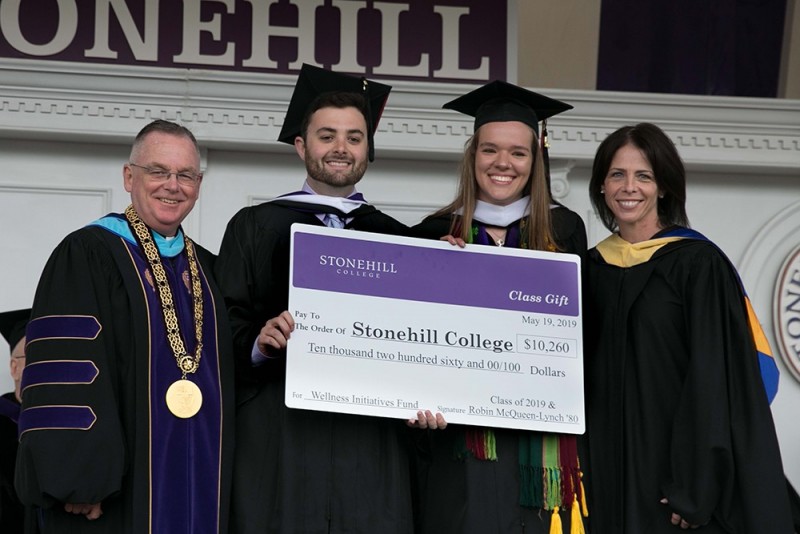 Student groups, faculty, and staff are encouraged to apply for these funds to either develop new and innovative wellness initiatives or to enhance current program offerings.
A few examples that would be considered for funding include:
developing and implementing new programs that educate on the mind, body, and spirit connection;
creating best practice offerings for students on mental health, anxiety, depression, and suicide prevention;
inviting impactful guest speakers to campus;
offering weekly wellness-related classes for students;
supporting and enhancing large-scale events such as Fresh Check Day, a suicide prevention wellness event; and
providing additional support and training for students who seek to implement peer health training and education.
Preference is given to programs, initiatives, and opportunities that serve as models for replication and sustainability on the Stonehill campus, demonstrate collaboration across areas, and/or extend the impact of an already existing program at Stonehill.
Funding requests are evaluated based on the criteria mentioned above, number of proposals received, and resources available for that year. Requests are reviewed by the Wellness Initiatives Fund team, chaired by the Vice President for Student Affairs and comprised of representatives from across campus with knowledge of and interest in student wellness topics.
Learn more about the programs funded by the Wellness Initiatives Fund
Learn more about the application process
Support the Wellness Initiatives Fund
To send a gift by mail, click below for a gift form and mail to:
Stonehill College | Office of Development
320 Washington Street | Easton, MA 02357-6242
Print a gift form to send by mail