Benefactor & Student Scholarship Dinner | President's Dinner

Century Club Celebration | FXD Dinner Celebration
Benefactor & Student Scholarship Dinner
Approximately 200 students and benefactors meet for dinner every April. Students hear first-hand from our alumni and friends on why they value and support student scholarships. At the same time, benefactors hear from students about their classes, internships, study abroad experiences, and career goals. Now in its 14th year, the event has a track record for building close and long-lasting ties between our benefactors and students.
Learn more about Scholarships at Stonehill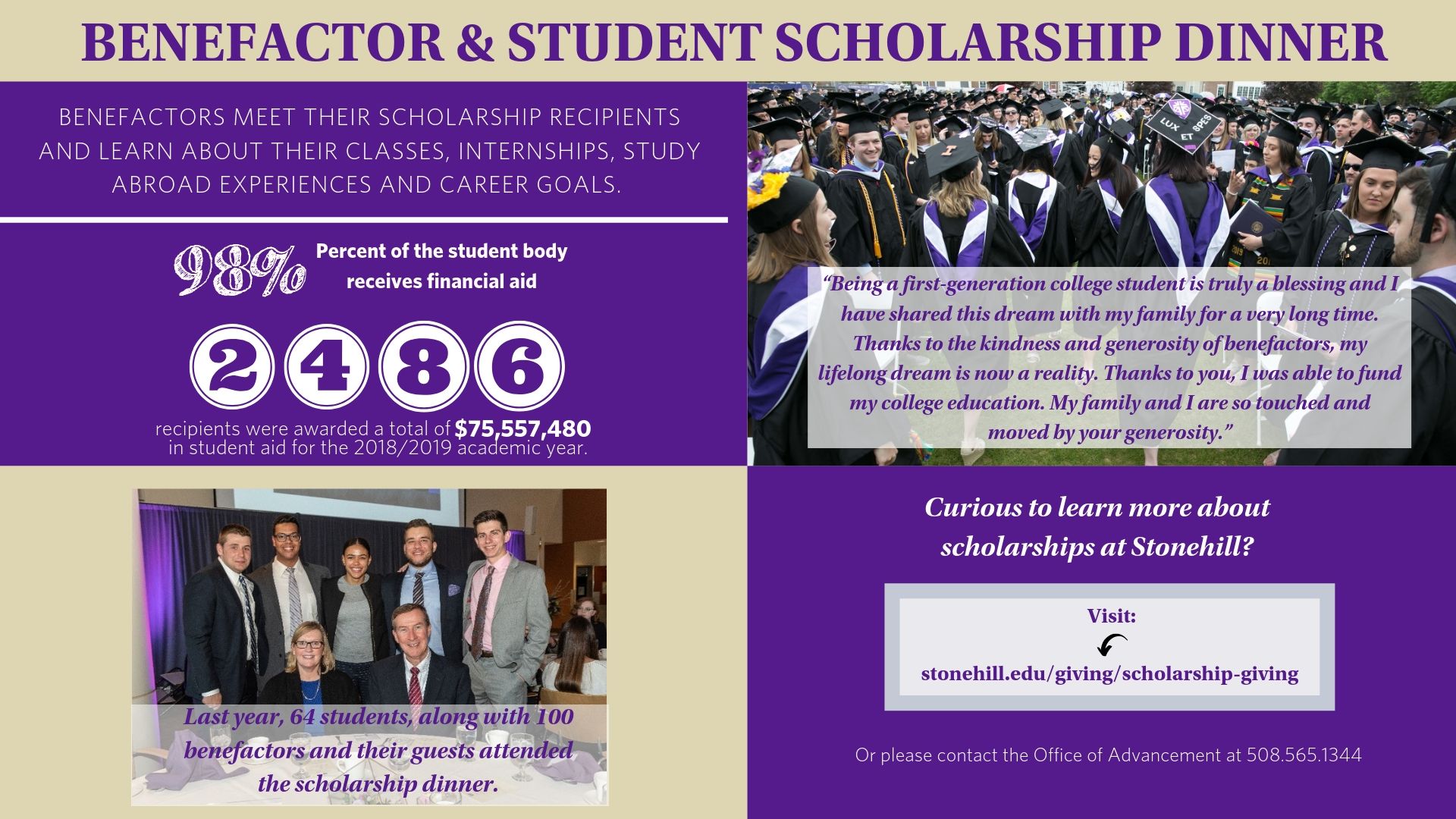 President's Dinner
Every year, more than 600 neighbors, friends, alumni and benefactors bring a terrific energy and enthusiasm to the evening in support of Stonehill College and its students. In May 2018, we were thrilled to present My Brother's Keeper with the President's Award for Excellence in recognition of the Christian ministry's loving service to neighbors in need and for how Stonehill students are transformed by their volunteer experiences at My Brother's Keeper. This organization is deeply woven into the fabric of both the College and our surrounding community experiences at My Brother's Keeper.
Learn About the 2019 President's Dinner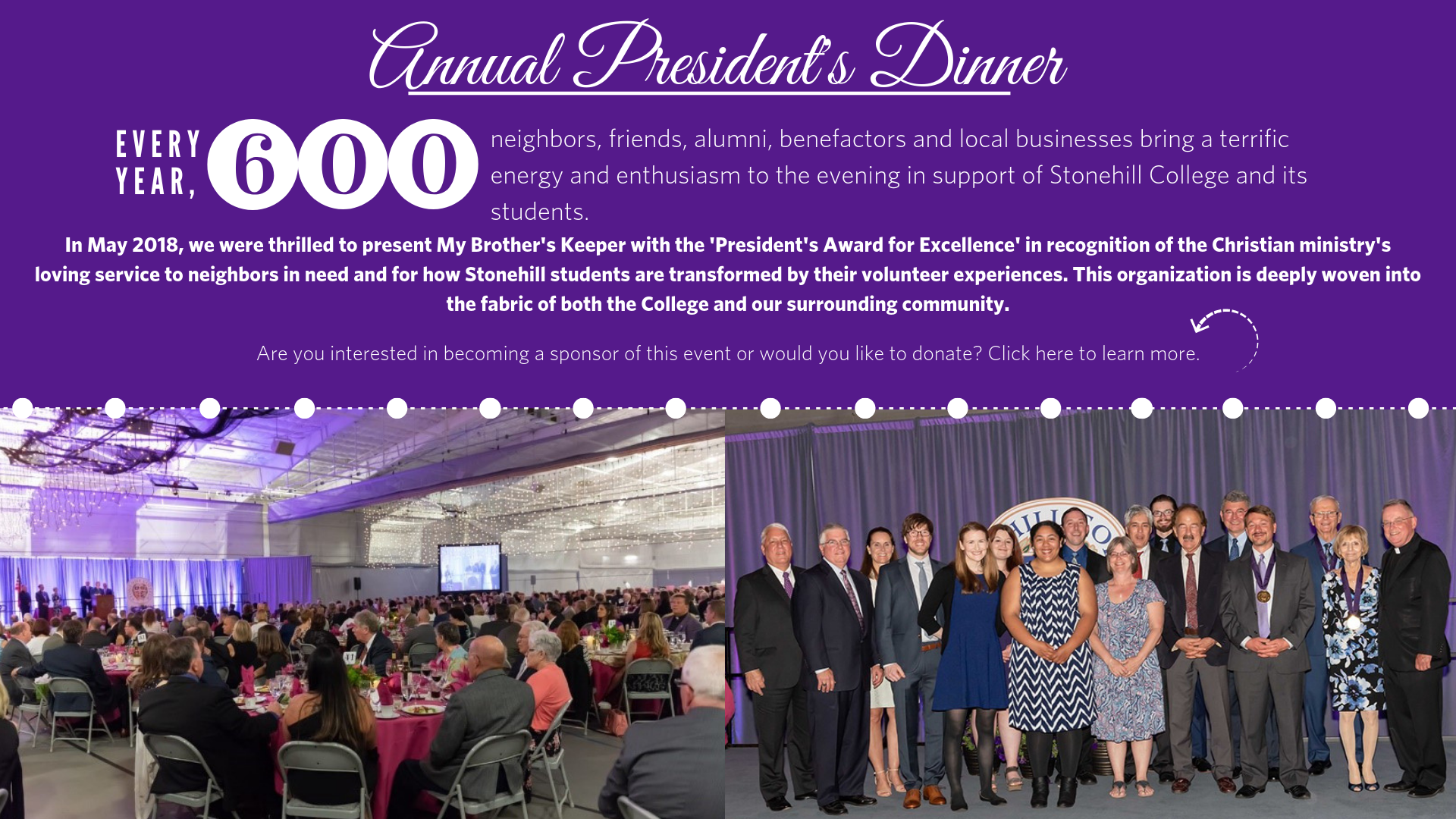 Century Club Celebration
Every December, over 300 alumni, friends, neighbors, and benefactors, members of the Century Club, our largest giving society (which recognizes annual donors of $100 or more), attend a gala celebration in the Dining Commons.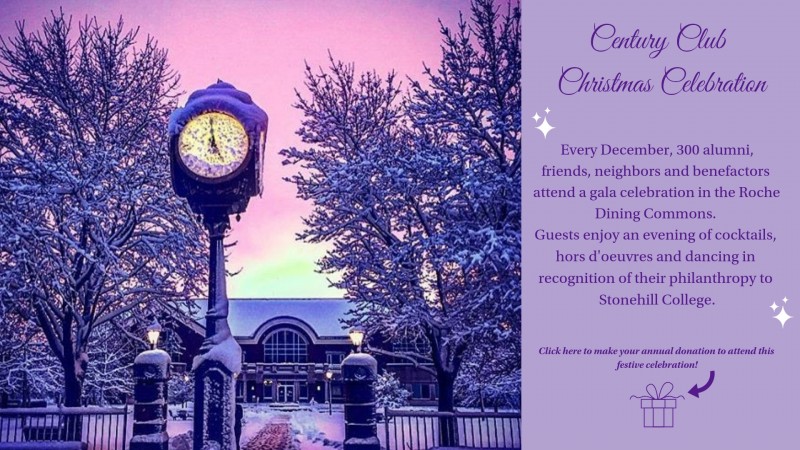 FXD Dinner Celebration
Fran Dillon's heartfelt dedication and commitment to Stonehill College was recognized at a spring 2019 dinner celebration that honored his 44 years of service to the College. This event served as an opportunity to raise funds for the Linda A. and Francis X. Dillon Scholarship. This scholarship is how Fran wishes to be remembered and will preserve his legacy at Stonehill.
view photos and video from the FXD Dinner Celebration