Reunion 2019
Reunion is a wonderful opportunity to return to Stonehill, reestablish relationships with former classmates, tour campus with your families and take in all the recent campus changes.
Class of 1969
In honor of your 50th Reunion, you have an opportunity to make a special contribution to your alma mater. The Class of 1969 Reunion Committee has selected three fundraising projects:
Raise $25,000 to place the class plaque on the display case that showcases the Old Student Union (now the Thomas and Donna May School of Arts & Sciences),
The Pillar Society Scholarship and
The Father John E. McCarthy, C.S.C. Memorial Scholarship
You may also direct support to any aspect of Stonehill that is meaningful to you.
Your gift may be made online or by mailing the gift/pledge form:
Make Your Class of 1969 Reunion Gift Online
Print a gift/pledge form to send by mail
Classes of 1974, 1979, 1984, 1989, 1994, 2004, 2009, 2014
Leave Your Legacy & Coast Your Class — To VICTORY

During Reunion, classes join together and focus their fundraising efforts on all the aspects that set a Stonehill education apart. Now is a perfect time to continue your Stonehill legacy by coming together and driving your class' participation in supporting the College. Plus, if you participate your class may be victorious.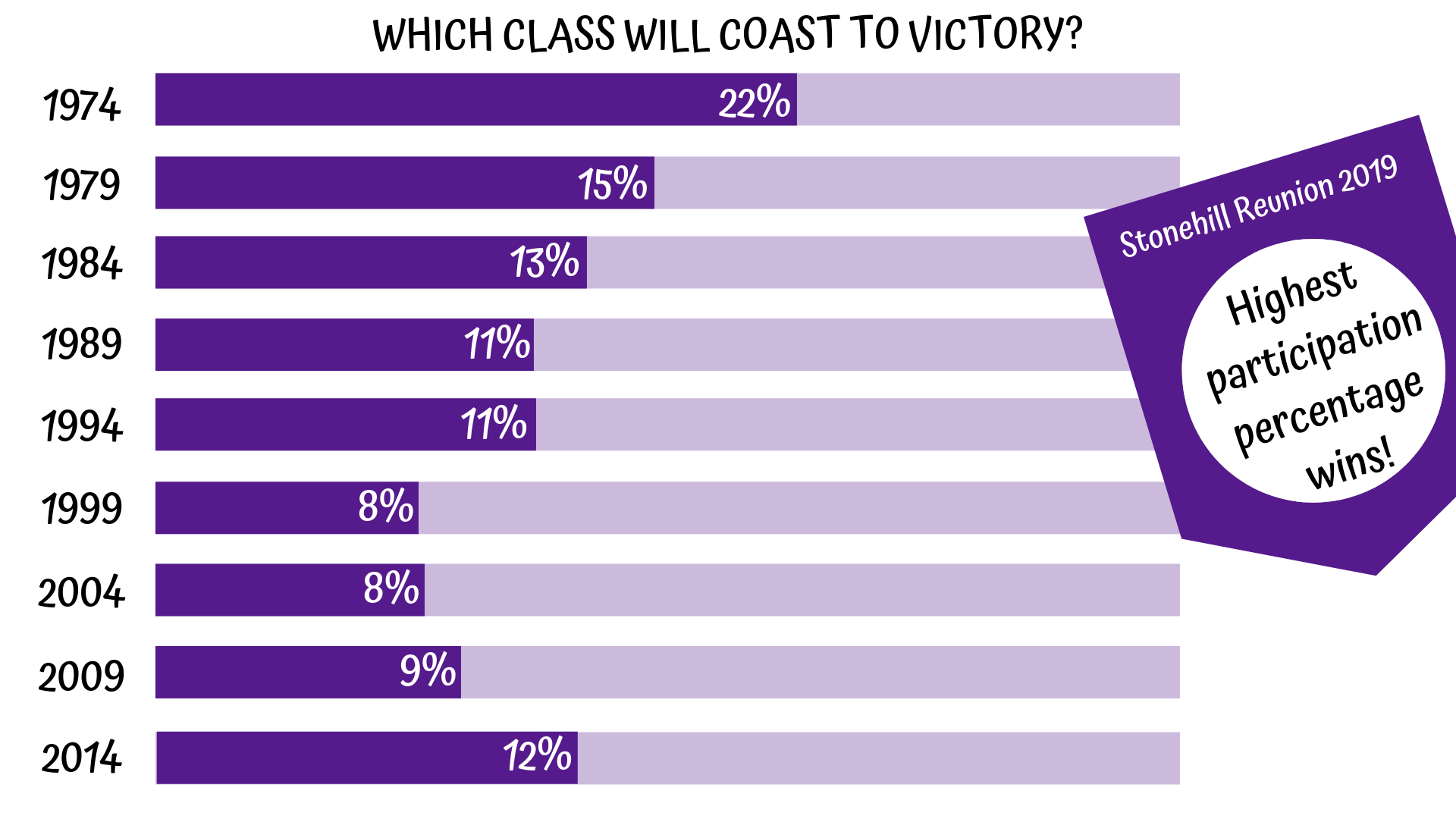 The Reunion Participation Challenge has begun. A set of Stonehill coasters with one commemorating the class' victory are up for grabs for all donors, of the class with the largest participation percentage in the current fiscal year (July 1, 2018 to June 30, 2019), regardless of attendance. Remember it all counts — gifts of any amount —made to Stonehill to the designation of your choice.
If you are unsure if you have made a gift this fiscal year (since July 1, 2018), visit our online Alumni Honor Roll of Donors.
Join your classmates on campus for Reunion!
Volunteer
Reunions simply aren't possible without a team of classmates helping to make them happen. They take the lead building attendance, generating enthusiasm, and fundraising during their milestone year. Just a few hours of your time can help ensure that you and your classmates have a memorable reunion. We thank you for your commitment to your alma mater.
Questions
For more information about your class gift effort or serving as a committee member, please contact Stacy King at
(508) 565-1341 or sking@stonehill.edu.