---
Make a Gift
Making a gift is easy. Your generosity will make a difference!
Give Today
GOLD Gives Back Week
This May, we dedicated a week to celebrate GOLD giving and encouraging the
Graduates Of the Last Decade to Give What Matters.

Gift Challenge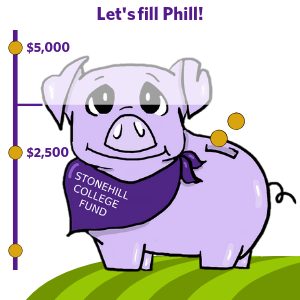 Members of GOLD President's Council, Elisabeth Cormier '12, Daniel Doherty '15, Thomas McKenney '11, Marco Meier '12, Pat O'Mara '15 and Julie Wilson '09, have challenged their fellow GOLD Alumni to a $5,000 challenge for
GOLD Gives Back Week.
When GOLD alumni collectively give $5,000 for GOLD Gives Back Week, these generous alumni will give an additional $5,000 gift to the College.
Schedule of the Week
Please click below to follow the link!
Mentor Monday
Give mentorship and sign up to be a career mentor on Stonehill Connect. Login required.
Gratitude Tuesday
Give gratitude and share why you're grateful for Stonehill on Social Media, we will be sharing our favorites on the @StonehillAlumni account.
Tag @StonehillAlumni and use #GiveStonehill to give gratitude.
Words of Wisdom Wednesday
Give wisdom and share your knowledge with current Skyhawks and soon-to-be grads.

GOLD Gives Back Thursday
Give back to any area of the Stonehill College Fund.
Other Ways to Give Back
Update your information for your alumni record and learn more about the GOLD Giving Volunteers!
Meet Phill
Phill is a phillanthropist, someone who seeks to promote the welfare of others by spreading light and hope to all. Phill represents Stonehill College Fund because it serves as the "Piggy Bank" for the College.
Remember to tag us and use the hashtag #GiveStonehill to share how you Give What Matters

instagram.com/stonehillalumni/

facebook.com/stonehillcollegealumni/
Download Phill
You can download your own version of Phill to print and display in your office by saving the image.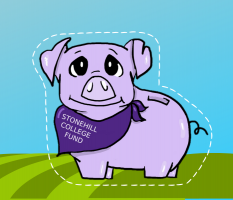 Choose the Program that Matters Most to You
All gifts from GOLD alums can be designated to any program or scholarship within the Stonehill College Fund. 
Every dollar makes a difference. Designate your gift to the program that matters most to you!
Thank You for Your Support!
Please know how much we appreciate your gift.
With your generosity, we have the power to fuel transformational educational experiences for current and future Stonehill students.
Should you have any questions, please contact:

Chanel Mazzone '16
Development Associate
cmazzone@stonehill.edu
508-565-1367
Not sure if you made your gift this fiscal year (since July 1, 2018)?
View your class list on the  Honor Roll of Donors