Campus Updates
Now open and fully integrated into the life of the College, the Thomas and Donna May School of Arts & Sciences is a hive of activity, bringing new life to the heart of campus. "One Gift Sparks a Lifetime of Giving" [story here] features the building's highlights and the story behind its namesake, Thomas May '69 and his wife, Donna (Jermyn) May '70.
Hot on the heels of the completed May School is the construction of the Leo J. Meehan School of Business building, which is rapidly taking shape and is on track to be completed in time for the 2019 academic year. In August, the College community gathered for the building's topping off ceremony.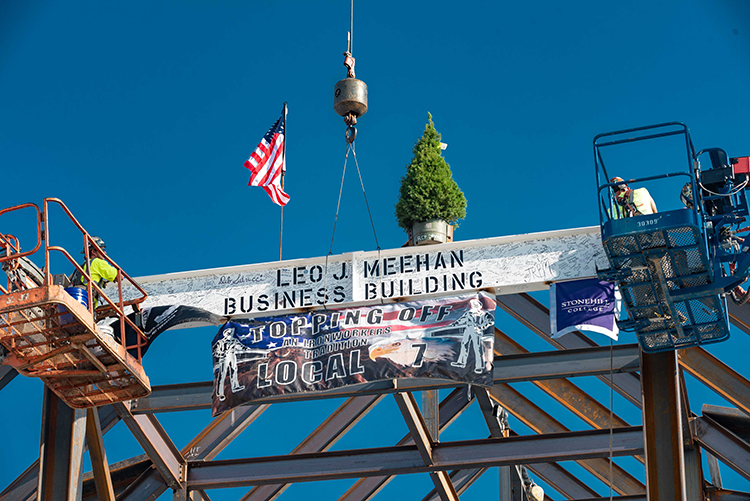 Summer Projects
"We use the summer to make upgrades and improvements to our buildings and facilities so that we remain competitive in terms of the resources we offer to students and faculty and avoid deferred maintenance," says Associate Vice President for Finance and Operations Craig Binney '83. In 2018, these projects included
Creation of a Center for Innovative Design in the MacPháidín Library.
Construction of a modern computer science laboratory in the College Center.
Refinishing the floor of the Merkert Gymnasium, home to men and women's basketball and women's volleyball.
Replacing turf on the Timothy J. Coughlin Memorial Field at the W. B. Mason Stadium and resurfacing the running track.

SUMMER JOBS
It was a busy summer on campus with the construction of the Leo J. Meehan School of Business well underway. The College community gathered in August for the building's topping off ceremony [above, left, top and bottom.] Among the other campus upgrades are the new computer science lab in the College Cente [right, top] as well as the resurfaced running track and replacement turf on the Timothy J. Coughlin Memorial Field [right, bottom.]
Special Education Master's Degree
As of summer 2019, Stonehill's Department of Education Studies will be offering a master's degree in special education designed to prepare teachers to assist students with special needs to reach their full potential in public, private and parochial schools.
In exploring the complexity of culture, language and learning differences in contemporary classrooms, program participants will graduate with the skills and knowledge to design learning environments that promote inclusivity and that ensure full, meaningful access and engagement for all students.
Participants will also learn how to develop a curriculum for a diverse group of students.
Geared toward teachers seeking to earn an initial license in moderate disabilities Pre-K-8 or wishing to add to their current license, this NEASC-approved degree program can be pursued either on a part-time basis in a 33-42 credit program or through an accelerated 12-month program.
Faculty are credentialed and experienced in a wide range of specialized fields. Teaching in small class environments, they serve as mentors and are deeply invested in the success of each student in this master's degree program.
"This is a strong master's degree program tailored to assist special needs educators in better serving students with mild to moderate disabilities that impact their academic and social development," said Associate Professor of Education and Program Director Margaret Pierce.
"For teachers seeking to grow professionally and obtain additional credentials, it meets a growing need locally. Our focus is to ensure special needs educators have the skills and strategies that help students with disabilities to maximize their potential."
For more information about the program, visit here.
---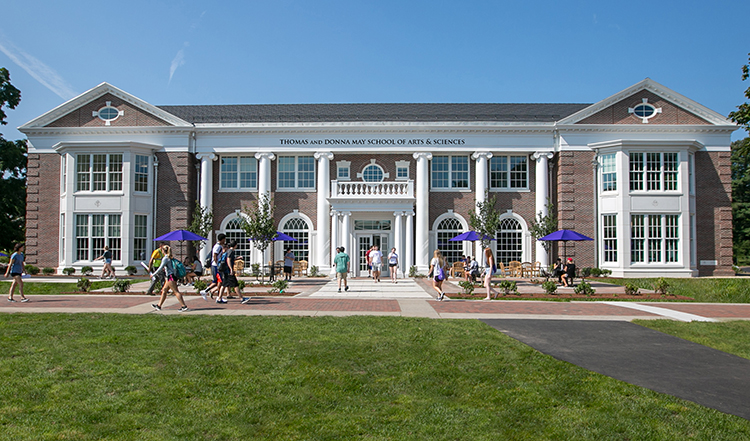 A Welcoming Place "I'll be using the high-top tables by Au Bon Pain to do homework. Also, the little study nook above the Admission Office has a great view and is a place I'll be all year,"said Kateri Collins '19 at the opening of the new Thomas and Donna May School of Arts & Sciences building.
---
Kente and Rainbow Celebration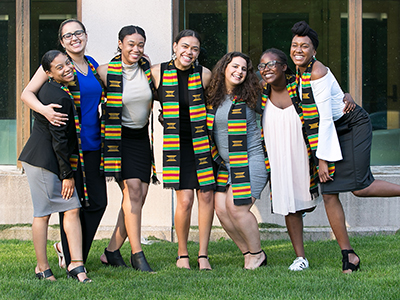 At the annual Kente and Rainbow Ceremony, 50 graduating students, supported by their peers, faculty and staff, came together in unity and celebration as they prepared for Commencement and life after college. The special occasion was marked by a spirit of joy, friendship, solidarity and accomplishment. The Kente and Rainbow Ceremony recognizes graduating seniors from Black, Latinx/a/o, Asian, Pacific Islander, Middle Eastern, Native American and multiracial backgrounds as well as those who identify with LGBTQ+ communities.
Celebrating Seniors: 2018 classmates [l to r] Cristianie DePina, Jorelis Peguero, Nikia Davis, Jenise Gonzalez, Carolina Capote, Meggie Wambui and Azariah Boyd are all smiles at the Kente and Rainbow event.
To view photos from this year's event, visit here.
---

Connected but Lacking Connection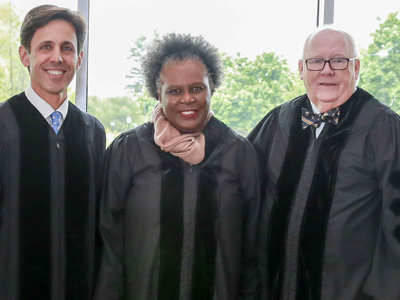 "One thing that I will never forget about those eight years in Washington was, and you've all seen this on cable television, people yelling at each other but never listening to one another. People talking at one another, but always waiting in those pauses to rebut and never to hear and to understand," said David Simas '92, CEO of the Obama Foundation and former senior advisor to President Barack Obama, during his Commencement address in May.
"People so firmly committed that theirs was the only repository of truth, the only way to do anything, to the exclusion of others, have put us in this moment, this deep moment, where, even though we are more connected than ever to one another, we lack connection. Connection where you actually see the person and hear the person to understand them rather than to rebut...Please, make sure that when you hear that inner voice saying someone is automatically wrong, check yourself. Put yourself in their shoes. Understand their perspective. See where they're coming from," continued Simas, who received an honorary doctor of humane letters. Acclaimed poet and playwright Claudia Rankine also received an honorary doctor of literature, and author and scholar John Stack '72, dean of the Stephen J. Green School of International and Public Affairs at Florida International University, received an honorary doctor of humane letters.
High Honors: Pictured above, CEO of the Obama Foundation David Simas '92, poet and playwright Claudia Rankine and author and scholar John Stack '72 received honorary degrees at Commencement.