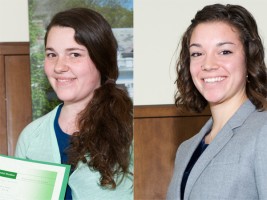 An Elementary Education and Environmental Studies double major from Lowell, Mass., Morrison completed a thesis exploring the academic and social-emotional benefits of environmental experiential learning in the classroom.
Ingersoll, an Environmental Sciences major from Londonderry, NH, is a founding member and co-president of the Food Truth group on campus, which works to bring more local, organic, humane and fair trade food to campus.
"Aimee and Devin are stellar scholars, and inspiring campus leaders," said Professor Susan Mooney, director of the Environmental Studies Program. "I'm sure all who have worked with these young women would note the breadth and depth of their understanding of environmental problems as well as their unfailing creative energies which bring us closer to solutions. Our campus has been much enriched by their involvement, and they will be much missed."
Both Morrison, who is pursuing a Bachelor of Arts degree, and Ingersoll, who is pursuing a Bachelor of Science degree, intend to complete a year of service following graduation.
"I plan on working with community garden initiatives and after school garden programs for a year," said Ingersoll. "After that I hope to continue work in the sustainable agriculture field."
"Both Devin and Aimee serve as exemplars of the mission of Stonehill College, that 'each Stonehill graduate thinks, acts, and leads with courage toward the creation of a more just and compassionate world.' This is illustrated by the fact that, although many career options are open to each of them, Aimee and Devin have each chosen to spend next year in service," added Mooney.