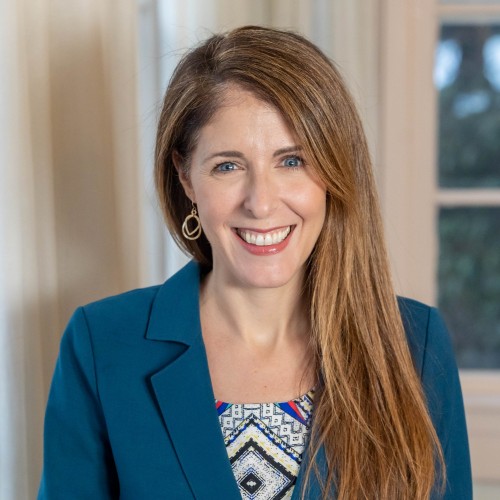 Kristin C. Burkholder
Chair of Environmental Sciences & Studies, Associate Professor of Environmental Science
Biography
Dr. Burkholder has loved the ocean for as long as she can remember. However, it wasn't until she was a college junior that she realized that she wanted to make studying the ocean her career. After completing a summer semester with the Sea Education Association, she made the decision to pursue a degree in physical oceanography at Duke University working with Dr. Susan Lozier.
At Duke, Dr. Burkholder's work focused primarily on the ways in which the Gulf Stream (and other important currents) is able to move heat and salt to high latitudes. She also became very interested in the link between ocean circulation and climate change, an interest that she continues to pursue today.
Currently, Dr. Burkholder is using both observational datasets and output from a high resolution ocean circulation model to examine the ways in which the subsurface waters of the Gulf of Maine (New England's "oceanic backyard") have been changing on seasonal to decadal timescales. In particular, she is investigating both how the composition of the nutrient rich deep waters entering the Gulf of Maine has changed through time and the fate of those deep waters once they pass through the Northeast Channel. Ultimately, she hopes to contribute to a better understanding of how these important pathways may be impacted as our planet continues to warm.
Education
B.S. Chemistry, Bucknell University, 2006
Ph.D. Physical Oceanography, Duke University, 2011
Research Interests
Large-scale Ocean Circulation
Climate Change
Gulf of Maine
Environmental Education
Women in Science
Courses Taught
ENV 200: Principles of Environmental Science
ENV 201: Research Methods in Environmental Science
ENV 350: Climate Science
ENV 360: Introduction to Oceanography
LC 318: The Ethics and Science of Climate Change
Awards
$286,284 Award in Support of Marine Debris Project, National Oceanic and Atmospheric Administration (NOAA) Sea Grant, 2023