By Lauren Daley '05
Kaylie Bissonnette '14 has seen first-hand the vessel that explored the Titanic wreck. She's sailed on a research vessel to collect algae and small underwater animals, and she's currently studying the feeding patterns of right whales.
Ali Johnson '16—who someday wants to research coral reefs near Australia—plans to study oceanography and to learn how to sail in New Zealand.
Christopher Astephen '15 is taking full advantage of Stonehill's 3+2 Engineering Dual-Degree program, in which students attend Stonehill for three years to earn a science degree then transfer to the University of Notre Dame to earn a corresponding bachelor's degree in engineering.
The three are among the many students taking advantage of Stonehill's new Environmental Sciences & Studies program.
"Switching into the new Environmental Science B.S. major was a no-brainer," said Bissonnette, 21, who wants to study renewable energy or environmental health and toxicology in graduate school next year. "The B.S. program is more science-based and better tailored to the ambitions and interests I want to pursue after Stonehill."
Astephen did the same. "I was originally in the B.A. program (but) ended up switching to the B.S.," he said. "Coming out of the 3+2 Engineering program with two B.S. degrees sounded appealing."
The Need To Evolve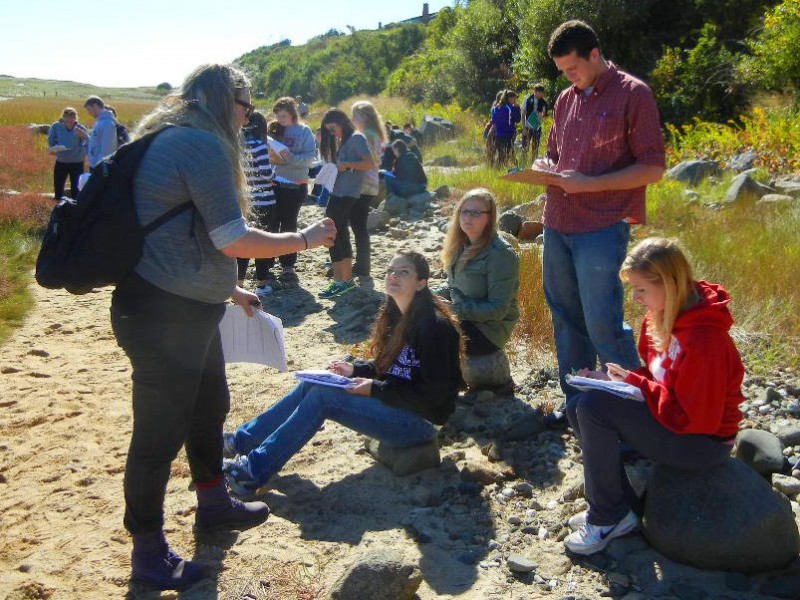 Environmental Studies has existed as a minor at Stonehill since 1993 and as a Bachelor of Arts major since 2007. But with a steady stream of global eco-crises, an ever-increasing trend towards "green" thinking and more students than ever declaring an Environmental Science major at Stonehill, it was apparent that the College needed to retool the whole program, said Biology Professor Susan Mooney, the program's director.
The new program, rolled out this academic year, adds a Bachelor of Science track. Meanwhile, the Bachelor of Arts portion of the program has been completely overhauled to concentrate more on the humanities and social sciences. While the B.S. curriculum engages students in studies of Earth as a physical system, the B.A. curriculum stresses the economic, political, sociological and philosophical dimensions of environmental issues.
"The B.A. is as rigorous and critically important as the B.S.," Mooney emphasized. "They're both equally necessary to address the eco-crisis we face. Science and green technology aren't enough—we also need environmental policy-makers; we need attitudes and behaviors to change." Both programs recognize the complexity and multidisciplinary nature of environmental problems facing the world today and prepare students to understand and protect the natural world.
"It was clear that we had a number of students very interested in pursuing Environmental Science not only as a major but as a possible career," said Joseph A. Favazza, provost and vice president for Academic Affairs at Stonehill. "Given student interest, we are committed to finding the resources to support this program now and into the future."
Professor Kristin Burkholder, a teaching fellow of Environmental Science, said student response to the new program has been "fantastic." "In the coming decades, there will be a real need for people who can understand the way the earth works, and who can help guide decision-makers with sound science. We're preparing our students to step into that role," she said.
Hands-On Learning
Bissonnette is a prime example of that. She is researching the feeding-ground patterns of right whales with Burkholder and has taken many a trip to the renowned Woods Hole Oceanographic Institution on Cape Cod. "Woods Hole is at the forefront of oceanographic research," said the 21-year-old from Sterling, Conn. "It's an immense privilege that Stonehill students get to partake in a part of the Woods Hole experience."
Johnson, the 19-year-old from Cape Elizabeth, Maine, who has dreams of sailing along the coast of New Zealand, recently declared an Environmental Science B.S. in order to pursue a career in oceanography. She hopes someday to study the marine biology and oceanography of the world's coral reefs, ideally in Australia. Next year, she plans to study at Woods Hole and abroad in New Zealand. (See sidebar below.) For her, the evolution of the program couldn't have worked out better. "Environmental Science encompasses so much—policy-type classes, the ethics. I was glad to be able to focus on the pure science topics, like water management and ecology. I can take the classes that are tailored to what I'm interested in. It's so cool because at other schools, you can't really do that."
---
Under the Sea: Program Allows Stonehill Environmental Studies Students to Explore the Ocean
Ali Johnson grew up by the sea.
A native of Cape Elizabeth, Me., the 19-year-old has been surfing since age 10 and scuba diving with her father since age 12.
"I've lived on the ocean my whole life. It's really important to me; it's my passion. So when I found about the SEA program at Stonehill, I knew instantly it was for me," said the sophomore Math and Environmental Science double-major.
Next year, Johnson will spend about six weeks studying sailing and oceanography in Woods Hole on Cape Cod, where students collaborate with scientists and researchers from the Woods Hole Oceanographic Institution. She and her Woods Hole peers will then fly to New Zealand, where they'll embark on an epic sailing and research odyssey around the island nation.
The program is called SEA Semester, run by the Sea Education Association and not to be confused with Semester at Sea. SEA Semester is an internationally recognized leader in undergraduate ocean education based out of Woods Hole.
For the first half of the semester, students take classes on land at Woods Hole. For the second half, they study and work as part of the crew of a 134-foot steel brigantine, sailing to "various cool locations around the world and conducting an independent research project along the way," said Stonehill's Kristin Burkholder, a teaching fellow of Environmental Science. "I took part in this program as an undergraduate. It's part of why I became an oceanographer in the first place."
Stonehill recently became affiliated SEA, which for more than 40 years has educated college students about the world's oceans. The program "offers students an interdisciplinary curriculum, on shore and at sea aboard tall ships, that provides challenging voyages of scientific discovery, academic rigor, and personal growth," according to their web site.
Johnson's interest in the program is driven by concerns about damage being done to the earth's coral reef system through global warming. After Stonehill, she wants to go into marine biology and oceanography, possibly in Australia, to study the reefs' ecosystem and research how to better protect it. "My dad and I are big scuba divers. We go all over the world and I've seen first-hand how, year after year, the reefs have been destroyed. I've seen the reefs deteriorating before my eyes," said Johnson.
For more information, visit www.sea.edu.