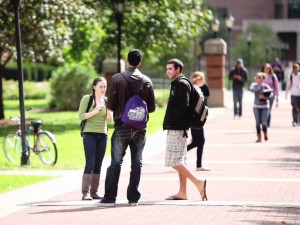 Welcome to Stonehill
A Catholic college founded by the Congregation of Holy Cross in 1948, Stonehill has gained a national reputation for experiential learning programs and productive graduates who think, act and lead with courage.
Stonehill professors emphasize critical analysis and creative thinking while mentoring students in more than 80 academic programs in the liberal arts, sciences, business and pre-professional fields.
Located between Boston and Providence, Stonehill provides students with an array of research and internship experiences on campus and nearby metropolitan areas. Stonehill has earned national recognition for our international study and intern abroad programs, which present our students with a world of opportunities.
Founding

Stonehill was founded on June 30, 1948, by the Congregation of Holy Cross. Rev. George P. Benaglia, C.S.C., was appointed as the first College president, and the first students enrolled on September 20.
Institution Type
Private
Coeducational
Confers the B.A., B.S. and the B.S.B.A.
Accreditation & Memberships
Stonehill is accredited by the New England Association of Schools and Colleges.
Additional Programmatic Accreditation
Association to Advance Collegiate Schools of Business
American Chemical Society
Association of University Programs in Health Administration
Memberships

Association of American Colleges and Universities
Association of Catholic Colleges and Universities
The Council of Independent Colleges
National Association of Independent Colleges and Universities
Southeastern Association for Cooperation of Higher Education in Massachusetts
Southern New England Consortium on Race and Ethnicity
Catholic Affiliation
Stonehill is affiliated with the Congregation of Holy Cross. Members of the Congregation share in the mission of the College as administrators, faculty members and campus ministers.
Rev. John Denning, C.S.C. is the ninth Holy Cross priest to serve as Stonehill's president. In addition, members of the Congregation serve the College as members of the Board of Trustees, many of whom are Stonehill alumni.
NCAA Division II Athletics
At all levels of competition, athletics are a big part of life at Stonehill – more than 80% of our students participate on an NCAA Division II varsity team or play an intramural or club sport.
The Stonehill Skyhawks compete in the Northeast-10 Conference, the largest NCAA Division II conference in the country.
Northeast-10 Conference
20 varsity teams
10 intercollegiate club teams
20 intramural sports programs
Endowment
Accolades
U.S. News & World Report
In 2012 Stonehill ranked in the top tier of schools at #112 in the National Liberal Arts Colleges group of U.S. News & World Report's "America's Best Colleges" guide.
The Princeton Review
The Princeton Review in 2011 lists Stonehill College among the best in the country. Stonehill appears in "The Best 376 Colleges" guide, and is named as one of the best colleges in the Northeast.
Survey of Student Engagement
Stonehill is among the top 10 percent of colleges nationwide in offering enriching educational experiences according to the National Survey of Student Engagement (NSSE).
Forbes: America's Top Colleges
Forbes ranks Stonehill #197 on its 2011 list of America's Top Colleges – and #75 in the Northeast.
National & Community Service
The Corporation for National and Community Service has named Stonehill to the President's Higher Education Community Service Honor Roll for exemplary and innovative community service programs each of the past five years.
Institute for International Education
In 2011 Stonehill's semester-long study abroad programs were ranked #18 in the nation for mid-length stays among baccalaureate institutions by the Institute for International Education.
Colleges of Distinction
The "Colleges of Distinction" guide identified Stonehill as one of the "best bets" in American higher education because of our engaged students, great teaching, vibrant community and successful outcomes.
The Carnegie Foundation
The Carnegie Foundation awarded Stonehill College its 2010 Community Engagement Classification for Curricular Engagement and Outreach & Partnerships.