Mission-Related Initiatives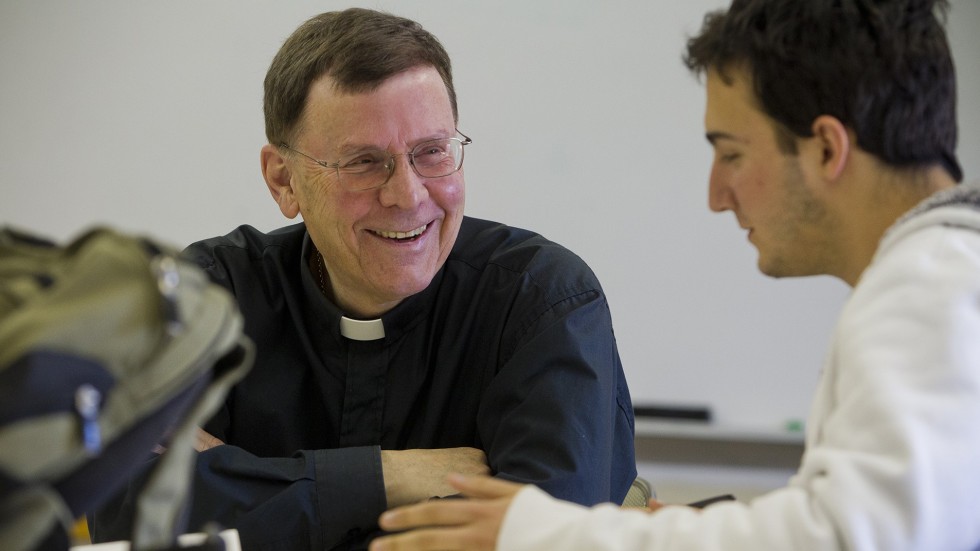 The Office for Mission, inspired by Blessed Basil Moreau's vision of education, works with students and the entire Stonehill community to live the values of a Holy Cross education by preparing "good citizens for both earth and heaven."
Campus Ministry and the Farm at Stonehill collaborate in fostering this noble mission.
Educating the Mind and the Heart
This vision of education as a work of forming the whole person inspired Blessed Basil Moreau, C.S.C., the founder of the Congregation of Holy Cross, and his religious family, the founders and sponsors of Stonehill College. Stonehill is proud to share in the educational legacy of Fr. Moreau.
Moreau's vision of education as a "work of resurrection" inspires us to pursue the blessings of new life that come from a diligent pursuit of all that is true, beautiful and good.
Moreau's vision of education as an art that never "deprives our students of anything they should know," spurs us to academic excellence in every discipline of study.
Moreau's vision of education as the formation of the whole person such that the "mind will not be cultivated at the expense of the heart," leads us to value the co-curricular and spiritual dimensions of life at Stonehill.
And Moreau's vision of education as the work of forming students "into justice" underlies our mission of educating students to lead "with courage to create a more just and compassionate world."
The Saint André Lecture Series
The Office for Mission sponsors a lecture series in honor of Saint André Bessette, C.S.C..The ongoing theme for the lecture series will be "Welcoming the Other," as Saint André spent much of his life serving as a humble porter.
Learn more about the lecture series and the first Congregation of Holy Cross member to be canonized a saint.
Catholic Identity Committee
The Catholic Identity Committee articulates and clarifies issues of Catholic identity and Holy Cross sponsorship as it relates to the mission of the College. It also provides a forum for the constituencies of the College to offer input into these questions.
Committee Membership 2022-2023
Fr. Tony Szakaly, C.S.C., Director of Campus Ministry (Chair)
Appointees
Peter Camara, appointee of the Vice President for Finance
Michael Sale, appointee of the Vice President for Academic Affairs
Luke Newman, appointee of the Vice President for Finance
Colleen Ford, appointee of the Vice President for Student Affairs
Fr. Timothy Mouton, C.S.C., appointee of the Vice President for Mission
Anne Sant, appointee of the Vice President for Advancement
Scott Seseske, appointee of  the Vice President of Enrollment Management and Marketing
Heather Heerman, appointee of the President
Maura Tyrrell '64, Representative of alumni selected by a process determined by the President:
Faculty Representatives
Fr. Stephen Wilbricht, C.S.C., Associate Professor of Religious Studies
Geoff Lantos, Professor of Marketing
Ed McGushin, Professor of Philosophy
José Martinez, Associate Professor of Spanish
Student Representatives
2 student representatives selected by the Executive Board of SGA