Understanding Autism Graduate Certificate
The Understanding Autism Graduate Certificate Program prepares educators to support the complex needs of autistic students using democratic education, self-advocacy and social justice as a critical lens in their work. Candidates who qualify with state requirements can also earn the Massachusetts Autism Endorsement for Educator Licensure upon completion of the program.

Finish in 9 to 12 months.
Application Deadlines
Spring Semester: January 1
Summer Semester: May 1
Fall Semester: August 1
15-credit Graduate Certificate
The Understanding Autism Graduate Certificate Program is designed to prepare educators to support the complex needs of autistic students while keeping equity, social justice, diversity and accessibility at the center of their work.
In this program, students will:
Develop critical knowledge of the history, theories and prevalence of autism
Develop expertise in a range of educational and supportive practices
Apply concepts of self-advocacy, advocacy and quality-of-life in educational settings
Analyze approaches to, theories of, and supports for autistic individuals through the lens of neurodiversity
Evaluate assumptions, biases and characterizations of autism through sociocultural and self-advocacy lenses
This program includes late afternoon, evening and weekend course options and is ideal for working professionals. Pursuing a 15-credit graduate certificate may qualify Massachusetts educators for a salary lane change (master's+15 credits).
Why Stonehill?
Certificate program includes online and on-campus course offerings
Courses taught by faculty with extensive experience and research specific to autism spectrum disorder
Specialized student support framework guides students through program requirements and career preparation
Social justice mission that fosters graduates who think, act and lead with courage
Be a Change Agent
Stonehill's graduate teacher education programs include unique and effective courses, programs and opportunities that foster innovation, transformation and leadership. Our curriculum keeps inclusivity central to how we prepare educators for schools, classrooms and community settings.

The 15-to-18-credit Understanding Autism Graduate Certificate features a selection of courses designed to prepare educators to create and lead environments that encompass a range of student needs, including those specific to autism spectrum disorder.
This course provides class participants with an introduction to autism and neurodiversity, a grounding in the neurodiversity paradigm, and exposure to autistic self-advocates and perspectives. The course will include an examination of the sociopolitical context and the resulting ideals, conceptions, assumptionst and biases in education, media, and community. Course participants will unpack educational discourse, diagnosis, labels, and the ethics of different educational approaches and ideals. The course will explore tenets of collaboration and the complexity of different organizational approaches.
This course will explore communication and competence, from the highly to the minimally or non-verbal autistic student, and the theoretical foundations of speech, language and communication. The core skills of communication, communication reciprocity, core skills necessary for social communication and literacy development will be a focus. The course will examine frameworks for effective communication strategies and approaches, as well as the role of communication in social understanding/interaction and behavior. The impact of cultural values and beliefs on communication will be examined. Collaborative and interdisciplinary models of support and service delivery be will and be guided by self-advocate accounts.
This course will review social understanding, stress, anxiety and trauma in autistic people. The course will explore the role of anxiety, stress, and trauma on relationships, self-regulation, health/ well-being and academic achievement. This course will stress intersectionality and explore gender/culture/race influences on understanding autism. Course participants will develop social supports and curricula focused on neurodiverse social behavior that help to mitigate the effects of stress/anxiety/trauma and develop resilience.
In this course, autistic behavior, including tenets of neurodiversity, sociocultural views of "normalcy," and self-regulation will be explored. Participants in the course will examine a range of strategies and systems to support, develop, actualize, and sustain positive behavior. Participants will examine sensory development and regulation, connections to behavior, stress, and learn de-escalation techniques.
This course explores quality of life considerations, measures, and supports for autistic students/persons. Educators will learn techniques to support autistic students moving from school to adult life, including developing self-advocacy skills, educator advocacy/allyship, family advocacy, person-centered planning, and transition plans. Ethical issues and philosophical challenges relating to sociocultural context, theories, and positioning, anti-oppressive education, and involvement/lack of involvement of self-advocates' perspectives will be explored in the development of pathways to higher education, career and technical education, employment, and independent living.
This seminar/practicum experience provides the opportunity for candidates to receive targeted feedback in conjunction with/ following coursework focused on autism spectrum disorders. This experience/seminar provides the opportunity for certificate/endorsement candidates to deliver effective instruction in a clinical setting to synthesize course content. 
Studying Inclusive Education at Stonehill
Stonehill College offers graduate certificate, master's degree, teacher licensure and community education program options in inclusive education-related areas.
Graduate Teacher Education at Stonehill
Stonehill College's graduate teacher education programs aim to prepare knowledgeable, reflective, caring and flexible educators who embrace learning, scholarship, community and advocacy in their work. Social justice and democratic education are at the center of our work and underpins all programs, courses and experiences. We believe education can disrupt systems and processes that perpetuate injustice and inequity and embrace diversity and individuality as strengths.
We advance our mission by modeling the creation of democratic spaces in the graduate classroom that reflect equitable, accessible and inclusive learning environments where students' voices and perspectives help to shape the construction and the provision of their learning.
Three tenets guide our program philosophy:
Social justice education
Democratic education
Anti-oppressive education
Graduate Teacher Education Program Outcomes
Our graduates
Foster care, connection and community with students, colleagues and families
Promote inclusivity, diversity and equity in educational spaces
Work to disrupt systems that perpetuate oppression and inequity
Embrace teaching practices that foster social justice and democracy
Lead by making education accessible for all learners
Elevate student voices and perspectives in education
Act purposefully to continue to learn and contribute to the profession
Rigorous Academics and the Support to Succeed
Stonehill's graduate teacher education programs in inclusive education recognize the challenges graduate students face in prioritizing work, family, personal and graduate school commitments. Our Graduate Student Support, Access and Success (SSAS) Framework is designed to support students' success from program start to finish.
Specifically, this approach provides:
A proactive vs. reactive framework for supporting graduate students' variable needs within their program
Clear benchmarks for assessment of candidate readiness
Indoctrination to the field and to the profession
From the admission process to graduation, students have a clear understanding of both expectations and the support available to help them achieve their goals.
Contact Information
Graduate & Professional Studies Admission assists students as they explore graduate and professional opportunities offered at Stonehill College.
Meet the Director of Graduate Teacher Education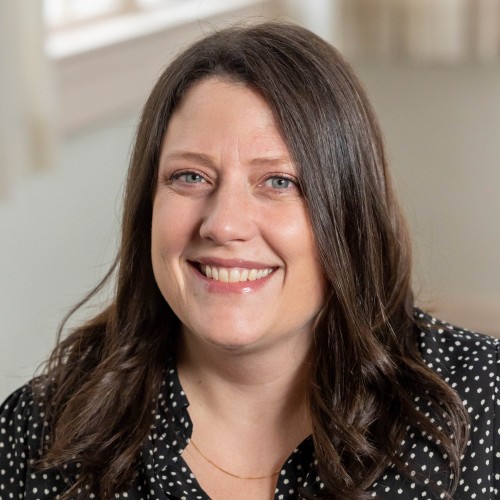 Assistant Professor/Coordinator of Graduate Clinical Experience, Director of Graduate Teacher Education, Coordinator of Graduate Clinical Experience