*Image of JED Campus Seal
About JED Campus
JED Campus is a nationwide initiative of The Jed Foundation (JED), designed to guide schools through a collaborative process of comprehensive systems, program and policy development with customized support to build upon existing student mental health, substance misuse and suicide prevention efforts.
Stonehill first worked with JED in 2011, when we utilized their comprehensive campus needs assessment and then received their JED Campus Seal for the work we did to address mental health with our campus community.
Over the years, the JED Campus program evolved and the services they offered schools grew. It is now a comprehensive four year strategic initiative that includes multiple assessment points, campus visits, focus groups and enhanced planning strategies.
In January 2019, Stonehill College joined this newer JED Campus initiative and has embarked on a multi-year strategic collaboration that not only assesses and enhances the work that is already being done but also helps create positive, lasting, systemic change in the campus community.
Year 1 Participation Update: We are half-way through our first year of participation. Thus far, we have participated in the Healthy Minds Study, completed a campus needs assessment, and hosted JED personnel for a campus visit including a campus tour, meetings with key campus personnel, a student focus group, and a planning session with our JED Campus Team. We are now embarking on a planning stage for future action steps.
JED Planning Goals
Goal 1: Enhance strategies and resources to identify students at risk
• Develop a quick reference guide for faculty/staff (modeled after Stanford's Red Folder)
• Propose Case Manager position in Student Affairs
• Increase signage in high volume areas on campus about resources
• Increase signage in areas of isolation or triggering to promote resources
Goal 2: Enhance strategies for students to be more socially connected on campus.
• Identify students who are feeling isolated on campus to determine if there are shared demographics and create action steps to better engage these students
• Examine and enhance peer mentoring model and provide debriefing and support opportunities for student leaders who are in helping roles 
• Hold student focus groups to gain understanding and awareness of students' needs and thoughts around issues such as social isolation, mental health on campus, and ways to effectively address them
Goal 3: Assess current mental health training's and offerings and identify gap areas.
• Work on training as many staff and faculty members as possible in RRSD and other mental health related topics
• Create brief, targeted training's for students, faculty, staff who may not be able to attend longer gatekeeper training's
• Record current faculty/staff gatekeeper training (RRSD) to make it accessible for those
who can't attend live training's
• Offer more programs/outreach/speakers on MH-specific topics
• Research JED's peer-to-peer gatekeeper training and possibly implement with student leader groups
• Assess and enhance mental health, wellness, and resiliency training available in FYE curriculum
• Assess mental health and wellness programming at orientation and implement enhancements based on best practices and student feedback
Goal 4: Evaluate current polices, processes, and procedures related to mental health mental health
• Examine medical withdrawal and re-entry policies and processes, making recommendations to make them more student-centered
• Annually assess campus facilities and consider means restriction, including new building
projects and renovations
• Consider long-term committees/structures for ongoing planning and assessment of
mental health needs once JED Campus Program concludes
Goal 5: Increase help-seeking behaviors and access to resources
• Explore the adoption of ProtoCall 24/7 phone service to enhance access to support for students, as well as provide an after-hours resource faculty/staff can refer students
• Add a Mental Health statement to all course syllabi
• Add mental health hotline and resource numbers on back of student I.D. cards
• Consider more targeted communications to first year students and their parents during summer prior to arriving at Stonehill
• Consider more targeted communications to current students during high-stress times each semester
• Research different counseling models to see if any changes need to be made to current model, or if additional staffing/resources needed
• Utilize HMS data and Counseling Services data in promotional campaign to bring awareness to mental health needs, normalize, and encourage help-seeking
Mental Health Training's and Resources
To learn more about JED Campus visit jedcampus.org, or about JED at jedfoundation.org.
Meet the Stonehill College JED Campus Team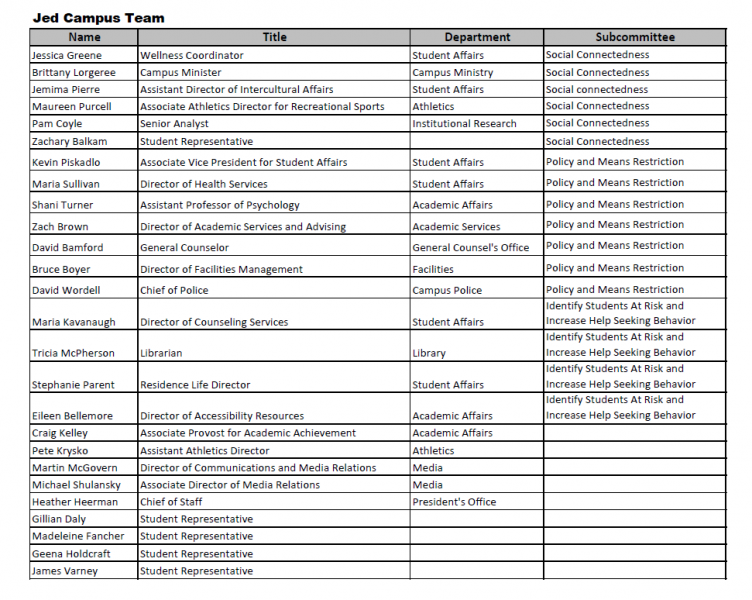 *Table of JED Campus Team Members
Please check out some great resources available from the JED Foundation related to college mental health including:
For More Information
Would you like to learn more about JED or mental health initiatives on campus? Please contact the Health and Wellness Center at wellness@stonehill.edu, 508-565-1677 or visit us at Roche Dining Commons, Room 101.