College is a new and exciting experience for young adults. Throughout your four years we hope you will grow and mature into a well rounded individual. During your time here you will meet new and different people, make new friends and join in a variety of extra curricular or work opportunities. Along the way you will have challenges and successes, both of which will make you a stronger person. Stonehill thrives on educating the entire person, the whole being, mind, body and spirit.

At the Office of Health and Wellness we offer information on how to live a healthy lifestyle and encourage making positive behavior choices. We believe in promoting the health and wellbeing of students through prevention of illness, injury and disease and through raising awareness of issues affecting the students mind, body and spirit.

Healthy Choices = Successful Students
Make healthy choices everyday!

Contact Information:
The Office of Health and Wellness is located in the Roche Dining Commons, Room 101.
Phone: 508-565-1544
Fax: 508-565-1416
Email: Wellness@stonehill.edu
Or stop by in person!
Spring 2020 Events
Got Consent Day:
Wed. Feb. 5th: 11am-1pm in the Upper Dining Commons, Room A
Happiness Week, February 17th - 21st
What is happiness week?
Happiness Week is a week of taking time to think about how you feel about the goals you're pursuing, if you are happy with how your spending your time, if you want to feel less stressed and more connected and more fulfilled. This week is meant to encourage you to step out of your busy schedule, to try a new activity or routine, to stop, breathe, live and enjoy! Time flies by and these next few years are meant to be fully embraced!
Live your best life!
Let's get back to Happiness!
Monday February 17th: Topic: Be Kind
Tuesday February 18th: Topic: Connect with others
Wednesday February 19th: Breathe
Thursday February 20th: Topic: Be present/in the moment
Friday February 21st: Topic: Get Moving
Body Awareness Week
Feb. 24th-28th (Activities TBA)
Drug Awareness Day
Wed. March 25th, 11am-1pm on the Quad
Take Back the Night March
Thursday April 2nd, 7pm-8pm, Merkert Gym
Stress Free Finals
April 29th – May 6th, (Activities TBA)
Additional Resources:
To search for and register for a wellness training, sign on to Handshake and search for them under "workshop".
Services Provided
Health lectures and presentation requests:


If you would like to request a health related presentation please email Jessica at

wellness@stonehill.edu

. See "health topics" list for possible list of presentation topics. Professors, Resident Advisors or students interested in health and wellness issues may request presentations.

Health Education Coaching

We counsel on a variety of topics including but not limited to: basic nutrition/diet assessments, smoking cessation, sleep tips, stress and time management, sexual health questions or relationship/roommate tips. We also offer referrals to the Sodexho Dietitians x1879, the Counseling and Testing Center x1331 and Health Services x1307.

Workshops and seminars


We conduct workshops and seminars on a variety of topics including but not limited to: Healthy Eating and Stress Reduction and Relaxation Techniques.

Pamphlets, Brochures and Health Literacy Materials

Our library contains a variety of books useful to college students on topics included but not limited to: Cooking, Eating Disorders, Alcohol, Feng Shui, Vegetarianism, Sports Nutrition, Nutritional Supplements, etc.



In addition we also have a wide variety of pamphlets, brochures, handouts and other health literacy materials on numerous topics. Stop by today to see our selection!

Campus Wide Awareness Events


We help sponsor campus wide events which focus on specific health issues such as: Alcohol Awareness Week in October, the Great American Smoke Out in November, World AIDS Day in December, Eating Disorders Awareness Week in February, Safe Spring Break in March and Sexual Assault Prevention in April. If you are interested in learning more about these events or helping out with them please contact us, we'd love to hear from you!

Resource for Health Information
Specific areas of health which we offer information on include:
Alcohol
Cold/Flu
Drugs
Gambling
Immunizations
International Students Health Guide
Men's Health
Mental Health
My Student Body
Nutrition
Peer Health Education
Physical Activity
Relationships
Safety
Sexual Health
Sleep
Smoking
Spirituality
Stress and Time Management Skills


Women's Health
Other Alcohol and Drug Information:
To view our Drug Free Schools and Campus Regulations Biennial Review Report Click HERE
Below are the Appendices from the Biennial Review Report:
We are pleased to announce that Stonehill College has received the Jed Foundation Campus Seal of approval signifying that our campus is proactive in raising awareness and educating the community about mental health issues and suicide prevention.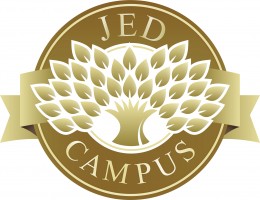 "The JedCampus seal will be awarded to schools that exhibit comprehensive mental health promotion and suicide prevention programming, based upon evaluation of the school's survey responses against the Jed Foundation's recommended practices in mental health programming. This recognition of your school's commitment to the emotional wellbeing of your campus will remain valid for two years."