HillSearch - Subject Search
Searching by Subject
In the HillSearch box, you can type in a subject or a topic that you are looking for. Since this search is based on keywords, it includes the subject, author and title fields, and you may find that the first set of results are not specific enough to exactly match the subject in which you are interested.
SEARCH TIP: Choose the "Found in" Facet in the left column to choose "Subject." This will eliminate unwanted results found in the author and title fields.
Subject searches are based on Library of Congress Subject Headings. This is a specific set of terms established by Librarians and by the Library of Congress. When Librarians catalog items, they select subject headings from this set of available terms. Subject headings describe the content of an item. However, one subject heading is used to describe a topic which you may think of in different terms. For example: "Infants" is the subject heading used to describe babies, baby, toddler, etc.
In Hillsearch Advanced Search, use the drop down arrow to select Subject and type the exact subject in this box.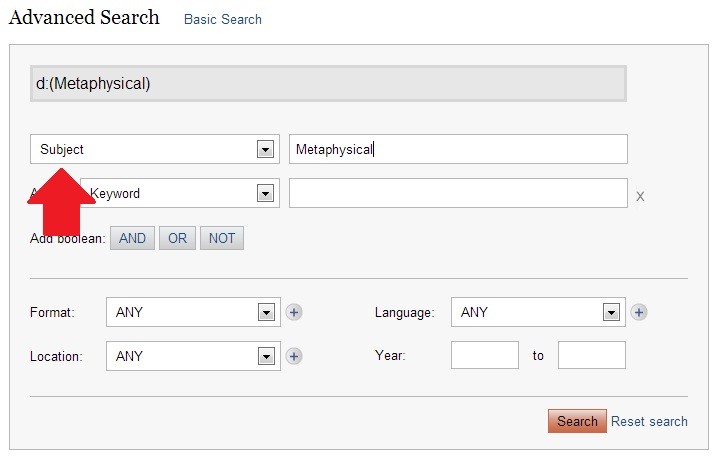 SEARCH TIP: If you are having trouble finding items based on subject, it may be because the terms you are using are not an exact match for Library of Congress Subject Headings. Here, using a "wildcard operator" may help your search. For instance, rather than searching for the subject "Metaphysical," which returns one result, you may want to search for "metaphysic*"; using the "*" means your search will retrieve results with the subjects such as "metaphysical" and "metaphysics." This search, by comparison, returns 212 results. This can also be helpful if you are not sure of the exact spelling of a subject term.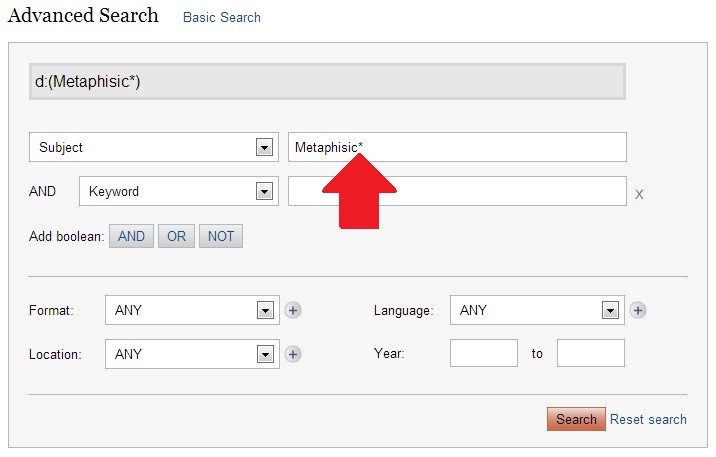 If you are having trouble finding materials about your subject, please ask at The Desk for additional help, call 508.565.1313 or email librarydeskgroup@stonehill.edu.
MacPhaidin Library provides informational resources that support the College's academic programs. Its goal is to provide faculty and students with the material and services needed for effective teaching, learning and research.