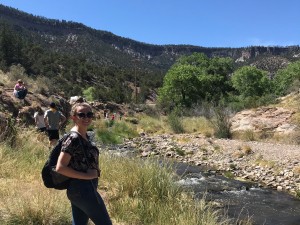 Live a life of Inquiry and Justice!
Geneva Hancock, Class of 2018, participated in a self created immersion in Santa Fe, New Mexico exploring Indigenous Communities and Native American spirituality as part of the Justice Scholars Program!
Benefits
A Holy Cross education enables students to "think, act and lead with courage toward the creation of a just and compassionate world." As a member of the Justice Scholars Program, students engage their learning through service, justice and scholarship. Learning with and from community partners on site and through innovative learning modules at the Downtown Center for Community Engagement, students will gain knowledge and understanding of community engaged scholarship and active citizenry.
As Justice Scholars, students will receive financial benefits to use toward one of the following:
H.O.P.E. Service Immersions
Conferences Exploring Service, Social Justice and Community Engaged Learning
Speakers or Community Programs on Campus or at the Downtown Center for Community Engagement
Donation to Local Community Partner
Additional Benefits:
Mentor first-year student cohort in the work of justice
Synthesis of service & justice work
Hands on experience learning how to make service & justice a part of life choices
Pathway to active participation in living the mission of Stonehill College
Requirements
Must be H.O.P.E. Leader, Community Engagement Program Coordinator, ABS Leader or hold executive position in on-campus social justice focused club or organization
Meet monthly with mentee to discuss service and assist with reflection
Assist with monthly Justice Scholar education at the Downtown Center for Community Engagement (DCCE)
Engage intentionally with the Downtown Center for Community Engagement
Monthly reflection paper on service experience
Create one program on campus or at the DCCE for both local community and Stonehill Community to learn about an area of justice. This to be done with assistance of Justice Scholar Mentee.
Application Process
October 5th at 5:00 p.m.: Application Deadline
October 29-30: Interviews
October 31st: Notification of Acceptance