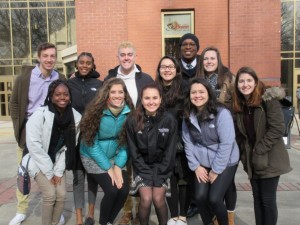 Walking in the footsteps of Dr. Martin Luther King, Jr.
Katherine Perez, class of 2021, participated in the HOPE Service Immersion to Atlanta, Georgia learning about nonviolence, civil rights, advocacy and political activism as part of the Justice Scholars Program!
Benefits
A Holy Cross education enables students to "think, act and lead with courage toward the creation of a just and compassionate world." As a member of the Justice Scholars Program, students engage their learning through service, justice and scholarship. Learning with and from community partners on site and through innovative learning modules at the Downtown Center for Community Engagement, students will gain knowledge and understanding of community engaged scholarship and active citizenry.
As Justice Scholars, students will receive financial benefits to use toward one of the following:
H.O.P.E. Service Immersions
Conferences Exploring Service, Social Justice and Community Engaged Learning
Speakers or Community Programs on Campus or at the Downtown Center for Community Engagement
Donation to Local Community Partner
Additional Benefits:
Mentorship from seasoned Justice Scholar Mentor
Synthesis of service & justice work
Hands on experience learning how to make service & justice a part of life choices
Pathway to active participation in living the mission of Stonehill College
Requirements
Monthly meeting with Justice Scholar cohort at the Downtown Center for Community Engagement
30 hours of community service through the Community Engagement Program
Serve as active member of Residence Hall Association Community Service Team
Promote and participate in Community Engagement Program events and reflections
Participate in either H.O.P.E. Service Immersion Program or Urban/Rural Immersions
Monthly reflection paper on service experience
Monthly check-in with Justice Scholar Mentor
Assistance with Justice Scholar Mentor advocacy and educational events on campus
Application Process
December 10, 2018 at 5:00 p.m.: Application Deadline
December 11-14: Interviews
December 17th: Notification of Acceptance