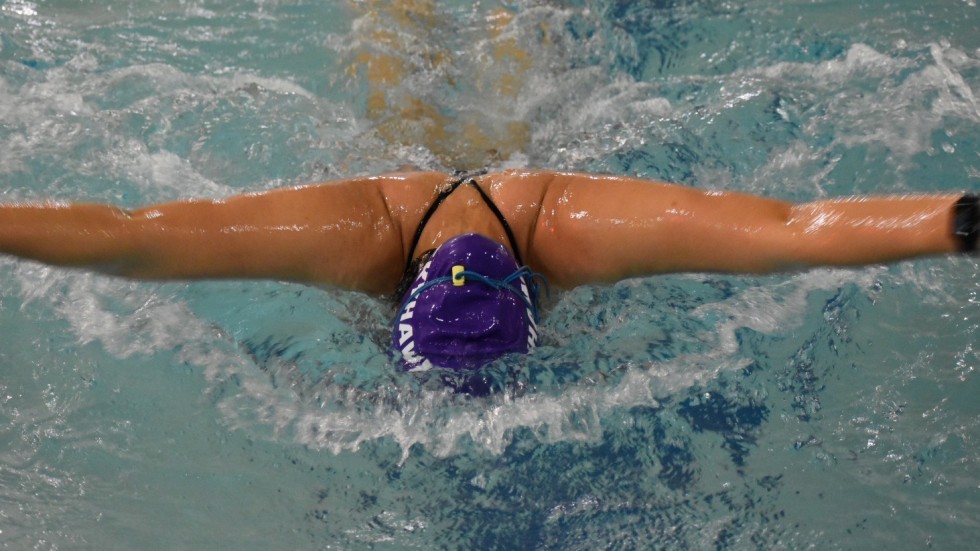 Winter | Spring 2021 - Skyhawk Talk
"Swamily" Values
The Stonehill Women's Swim Team made its debut this past fall, becoming the 22nd varsity athletic program at the school.
In 1905, the Ames Family created a personal gymnasium and indoor swimming pool in what is now known as Alumni Hall.
Unfortunately, the pool was relatively short-lived. In 1952, it was permanently covered and converted to bathrooms for the College's first female students. Swimming opportunities at Stonehill have been relatively scarce ever since.
After a long drought, six women are now bringing swimming back to Stonehill—this time in a much deeper way. The Stonehill College Women's Swim Team made its debut this past fall, becoming the 22nd varsity athletic program at the school.
"This is an exciting time for women at Stonehill to reshape the sport of swimming in our region," says Head Coach Caleb Potvin.
Potvin's small-but-mighty squad includes four first-year students and two sophomores. When COVID-19 thwarted official NCAA swim meets for Fall 2020, the athletes shifted their focus to bonding and establishing values. This commitment has already paid off, as the swimmers proudly don matching purple pool parkas and refer to themselves as the "swamily."
Potvin explains that establishing positive team culture begins with recruiting. "When I contact a recruit, the first thing that I do is ask her questions about who she is, not just what she is," he explains. "Up front, I am most interested in how she spends time between sets and races, and also what she hopes to get out of swimming at the college level."
If the initial conversation goes well, Potvin then invites the swimmer to meet her potential teammates. His final step is to follow up with the high school coach. "All of my swimmers have to make it through the three steps of my recruiting process, no matter how fast their high school times are," he says.
As soon as this first trailblazing team arrived on campus in August, the athletes spent time getting to know each other through daily practices at the Taunton YMCA and Zoom activities.
By October, Potvin noticed that they were starting to work as a unit. "I knew from recruiting that they would get along, but I am surprised by how quickly it happened," remarks Potvin. "They have all bought into the values of working hard, making an effort to become friends and supporting each other's success."
Sydney Stockwell '24, a neuroscience major, stepped into the role of team captain as a first-year student. She reflects on how the year without meets has presented silver linings. "I am naturally very goal- and time-oriented, which can sometimes lead me to put unnecessary stress on myself in swimming," she explains.
"When I first heard that we would not be able to suit up for any meets in our first season, I was worried about how the time off from racing would impact everyone's performance," Stockwell continues. "I then realized that we could just focus on long-term goals and enjoy the process of getting to know one another." She adds that the swimmers still completed rigorous workouts and timed intervals in their 6 a.m. daily practices. In the fall, they held two intra-squad competitions.
Although swimming in their own pool on campus remains a distant dream, the women are looking forward to competing in their first official meet in Fall 2021. Potvin is confident that they will be ready. "This inaugural team has laid the groundwork for a very competitive and cohesive program. As we continue to grow over the years, I hope that the first swimmers can look back with pride at what they started."
Stonehill Alumni Magazine