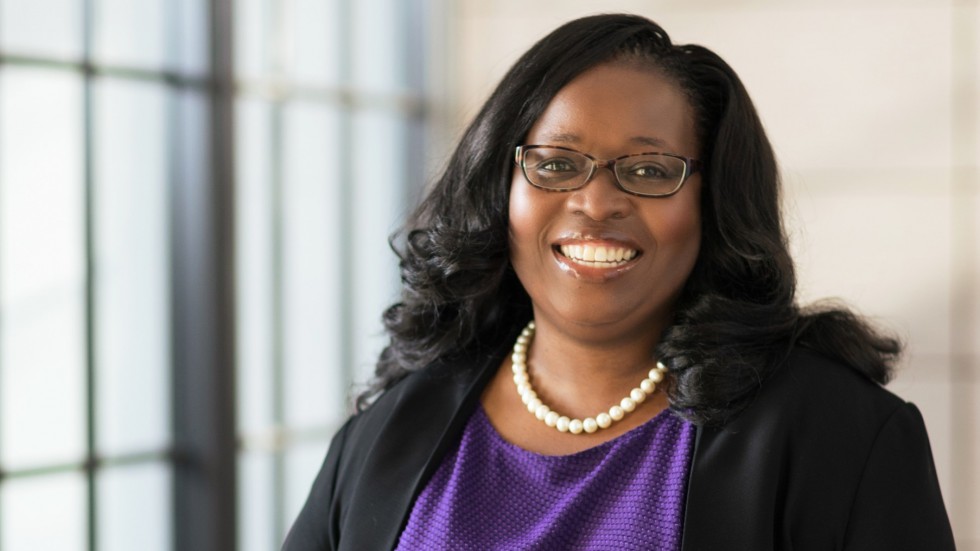 Winter | Spring 2021 - Features
10 Questions for Our New Provost
In December, Dr. DeBrenna LaFa Agbényiga became the provost and vice president for academic affairs at Stonehill, overseeing all College operations directly pertaining to academic programming, faculty and academic administration. A scholar in the fields of social science and business administration, Dr. Agbényiga has an extensive record of leadership, achievement and service as a professor and administrator.
1. What is one accomplishment you'd like to achieve in your first year as provost?
Building strong relationships within and beyond the Office of the Provost. This is the foundation for accomplishing the overarching work that we are embarking on in academic affairs.
2. We heard that you sometimes like to sit in on classes and lectures. Can you tell us more about this?
As a leader, I believe it is essential that I have a deeper understanding of all of the areas I oversee. Being in the classroom allows me to have firsthand knowledge of the student learning experience and the excellent and innovative teaching methodology from our faculty. It also gives me perspectives that could become beneficial during collaboration between faculty and administration to ensure students receive the very best in our classrooms, laboratories and beyond. I also get to know about faculty needs in the classroom, which is an important part of faculty and student success at every level. For me, this random presence in classes is the true essence of engaged faculty and student-centered leadership needed to support an inclusive and excellent academic environment.
3. What do you enjoy about being a provost and what is most challenging?
The provost position is extremely complex because of how the role intersects with so many areas within and beyond the institution. What I find great about the position is also where I find the greatest challenge. The role requires navigating various academic and leadership relationships while ensuring that attention to details, processes and protocols that are the foundation for ensuring student, faculty and staff success also align with our Congregation of Holy Cross mission and values.
4. Please share three qualities that you think are necessary in a leader.
The ability to actively listen and create a space for honest discussions and dialogue; the ability to communicate across various boundaries; the ability to create innovative and collaborative teams of excellence.
5. Entering college, what did you want to be?
My major was criminal justice with a minor in sociology/pre-law. I had plans to go to law school. However, as I began to see and experience various issues, concerns and challenges in my community, I began to step in and advocate for change. It was at that juncture that I also started discovering my gifts and how best to utilize them to help ensure a fair and just global community.
6. Stonehill is committed to supporting a diverse and inclusive community. How do you hope to build on that mission?
As a 21st century leader, I will strive to ensure that I create an academic environment with globally-engaged citizens ready to interact in an ever-changing and inclusive environment. Equity, diversity and inclusion are, therefore, essential components for achieving inclusive excellence. I will strive to sustain an environment where 21st century learners and educators have a supportive, diverse and inclusive environment that is responsive to student learning in a higher education setting.
7. Your passion for social justice issues seems like an ideal fit for a college committed to creating a more just and equitable world. How might you work to empower Stonehill students seeking to improve the world in which they live?
I will make it my daily mission to listen to our students to understand the various causes that they identify as pertinent areas. I will support them in the process of becoming advocates of change at every level. This requires excellent listening and communication skills and a deep understanding of the historical context and foundation of Stonehill for engagement in social justice and social change. I will ensure our students have the tools needed in an environment where inquiry and innovation are aligned with our efforts to create a just and equitable world.
8. You've described your approach to issues as being grounded by a "wellness and well-being" perspective. How might that apply to the provost role?
This perspective is aligned with being a respectful, compassionate, strategic and ethical leader. This allows me to focus on the whole person and the whole educational and institutional experience aligned with the whole community. In this context, well-being is a comprehensive and complex goal; a shared value and responsibility for the entire community to ensure physical, mental and social health for all. I will follow this approach in all that we do to ensure success within and beyond the classroom.
9. What was the first thing you put in your office?
Flowers and a potted plant. As I nurture these natural beauties, I am also reminded of the innate beauty in all of God's creations that we may all learn from and enjoy together. This, in turn, encourages me to strive hard to do my best every day that I am blessed to serve in this role.
10. If the Roche Dining Commons added a dinner you feel at home, what would you request?
Chicken Pilau "Perlo" and She-Crab soup.
Stonehill Alumni Magazine